With thousands of years of history, Chinese civilization has contributed immensely to the growth of the world. As an old civilization, China's rich traditions and history have spanned over thousands of years where the core and essence are defined by its uniqueness and sense of peace, openness and inclusiveness. The core philosophical traditions have a logic of virtue, duty, and moral principles, especially in serving the people. These ideas have shaped the way China has evolved into today's global leader.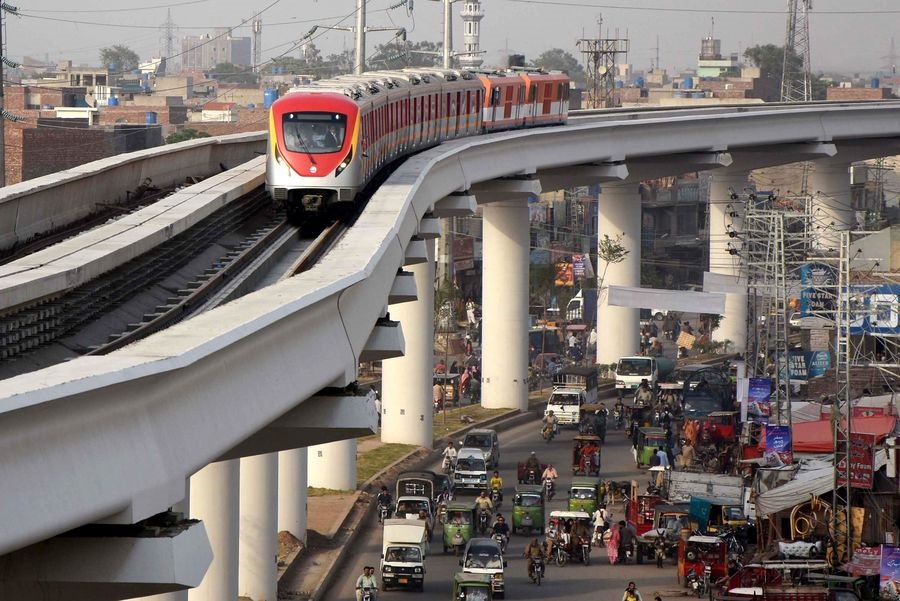 Photo taken on May 16, 2018 shows the Orange Line Metro Train (OLMT) during a test run in eastern Pakistan's Lahore. (Xinhua/Jamil Ahmed)
Over the past decade, China has staunchly contributed to cause of peace and development. In this regard, the Belt and Road Initiative (BRI) has remained an important contribution from China to common prosperity for the region via infrastructure outreach, trade, social development, and communication opportunities.
Thousands of years ago, the ancient Silk Road thrived with the nature of a path towards openness, friendship and cooperation. Goods and ideas were exchanged among diverse cultures along the routes, with ever-mounting enlightenment thriving with people traveling across continents. The essence of tolerance and dialogue had been transmitted in the giant trade network, becoming one of the most valuable legacies of the ancient Silk Road.
In 2014, the ancient Silk Road has evolved into a modern mega gateway to international cooperation when the visionary Chinese President Xi Jinping announced the massive infrastructure and investment project Belt and Road Initiative. The Initiative was proposed to forward the spirit of the ancient Silk Road, promoting the principles of peaceful coexistence and mutual communication that take root in Chinese civilization.
President Xi has emphasized on many occasions that the BRI should be built into a road of peace.
"We should foster a new type of international relations featuring win-win cooperation; and we should forge partnerships of dialogue with no confrontation and of friendship rather than alliance," said President Xi in his keynote speech at the opening ceremony of the first Belt and Road Forum for International Cooperation in Beijing.
All countries should respect each other's sovereignty, dignity and territorial integrity, each other's development paths and social systems, and each other's core interests and major concerns, he said.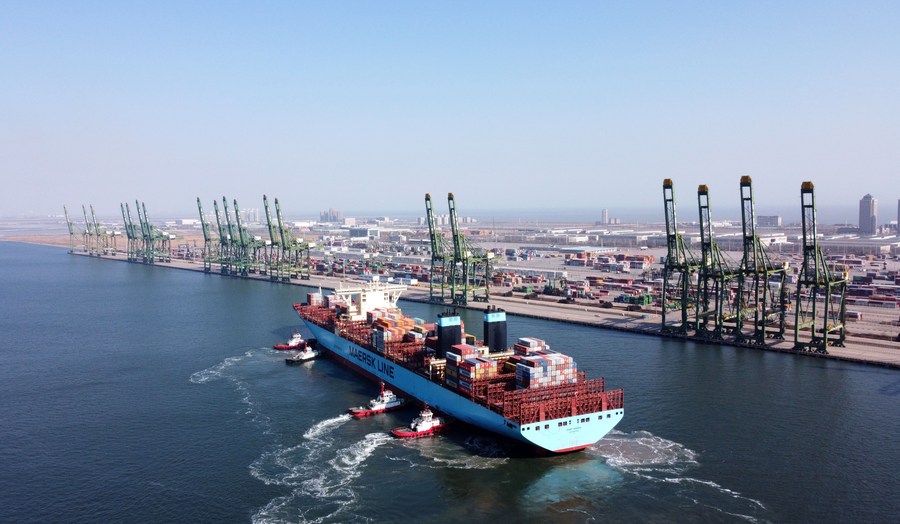 Aerial photo shows a container vessel sailing into Tianjin Port in north China's Tianjin Municipality, Feb. 22, 2021. (Xinhua/Zhao Zishuo)
The BRI is also a road of openness. Linking countries across Asia, Africa, and Europe, the BRI has made it its main aim to boost trade and economic development and build closer ties among countries. The BRI is helping connect civilizations through trade and making the connectivity to exchange business and services. Apart from trade and business, the BRI facilitates exchanges of ideas, customs, traditions, and values among the connected civilizations. The BRI is creating an environment for cooperation and convergence amongst cultures with the sense of mutual respect at its core. BRI serves as a platform for the world to unite to fight global challenges, including poverty, climate change, inequality, and to pursue sustainable development. Through this shared cooperation, the countries can learn from each other to find reciprocal solutions.
Through efforts like this, China has made a significant contribution towards human development, and strengthened dialogue and exchanges between different civilizations. China also offers inspiration for others to follow the examples of how the Chinese have made progress and led to peaceful coexistence. China's ideals of global governance are based on its philosophy of peaceful coexistence, mutual respect, and equality. These ideals are justified. They are requirements of the time to shun the Cold War mentality because of the need to uplift the lives of humanity as there is no planet B.
Contributed by Muhammad Asif Noor, Director of the Centre for BRI and China Studies
Editor: WXL