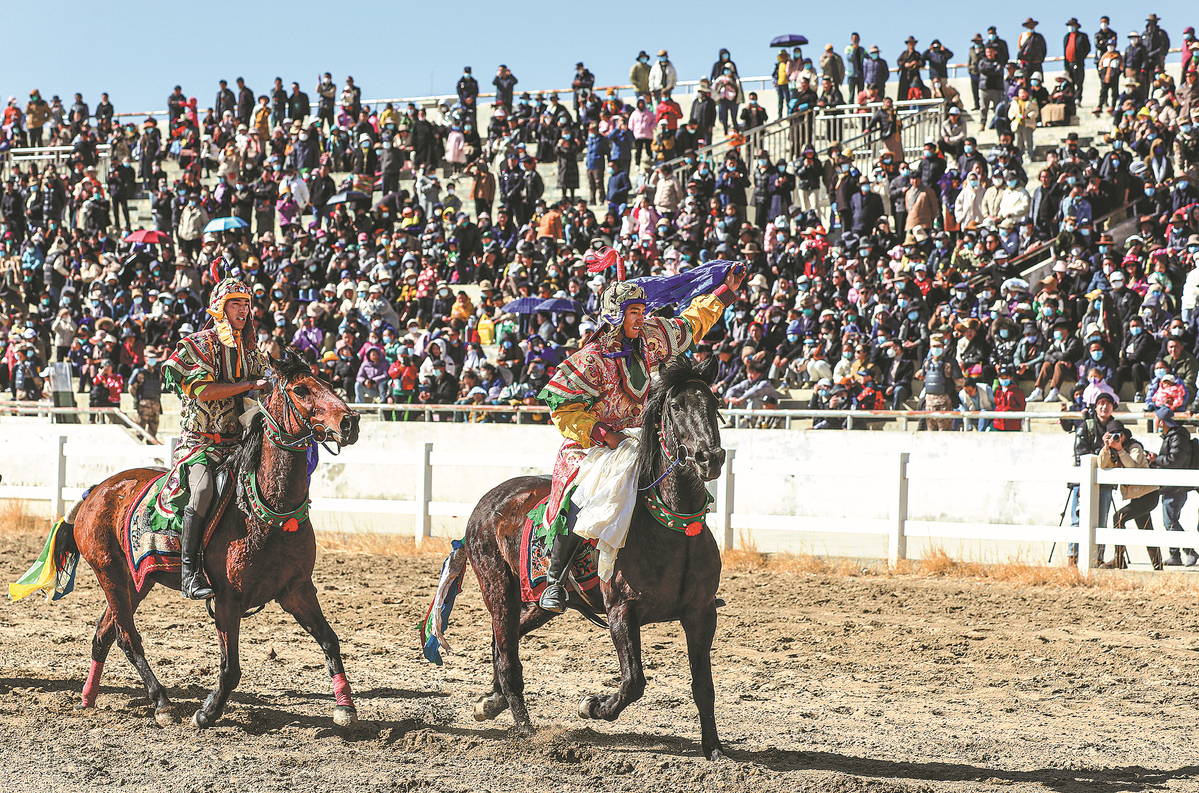 Crowds attend a horse race to celebrate Tibetan New Year in Lhasa on Feb 23. PENGBO TASHI TSERING/FOR CHINA DAILY
Families in region make detailed plans for auspicious occasion that dates to the 11th century, or even earlier
Losar, or Tibetan New Year, is one of the most important festivals for Tibetans, as it signifies new hopes, expectations and good wishes.
Locals make numerous preparations for the celebrations, which date to the 11th century or even earlier, according to Tibetan scholars.
Yangchen Palmo, a researcher at the China Tibetology Research Center in Beijing, said, "Tibetan astronomers formulated the theory for calculating the traditional Tibetan New Year in 1027 based on the theories of five elements — water, wood, metal, earth and fire — and the 12 animals of the zodiac based on traditional Chinese cosmology and ancient Indian astrological theory.
"At that time, 60 years was recognized as a cycle on the Tibetan calendar. The year 1027 — the Fire Rabbit Year on the calendar — was chosen as the first year of the first cycle. Since then, Tibetan New Year has become a traditional festival," she said.
Losar is celebrated not only in China, but by Tibetan communities worldwide, and was listed as one of the nation's national intangible cultural heritage items in 2011.
Most people in the Tibet autonomous region mark Losar, also known as Gyalpo Losar, on the first day of the first month of the Tibetan calendar.
However, residents in Shigatse and Nagchu celebrate Losar at the start of the 12th month. Those in Shigatse call it Sonam, or Farming Losar, while people in Nagchu refer to it as Lochuang, or Pre-New Year.
People in eastern Nyingchi celebrate Losar in the 10th month of the Tibetan calendar and call it Kongpo Losar — with Kongpo referring to those living in different areas of Nyingchi. Some places in the region's Ngari prefecture mark Losar in the 11th month of the calendar.
In Lhasa, the regional capital, Losar fell on Feb 21 this year, but the celebrations began up to two days beforehand.
Many preparations for Losar reflect the region's unique and rich traditional cultures.
Editor: JYZ