The United States is a country defined by extreme violence, where people are threatened by both violent crime and violent law enforcement, and their safety is far from being guaranteed. Prisons are overcrowded and have become a modern slavery establishment where forced labor and sexual exploitation are commonplace. America's self-proclaimed civil rights and freedoms have become empty talk.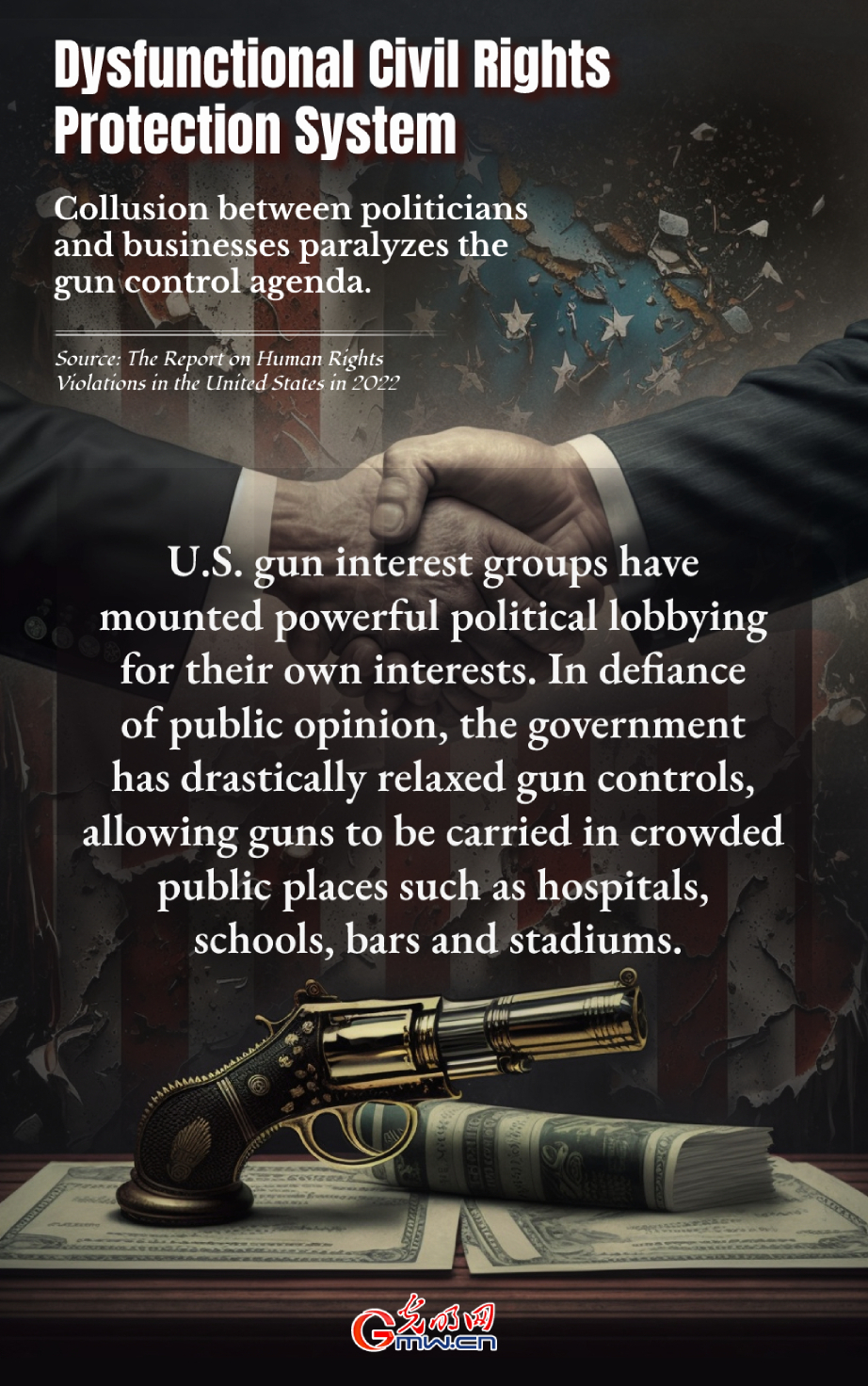 -- Collusion between politicians and businesses paralyzes the gun control agenda. U.S. gun interest groups have mounted powerful political lobbying for their own interests. In defiance of public opinion, the government has drastically relaxed gun controls, allowing guns to be carried in crowded public places such as hospitals, schools, bars and stadiums.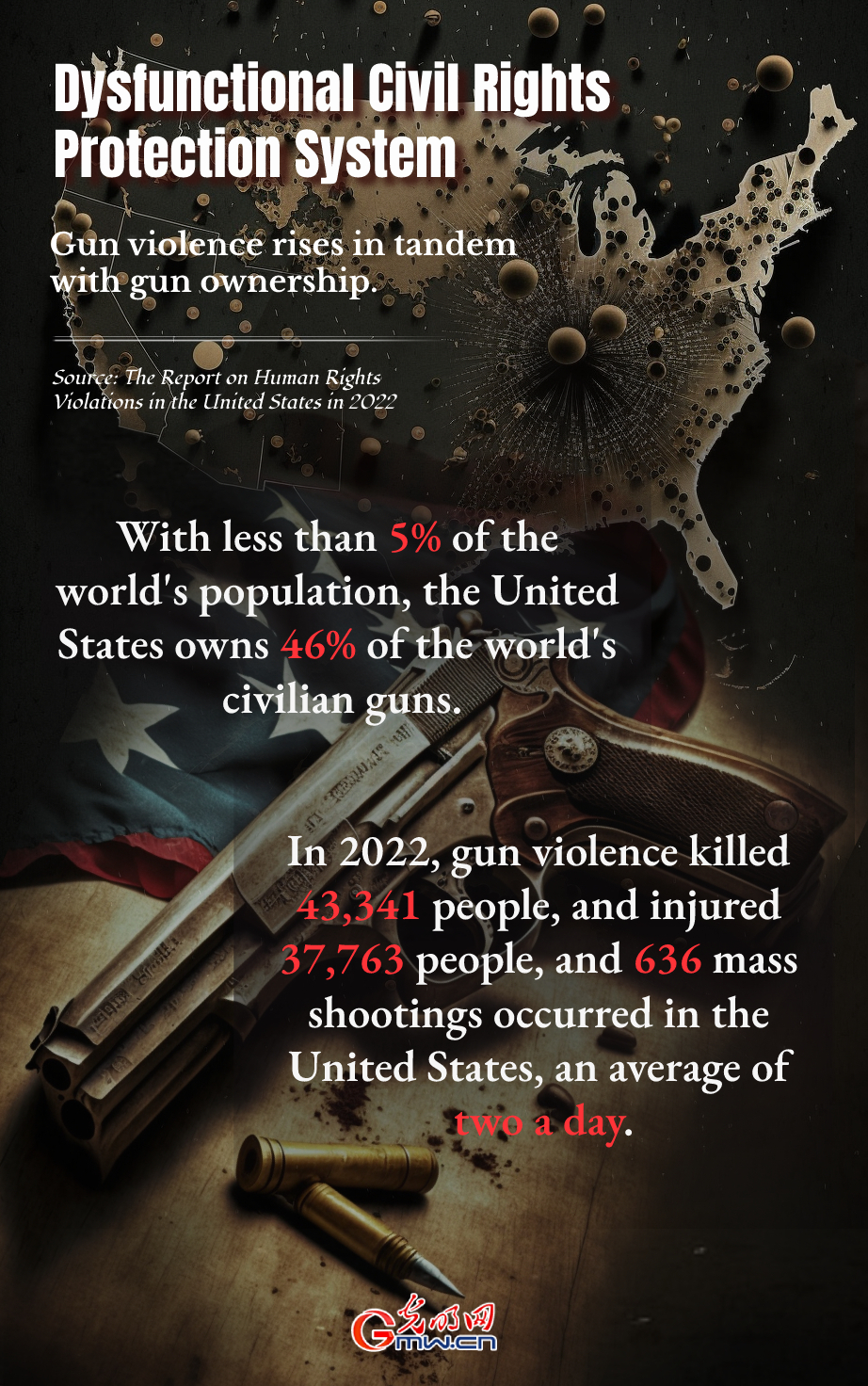 -- Gun violence rises in tandem with gun ownership. With less than 5 percent of the world's population, the United States owns 46 percent of the world's civilian guns. According to the Gun Violence Archive website, in 2022, gun violence killed 43,341 people, and injured 37,763 people, and 636 mass shootings occurred in the United States, an average of two a day.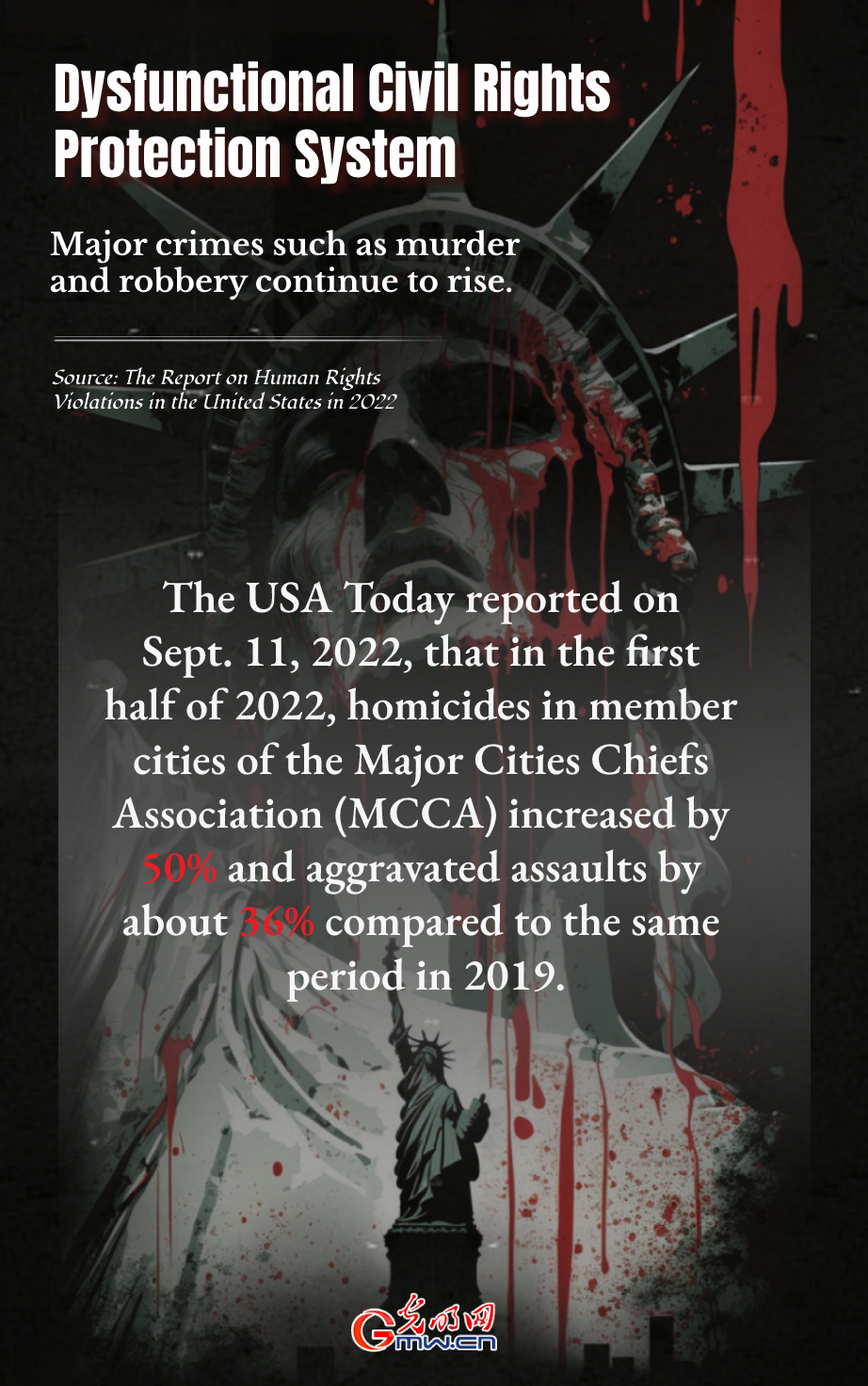 -- Major crimes such as murder and robbery continue to rise. The USA Today reported on Sept. 11, 2022, that in the first half of 2022, homicides in member cities of the Major Cities Chiefs Association (MCCA) increased by 50 percent and aggravated assaults by about 36 percent compared to the same period in 2019.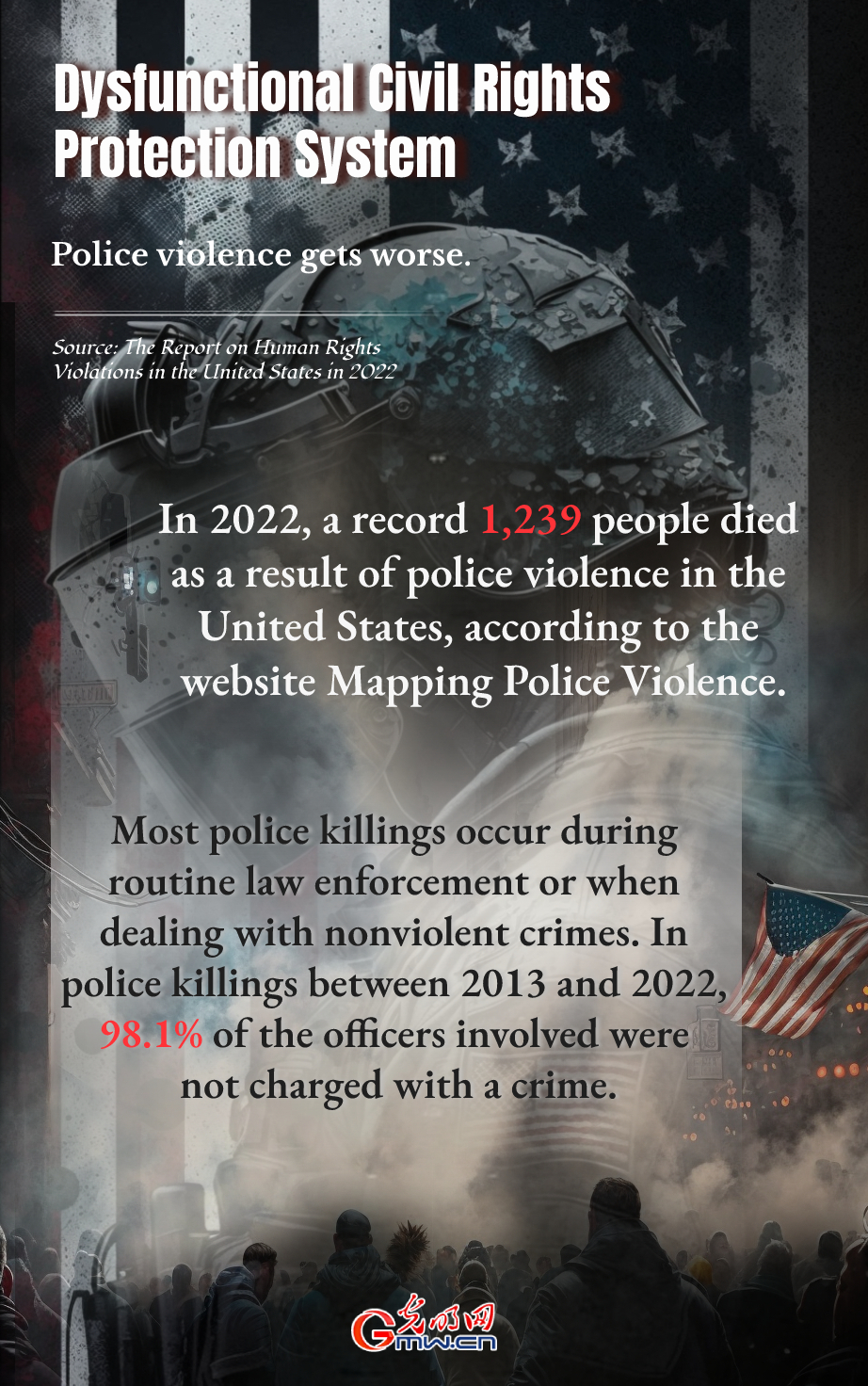 -- Police violence gets worse. In 2022, a record 1,239 people died as a result of police violence in the United States, according to the website Mapping Police Violence. Most police killings occur during routine law enforcement such as stop checks or when dealing with nonviolent crimes. In police killings between 2013 and 2022, 98.1 percent of the officers involved were not charged with a crime.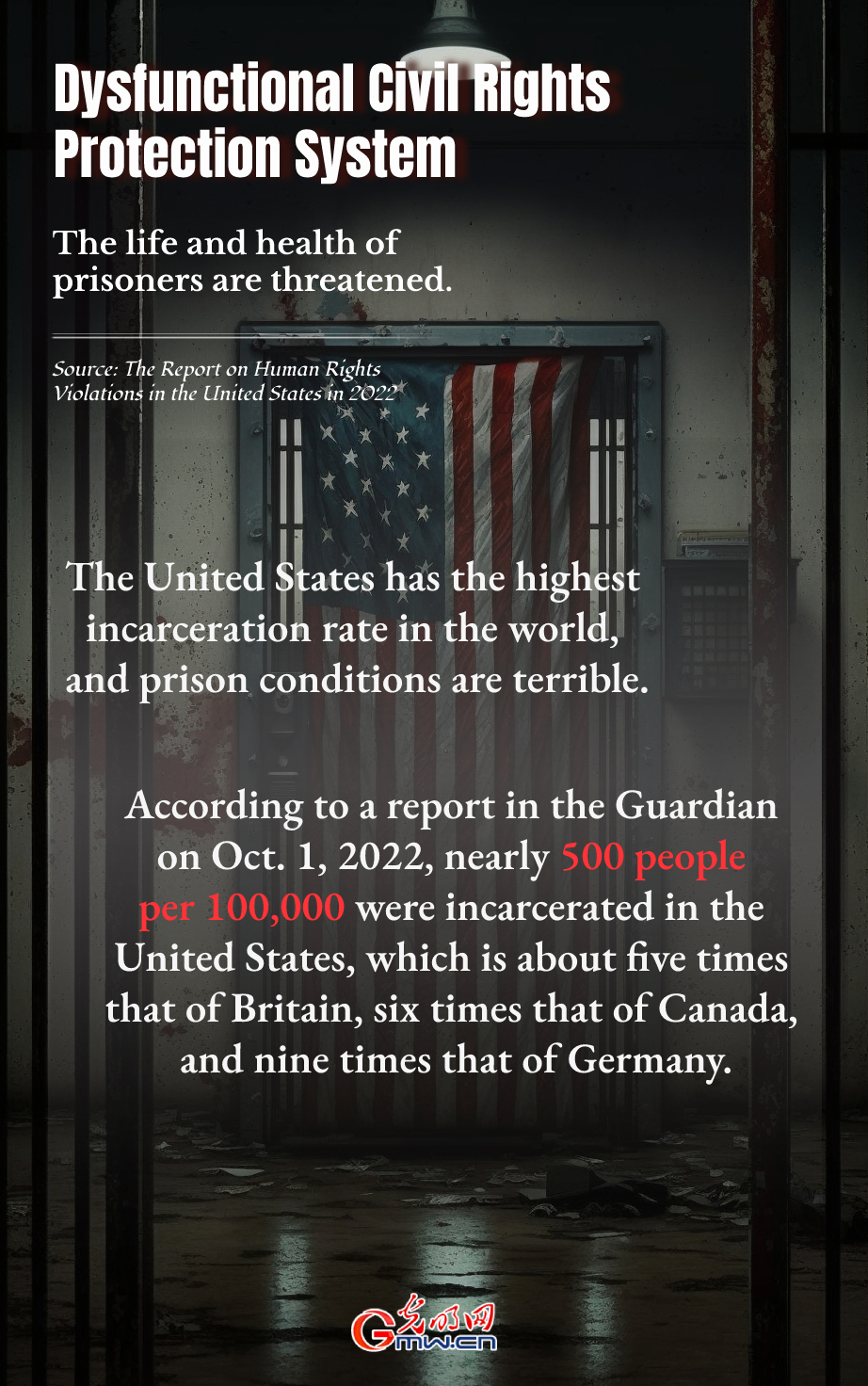 -- The life and health of prisoners are threatened. The United States has the highest incarceration rate in the world, and prison conditions are terrible. According to a report in the Guardian on Oct. 1, 2022, nearly 500 people per 100,000 were incarcerated in the United States, which is about five times that of Britain, six times that of Canada, and nine times that of Germany.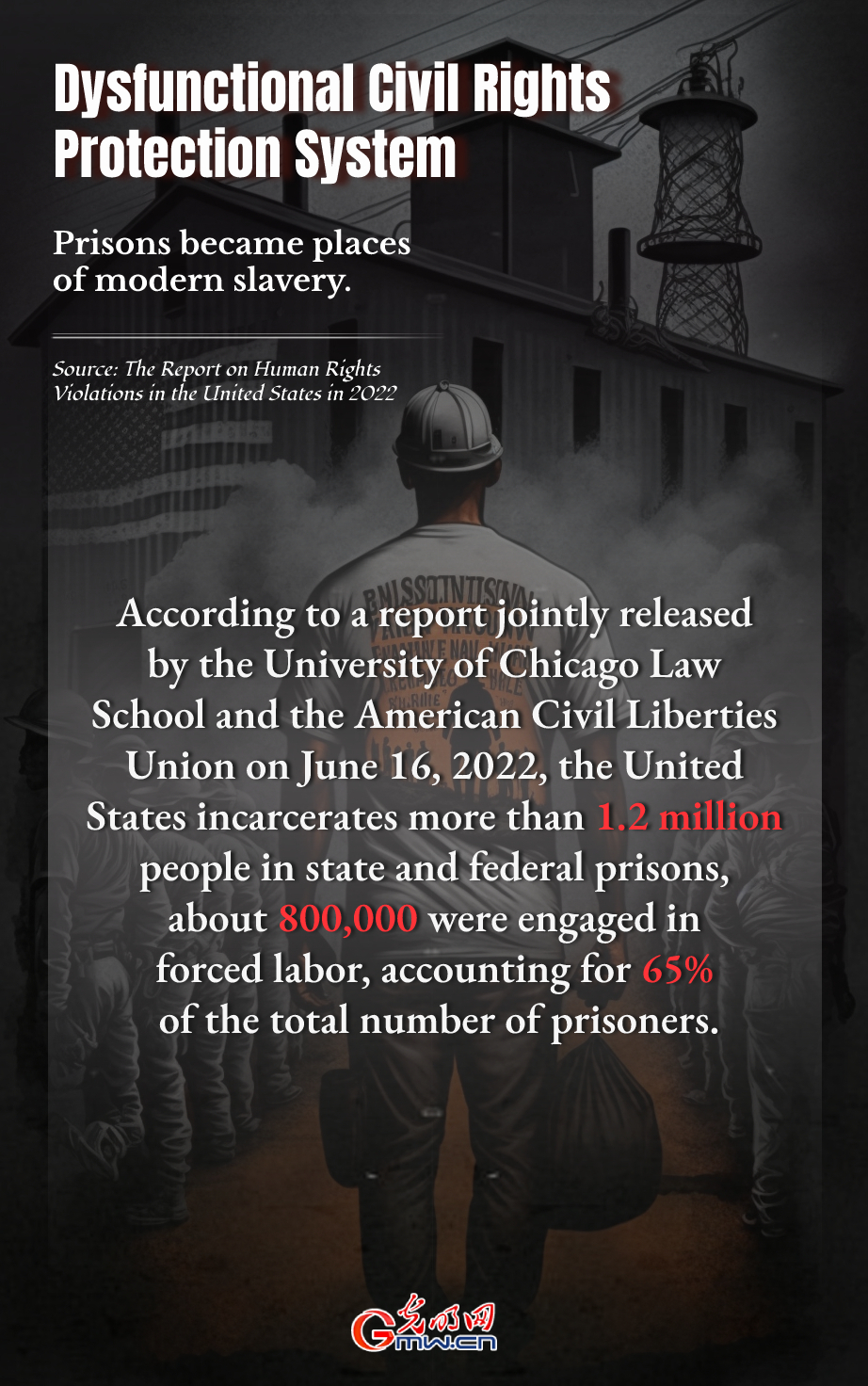 -- Prisons became places of modern slavery. According to a report jointly released by the University of Chicago Law School and the American Civil Liberties Union on June 16, 2022, the United States incarcerates more than 1.2 million people in state and federal prisons, about 800,000 were engaged in forced labor, accounting for 65 percent of the total number of prisoners.
Editor: GSY