The concept of a community of shared future for humanity is a concept first proposed by Chinese President Xi Jinping in 2013. It is based on the core idea that we live in an increasingly interconnected and interdependent world and that we must work together to solve global challenges and pursue common goals. The basis of this concept is harmony and cooperation. Only by working together can all countries of the world create a better future for all people. This concept emphasizes mutual respect, understanding and cooperation among all nations, regardless of their size, wealth or political system.
The whole world as one community, that is the firm commitment and strategic choice of China, which is getting closer and closer to the center of the world stage. To build a harmonious world for people of various countries, this is Chinese wisdom that inherits the fine traditions of Chinese culture and reflects the universal aspirations of all human beings. The concept is a plan for the development of the world and the future of humanity.
A community with a shared future for humanity is guided by the principles of equality, mutual benefit and win-win cooperation. This means that all countries should have equal rights and opportunities to participate in global governance and decision-making, as well as that cooperation between countries should be based on mutual benefit and not on the pursuit of narrow self-interest.
China has outlined several key areas of focus for a community with a shared future for humanity, including promoting economic growth and development, addressing global challenges such as climate change and poverty, and promoting cultural exchange and understanding. The idea of building a community with a shared future for humanity humanity is the core and essence of President Xi's diplomatic thinking.
In practical terms, China has sought to promote a community with a shared future for mankind through initiatives such as the Belt and Road Initiative, which aims to promote economic and cultural exchanges between countries along the ancient trade routes of the Silk Road. China is also an active participant in international organizations such as the United Nations and has sought to work with other countries to address global challenges such as climate change and the COVID-19 pandemic.
It is very important to emphasize that the concept emphasizes the importance of mutual respect, understanding and cooperation among all nations and seeks to promote common goals and common prosperity for all people.
At a time when the world is facing unprecedented challenges, it is an opportunity to review the original mission of the United Nations, to confirm the collective commitment to multilateralism, as a new starting point for the continued promotion of peace and human development. Geopolitical conflicts have led to turmoil in several regions, and non-traditional security threats such as terrorism, climate change and major infectious diseases continue to proliferate.
As one of the founding members of the United Nations and a permanent member of the Security Council, China aims to maintain world peace and promote common development, to protect justice and promote mutual benefit and win-win results, as well as to promote the reform of the global governance system and build a community with common interests for the future of humanity. Practicing the concept of multilateralism and supporting the UN Charter always stand on the right side of history.
The common fight against the epidemic made people aware of the fact that humanity shares a common destiny. In the long run, humanity will eventually overcome the challenges, but such a major public health emergency will not be the last. The various security issues facing humanity present new challenges to the international community. That is why it is important to embrace the concept of community with a common future of humanity, stick to multilateralism and follow the path of solidarity and cooperation.
More efficient multilateral mechanisms and more active regional cooperation will create a better tomorrow for human development. If only all countries work together and help one another, there will be no difficulties that cannot be overcome and no problems that cannot be solved.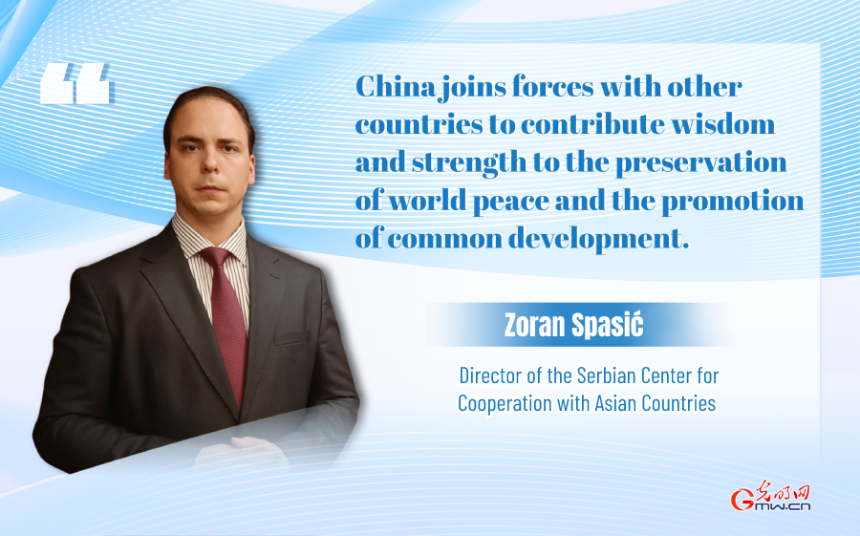 China joins forces with other countries to contribute wisdom and strength to the preservation of world peace and the promotion of common development. During the epidemic, China firmly supported the World Health Organization to play a key and leading role and make important contributions to the global fight against the pandemic.
A firm commitment to multilateralism is essential to global security, stability and development. Global challenges require all countries to work together, and solidarity and cooperation are the most powerful weapons. In the future, China will cooperate with other countries in the world to promote and strengthen multilateralism, protect the multilateral system, and join forces to create a better tomorrow for world peace and common development.
President Xi noted that we should expand our global vision and develop keen insights into human development and progress trends, respond to the general concerns of people from all countries, and play our part in resolving the common issues facing humankind.
All people, regardless of where they are in the world, want to have better education, more stable jobs, higher incomes, secure social security, better medical and health care, improved living conditions and a beautiful environment, and the key to success lies in strengthening multilateralism.
China's aspiration to promote a community with a shared future is sincere. In the new era, China continues to uphold the theme of a time of peace and development and advocates peace, development and win-win cooperation. It does so by firm and concrete actions and practices to promote and lead the building of a community with a common future for humanity, and will continue to contribute to lasting world peace and stability, common development and prosperity, as well as exchange and mutual understanding between civilizations.
In the process of building this community, China will actively lead the trend of time and progress of human civilization and make significant new contributions to peace, universal security, shared prosperity, openness, inclusiveness and development in the world.
Contributed by Zoran Spasić, Director of the Serbian Center for Cooperation with Asian Countries
Editor: GSY