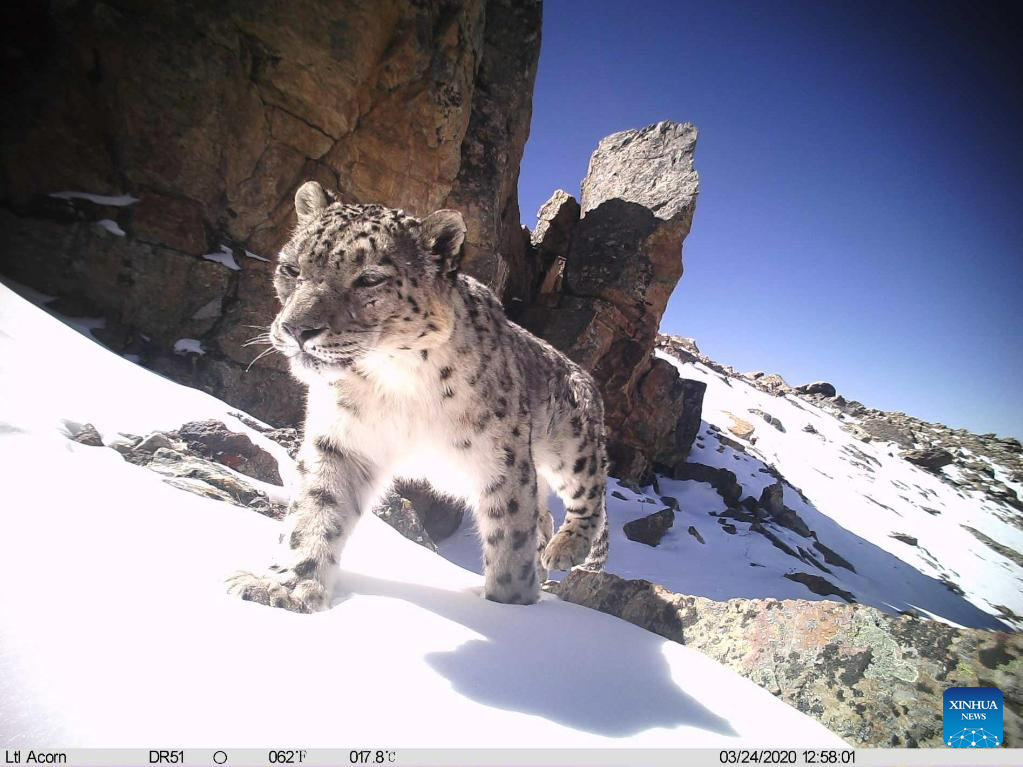 This file photo taken by an infrared camera shows a snow leopard in the Mount Qomolangma reserve area in southwest China's Tibet Autonomous Region. (Qomolangma Snow Leopard Protection Center/Handout via Xinhua)
LHASA, May 22 (Xinhua) -- Preliminary estimates put the population of snow leopards in the Mount Qomolangma reserve area in southwest China's Tibet Autonomous Region at more than 100, according to the regional forestry and grassland bureau.
The Qomolangma National Nature Reserve boasts a treasure trove of biodiversity, and the snow leopard is the flagship species of the reserve. Under first-class state protection, snow leopards usually live in mountains between 2,500 meters and 5,000 meters high and can withstand temperatures as low as minus 40 degrees Celsius.
The regional forestry and grassland bureau and non-profit organizations launched a project in 2013 to carry out habitat monitoring and population investigation of the animal in the Mount Qomolangma area. The total monitored area exceeded 3,000 square km over the years.
Head of Mount Qomolangma Base Camp management station Lhapa Tsering met a snow leopard at the base camp more than 10 years ago, and saw the animal several times through infrared cameras set up in the reserve in recent years.
"I once wondered if snow leopards were extinct in the region, but now I'm relieved," he said.
The effectiveness of snow leopard protection is directly related to the stability and integrity of the plateau mountain ecosystem. Through the project, the scientific paradigm of population research on snow leopards around Mount Qomolangma has been preliminarily explored, and the standard system of species monitoring has been established, according to Gong Ziling, executive director of the Qomolangma snow leopard protection center.
With the implementation of the law on ecological conservation on the Qinghai-Tibet Plateau, targeted patrols and protection of wild animals in the Mount Qomolangma area will be strengthened. ■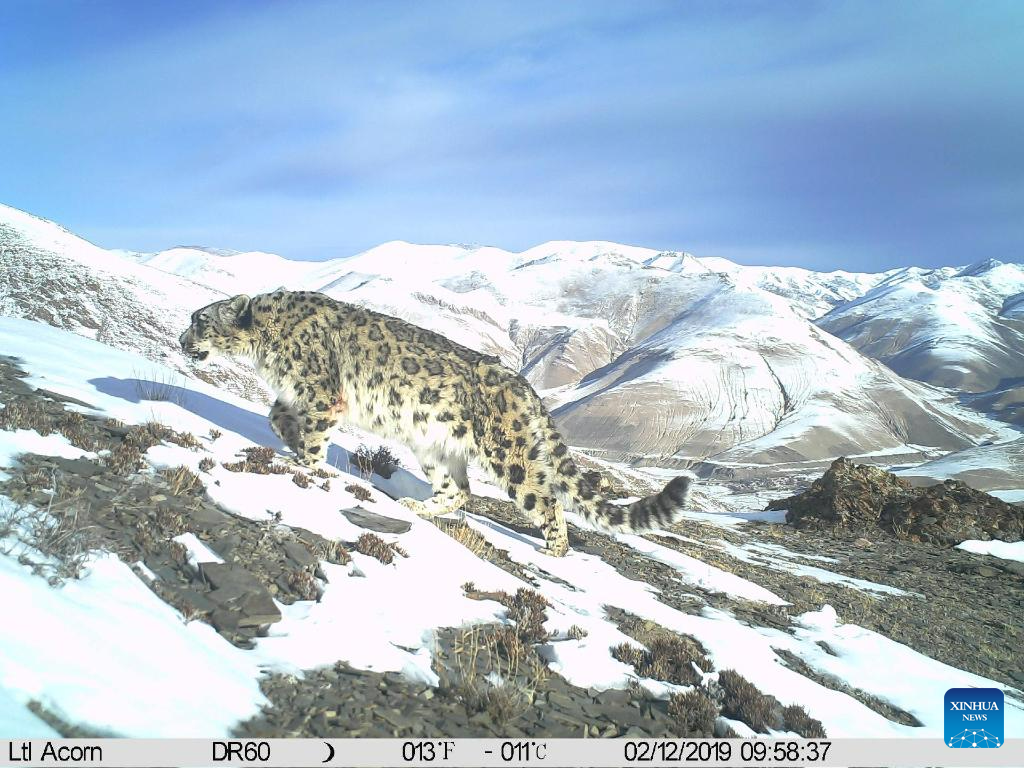 This file photo taken by an infrared camera shows a snow leopard in the Mount Qomolangma reserve area in southwest China's Tibet Autonomous Region. (Qomolangma Snow Leopard Protection Center/Handout via Xinhua)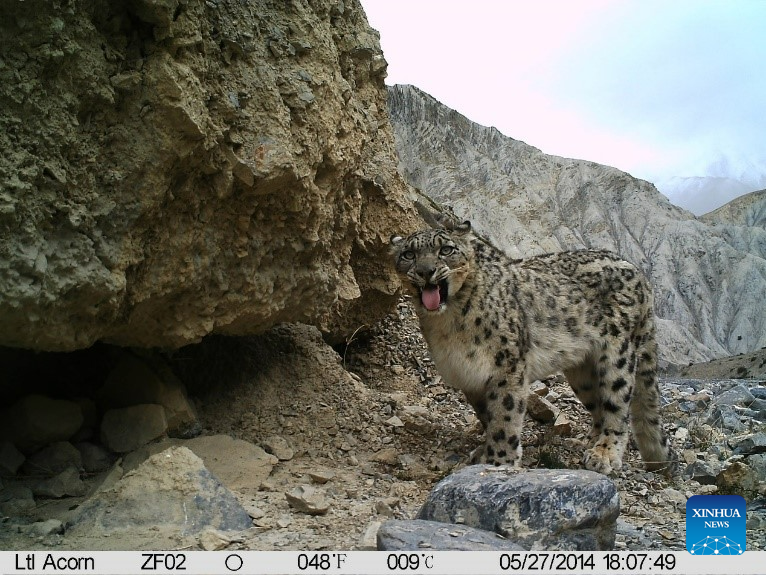 This file photo taken by an infrared camera shows a snow leopard in the Mount Qomolangma reserve area in southwest China's Tibet Autonomous Region. (Qomolangma Snow Leopard Protection Center/Handout via Xinhua)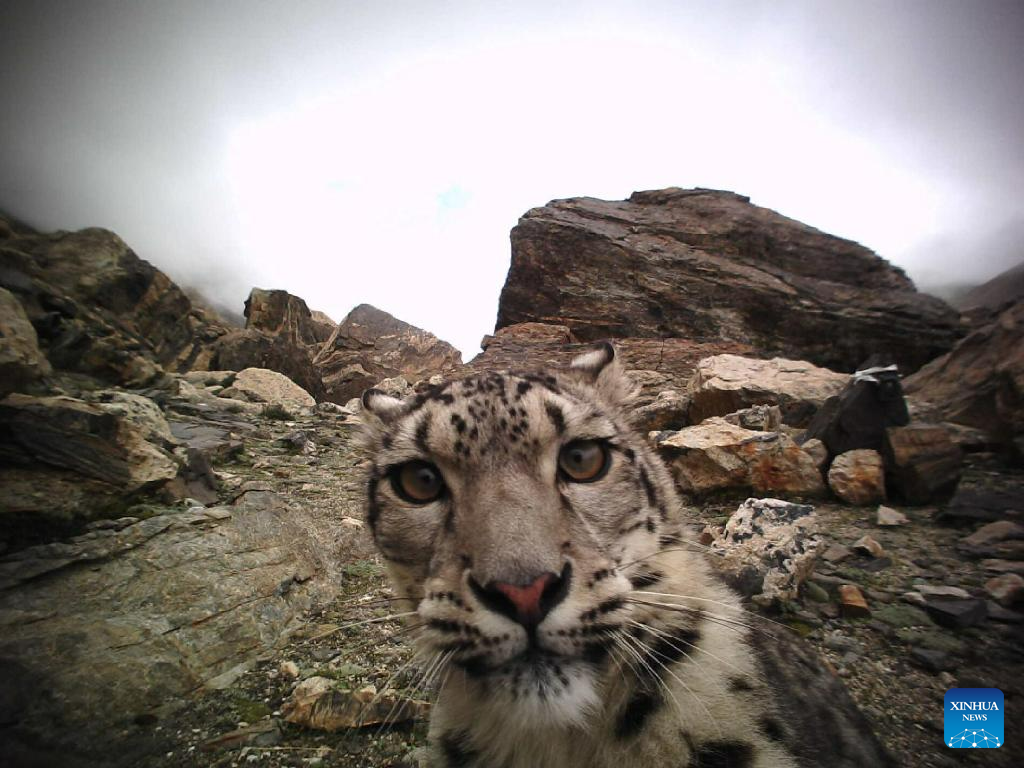 This file photo taken by an infrared camera shows a snow leopard in the Mount Qomolangma reserve area in southwest China's Tibet Autonomous Region. (Qomolangma Snow Leopard Protection Center/Handout via Xinhua)
Editor: JYZ