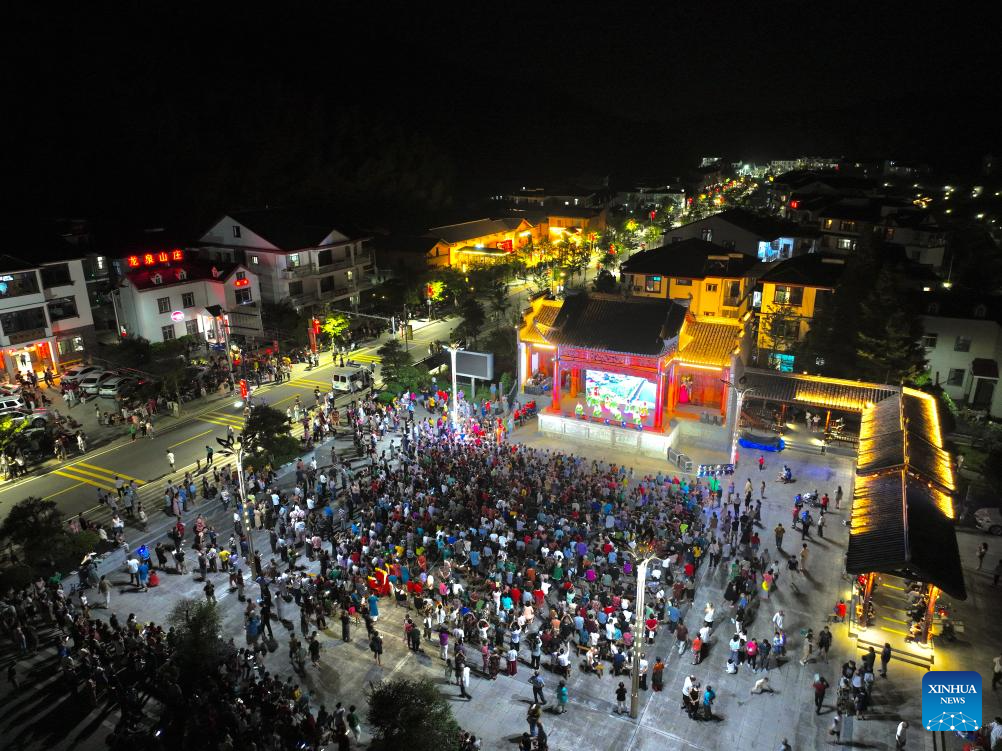 This aerial photo taken on July 24, 2023 shows a cultural show organized by local government for visitors in Zhongyuan Township of Jing'an County, east China's Jiangxi Province. (Xinhua)
NANCHANG, Sept. 4 (Xinhua) -- In summer, the forest-covered Zhongyuan Township on a hillside in east China's Jiangxi Province has drawn flocks of visitors from across the country.
The booming tourism in the picturesque township of Jing'an County has benefited the locals greatly. "All our rooms are often fully booked during the summer holiday, and visitors have to reserve a few months in advance," said Liu Fangyong, a homestay owner in Sanping Village of Zhongyuan.
Sitting in the hinterland of Jiuling Mountain with a forest coverage rate of nearly 90 percent, Zhongyuan is cooler in summer, with an average temperature ranging from 18 degrees Celsius to 22 degrees Celsius, making it an ideal location to develop the "summer economy."
Data shows that there are 721 registered homestays in Zhongyuan's summer resorts, welcoming some 30,000 tourists every summer.
"We have a stable group of customers, and many of them even prefer to pay the booking deposit for the next year," Liu said.
The bustling scenes reminded the 57-year-old Liu of the looks of the relatively undeveloped township decades ago when the township roads were bumpy with sand and dust, and hardly any trees would grow on the nearby hills.
"The majority of the villagers preferred to work outside the township to earn their living at that time," Liu recalled.
In the year 2000, the township embraced green development and jumped on the bandwagon of developing rural tourism.
"Now 90 percent of migrants have come back to the township and run homestays, with an average annual income increase of 100,000 yuan (about 14,000 U.S. dollars) per household," said Chen Wuhe, an official with Sanping Village.
A homestay association was established in Zhongyuan Township in 2021 to improve the local reception capacity further. The association optimizes the management of homestays with the help of scenic management approaches, to standardize the price and decor of the homestays in each village of the township.
Li Simin, an 86-year-old resident of Nanchang, capital city of Jiangxi, has been spending 12 summers consecutively at Liu's homestay. "It is already a 'home' for me, and I keep my luggage here all year round," she said.
The voluble and gregarious Li said that she just organized an evening party in August, attracting many guests from the homestay to get involved.
According to Zhong Wei, president of the local homestay association, the association also provides free training on breakfast making, etiquette serving, and fire control security for homestay owners every year.
As this year's summer has ended, Liu plans to repaint the walls of his homestay rooms and rebuild an old house into a restaurant to prepare for the tourists rushing for a summer escape next year. ■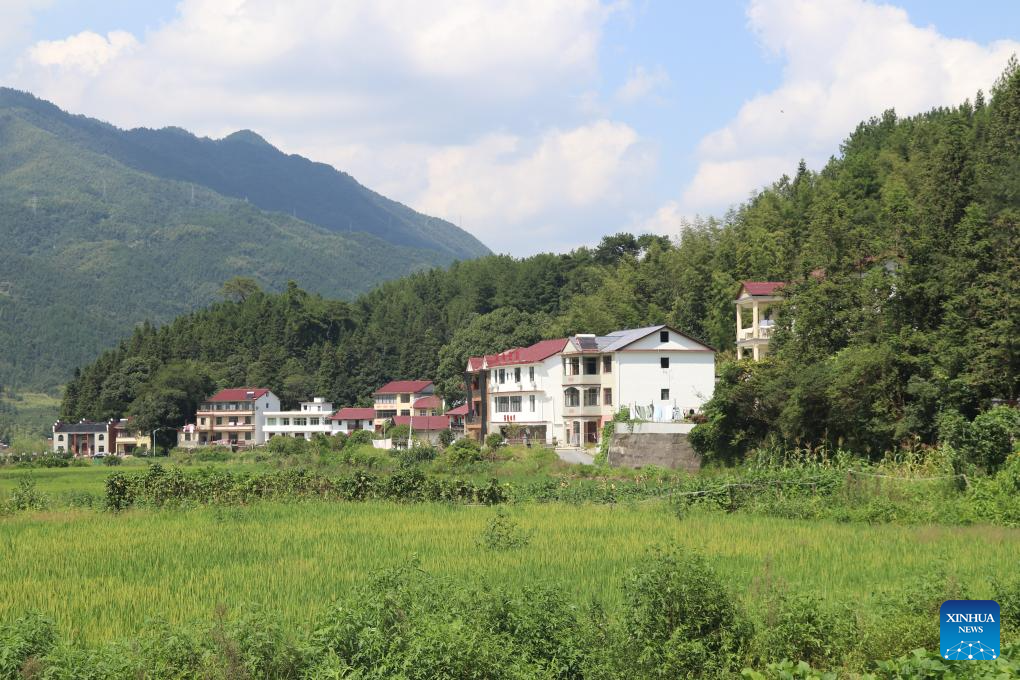 This photo taken on Aug. 23, 2023 shows homestays in Zhongyuan Township of Jing'an County, east China's Jiangxi Province. (Xinhua/Liu Yang)
Editor: JYZ