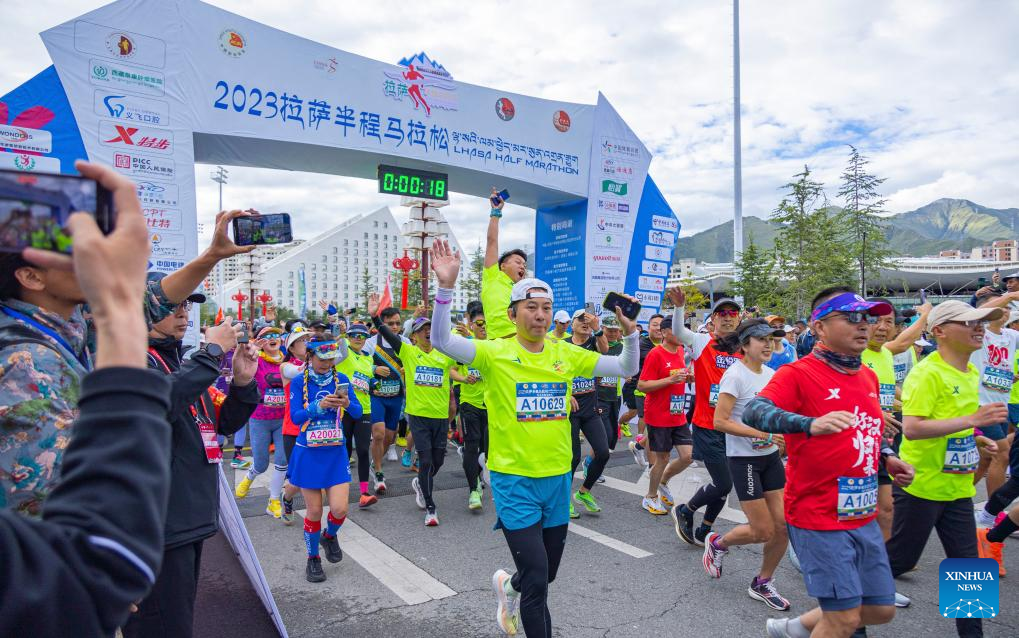 Runners set out during the Lhasa Half Marathon in Lhasa, southwest China's Tibet Autonomous Region, Aug. 27, 2023. (Photo by Tenzin Nyida/Xinhua)
by Cao Bin
LHASA, Aug. 28 (Xinhua) -- When I first came to the Qinghai-Tibet Plateau, I walked as slowly as I could, for fear of the dizziness caused by high altitude. I didn't expect that, within just six months, I would find the courage to sign up for a marathon in Lhasa.
But before anyone exclaims, I should point out that I was only running a 5-km mini-marathon. The good news is that I completed it in one piece.
At an altitude of about 3,650 meters, Lhasa is one of the highest cities in the world. With low air pressure, its oxygen content is only about two-thirds of that in lowland plain areas.
For safety reasons, the organizing committee of the Lhasa Half Marathon required participants to have sub-plateau or plateau competition experience before they were allowed to sign up. In addition, runners from outside Tibet would have to undergo a health examination at a designated hospital after arrival in Lhasa.
I was warned repeatedly by colleagues and friends that a plateau marathon is a sports competition under special conditions, which means more fatigue and a slim chance of achieving a PB (personal best).
I'm not a pro anyway, and I don't care about my PB. I just thought that it would be a nice challenge, and one I was probably capable of.
When I was in Beijing, I often ran at least 10 km after work, so I thought a 5-km run should not be difficult, even at high altitude. Besides, the time limit for the 5-km run is 70 minutes, which is more than enough time to do 10 km in Beijing.
However, as always, reality bites. The moment I departed the starting line, an odyssey began. In Beijing, I usually "hit the wall" somewhere between 5 and 6 km, at which point I feel very tired and want to give up. But if I can stick it out for a hundred meters more, everything gets easier, and I won't hit the wall again before the finish line.
But in Lhasa, I hit the wall early on, and I hit it again with every subsequent second. My breathing was fast, my feet were heavy, my watch showed my peak heart rate was over 180 beats per minute, and I lost my strength faster than I expected.
I suddenly thought of the precautions mentioned by the organizing committee during the event instructions. During the race, they said, if you encounter a sudden acceleration of the heart rate and it continues for about 10 minutes, accompanied by shortness of breath and excessive sweating, this is not the normal physiological manifestation of "hitting the wall" but the oppression of the cardiovascular system caused by the plateau competition. You should squat on the spot, rest and drink water. You should slowly re-enter the competition only after the symptoms have passed.
So I obediently slowed my pace. Along the way, there were supply stands and oxygen tanks every few hundred meters, and ambulances were visible just a few meters away. Feeling safe, I picked up the pace once more.
Finally, with the encouragement of local residents in Lhasa, I approached the end. I caught a glimpse of the cameras waiting to take my photo. Part of me wanted to sprint, allowing for a "heroic" photo of me racing across the line.
But I recalled the warning issued by the organizing committee: Don't suddenly accelerate as you approach the finish line, because this is the stage where sudden death is most likely to occur.
So, obediently, I stabilized by breathing and pace, and "walked" across the finish line with a smile. The entire run took me 40 minutes.
I was more than content to finish the race smoothly. I knew there were still many contestants who had given up on the mini-marathon due to experiencing physical discomfort after arriving in Lhasa.
As the organizing committee said on many occasions: If you still feel uncomfortable before the marathon, you must not insist on running. Giving up is also a form of bravery, and returning home safely is the real finish line of the Lhasa Half Marathon. ■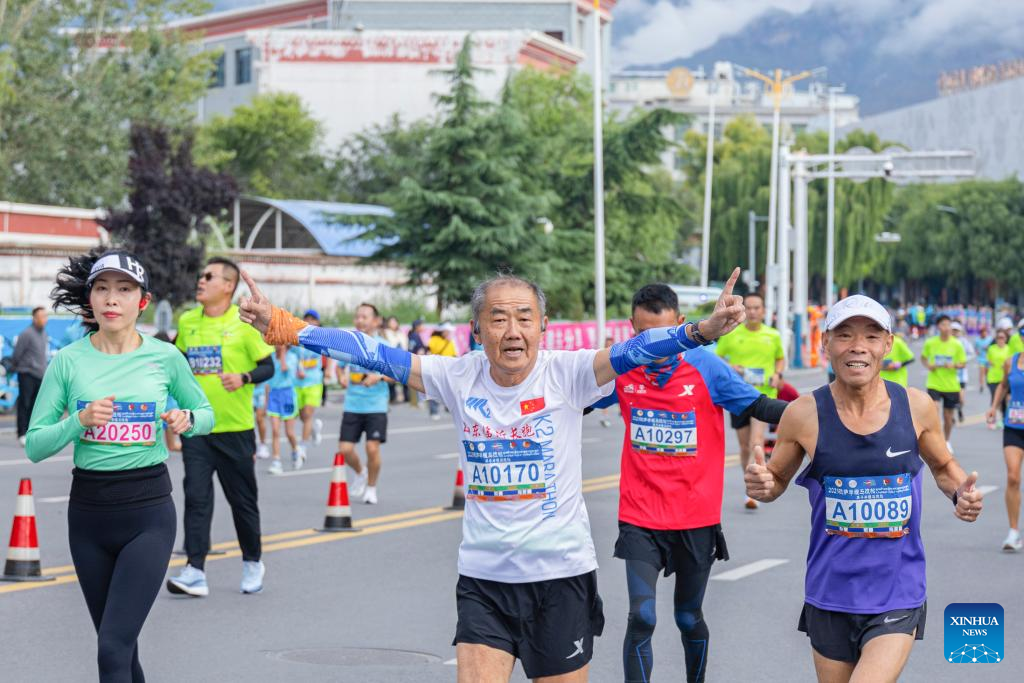 Runners take part in the Lhasa Half Marathon in Lhasa, southwest China's Tibet Autonomous Region, Aug. 27, 2023. (Photo by Tenzin Nyida/Xinhua)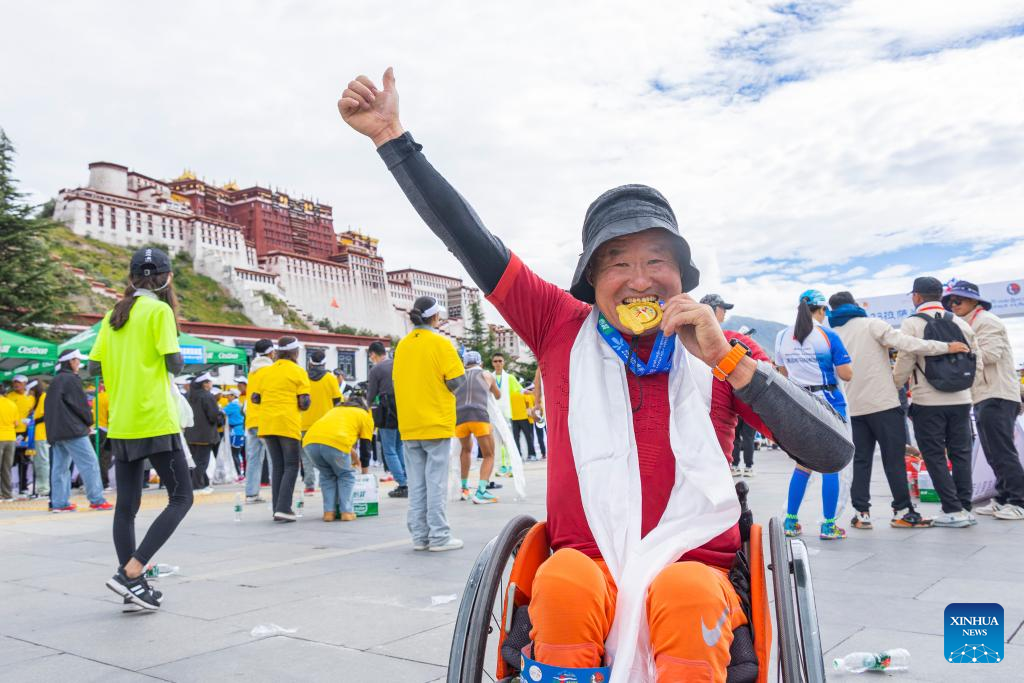 A runner completes the Lhasa Half Marathon in a wheelchair in Lhasa, southwest China's Tibet Autonomous Region, Aug. 27, 2023. (Photo by Tenzin Nyida/Xinhua)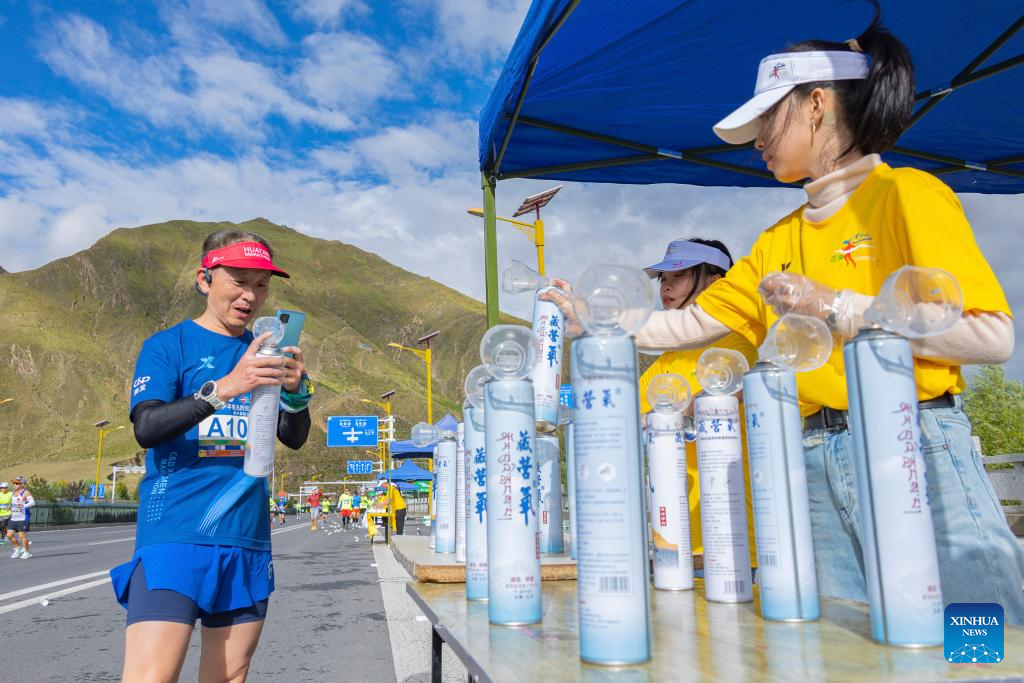 A runner fetches an oxygen canister during the Lhasa Half Marathon in Lhasa, southwest China's Tibet Autonomous Region, Aug. 27, 2023. (Photo by Tenzin Nyida/Xinhua)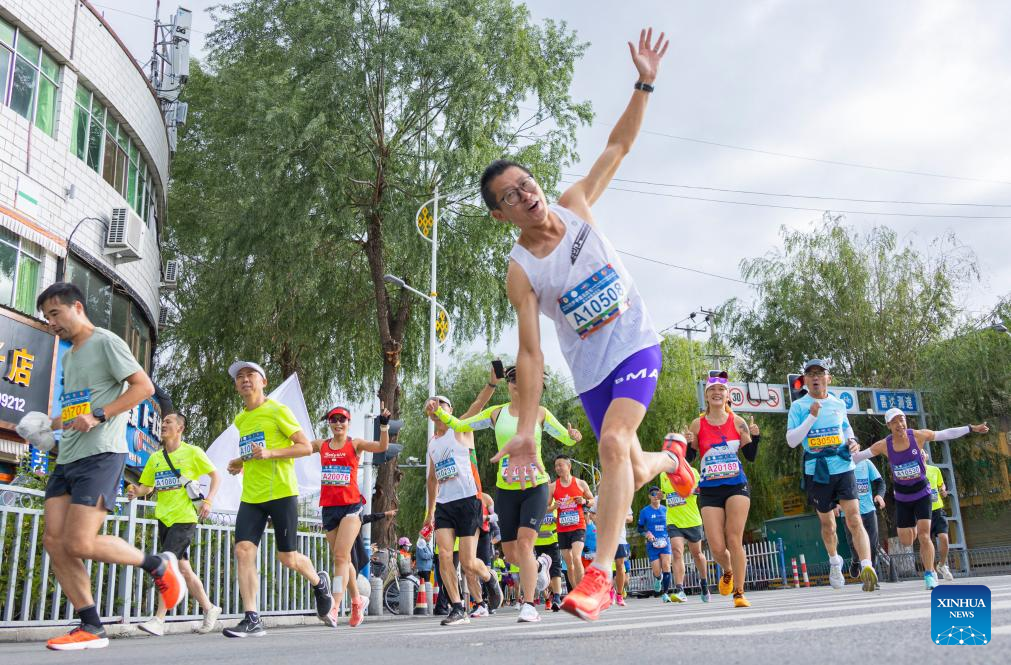 Runners take part in the Lhasa Half Marathon in Lhasa, southwest China's Tibet Autonomous Region, Aug. 27, 2023. (Photo by Tenzin Nyida/Xinhua)
Editor: JYZ