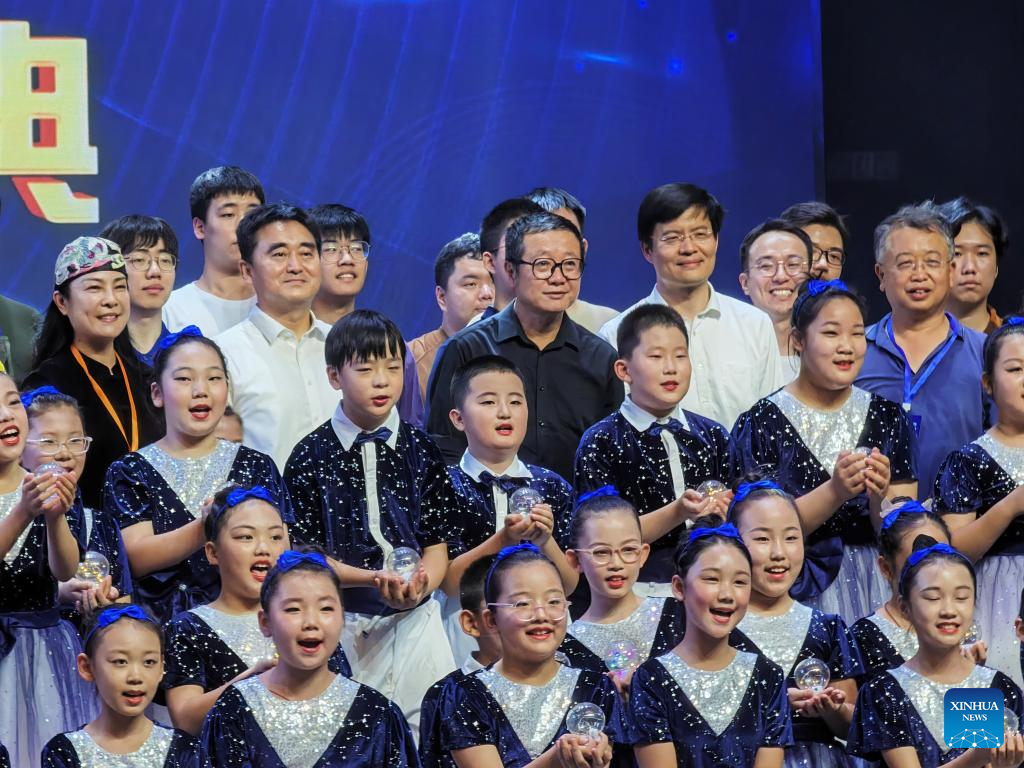 Liu Cixin (4th row, C) poses for photos with children during a science fiction cultural week event in Yangquan, north China's Shanxi Province, Aug. 15, 2023. (Xinhua/Wang Hao)
TAIYUAN, Sept. 10 (Xinhua) -- Beijing-based editor Bi Yumin traveled 400 km by train to a mountainous small city, only to meet her idol Liu Cixin.
In a week's stay in Yangquan, north China's Shanxi Province, she went to the newly-built Liu Cixin Studio in the downtown area, visited the Niangziguan Power Plant where Liu used to work as an engineer, and paid a visit to a gymnasium in the early morning, hoping to make an encounter with him.
"I heard from locals that Liu had a habit of running here in the morning, so I tried my luck here," Bi said with a smile.
Yangquan, an old industrial base in the Taihang Mountains, was little known to the outside world until Liu from the small city won the Hugo Award for his sci-fi saga the "Three-Body" trilogy.
Now, the Niangziguan Power Plant, which has been shut down in a move to cut emissions, has become "a resort" for sci-fi fans.
The plant's outer wall, stretching about 1,000 meters, is painted with the stunning scenes of "Three-Body" and "The Wandering Earth," another novel written by Liu that was adapted into movies. Residents and tourists passing by would slow down their cars or pause to look at these imaginative wall paintings.
"The sci-fi elements that Liu brings here have revived this power plant in another way," said Shuai Xuefeng, a former plant worker who still lives in the dormitory of the power plant.
Since 1999, when Liu started his creation, he has published seven novels and some 40 short stories, with his works translated into dozens of languages, including English, French, Spanish, German, Japanese and Korean.
Luo Xiangdong, an executive of the provincial writers' association, said Liu had built a vast universe with his works, and the movie and TV drama adaptations of his works have, to a large extent, ignited the sci-fi craze among young people and promoted the development of Chinese sci-fi movies and TV dramas.
In a cultural park in the urban area of Yangquan, a sci-fi cultural week was held last month, where many experts and scholars, including Liu, gathered to discuss the present and future of science fiction literature.
The event also included sci-fi literature and fine arts contests, drawing contestants from across China to send their works. Many of the contestants are youths.
Kou Miaoqi, the first prize winner of the sci-fi literature competition, said that she has always loved writing, but this is the first time that she has written a sci-fi work -- a 15,000-character piece called "A Guide to Facing the Sea."
"The contest has given me much confidence, and I hope I can make some achievement in the field of science fiction in the future," said the 34-year-old.
"Science fiction has the power that enables readers, especially young readers, to have a strong interest in nature, the universe and the relationships among man, nature and the universe, igniting their passion for exploring a new world," Liu Cixin told Xinhua.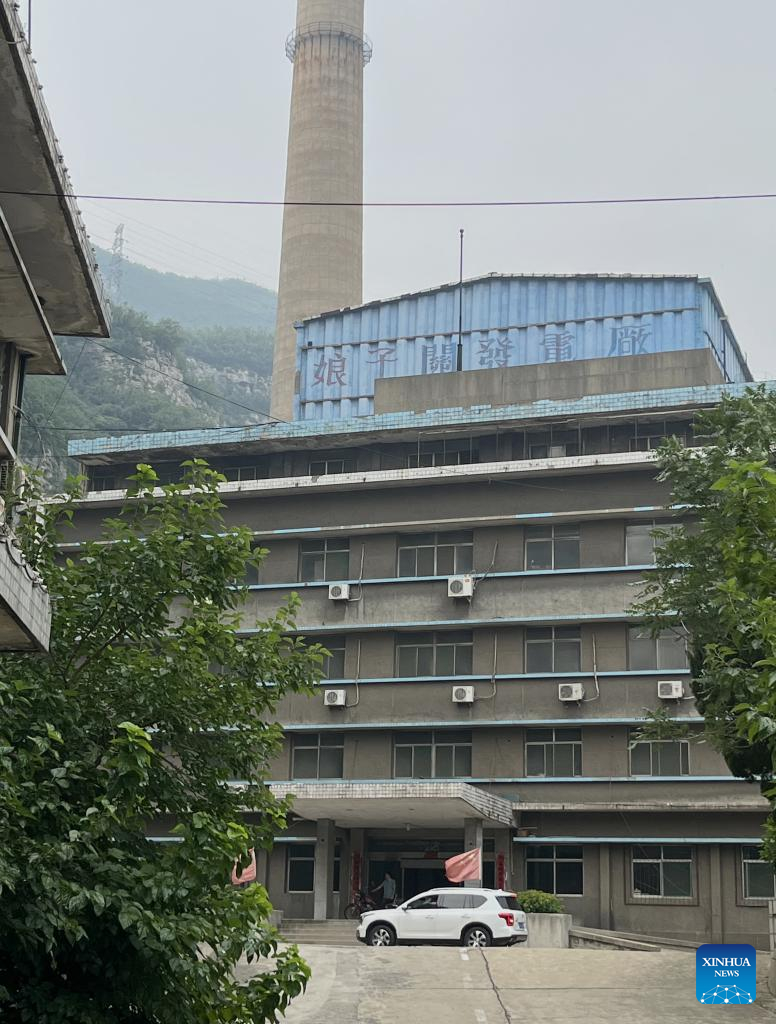 This photo taken on Aug. 17, 2023 shows the Niangziguan Power Plant, where Chinese science fiction writer Liu Cixin used to work as an engineer, in Yangquan, north China's Shanxi Province. (Xinhua/Wang Hao)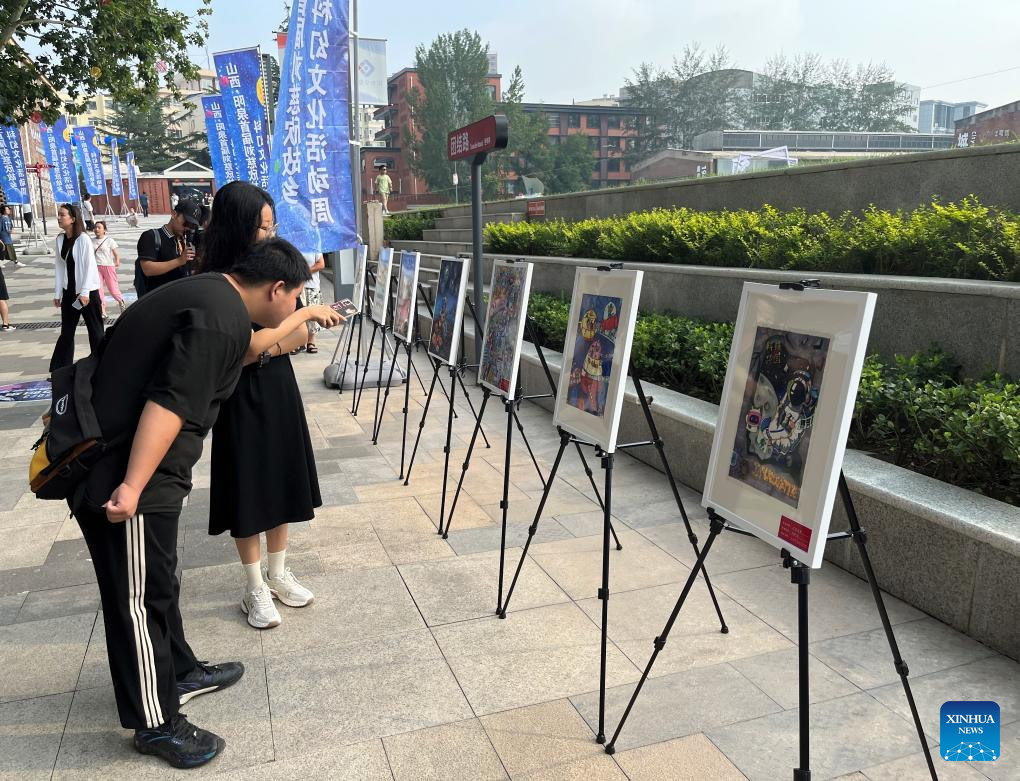 Visitors view science fiction artworks at a cultural park in Yangquan, north China's Shanxi Province, Aug. 15, 2023. (Xinhua/Wang Hao)
Editor: ZAD