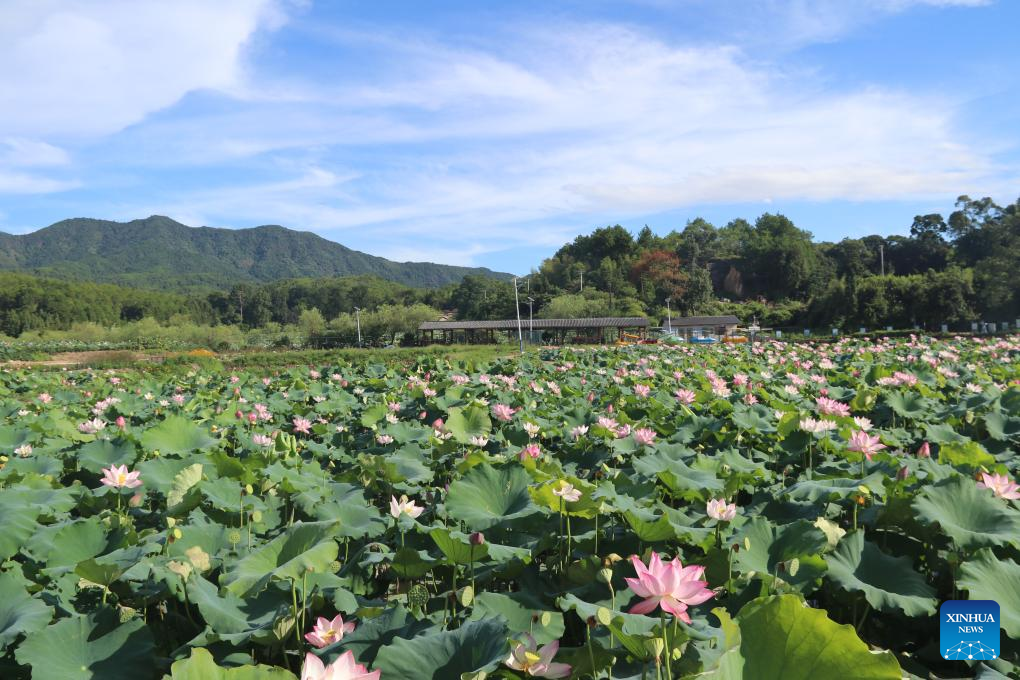 This photo taken on July 27, 2023 shows lotuses blooming in a pool of Yaoxi Village, Guangchang County of east China's Jiangxi Province. (Xinhua/Liu Yang)
NANCHANG, Sept. 13 (Xinhua) -- Wu Aimin, once a logistics businessman, made a life-changing decision four years ago. He returned to his hometown, a village in east China's Jiangxi Province, and established a homestay.
He knew he had made the right choice as his business grew brisk lately, with nearly 80 percent of rooms booked during the summer holiday.
"We provide delicious dishes and organize various activities, but I know it is the vast lotus pond that attracts tourists," said Wu.
Wu hails from Yaoxi Village, Guangchang County in east China's Jiangxi Province, renowned for its white lotus. The area boasts a history of lotus cultivation spanning over a thousand years, producing white lotus seeds known for their large size, sweet taste, and beautiful color.
Yaoxi Village is one of the main lotus production areas in Guangchang County, with a planting area of nearly 2,000 mu (about 133 hectares). Almost 70 percent of the villagers are engaged in lotus-related industries.
Yao Liansheng, a villager in Yaoxi, has planted 20 mu of white lotus, which brings him an annual income of over 60,000 yuan (about 8,335 U.S. dollars). "Planting white lotus has beautified the village and, at the same time, improved our family earnings," said Yao.
In 2022, Yaoxi Village witnessed the establishment of a factory specializing in lotus seed products. Mechanical equipment peels, shells, and dries raw lotus seeds, significantly enhancing productivity. The factory now produces nearly 2,000 kilograms of lotus seeds daily.
"Our village's collective income surged from 168,000 yuan in 2020 to nearly 560,000 yuan in 2022," said Feng Guangrong, Communist Party chief of the village.
With fully developed supply chains, numerous enterprises have tapped into the thriving market for high-value-added lotus products. Zhichun Food Co., Ltd., a local company specializing in lotus products, has diversified its offerings, including lotus seed juice, lotus leaf tea, and lotus root starch. The company's sales in the first half of this year alone reached almost 70 million yuan.
Chen Ronghua, the company's chairman and a local from Guangchang County, rejoiced at the company's sales performance. "Our products are not only sold in major Chinese cities like Beijing and Shanghai but are also exported to international markets such as the United Kingdom, Canada, and Japan, with total export sales worth 400,000 U.S. dollars last year."
The county boasts over 20 enterprises engaged in lotus product processing, and the white lotus planting area spans approximately 110,000 mu.
As the lotus industry is burgeoning, Guangchang County has witnessed rapid growth in rural tourism. Data shows that the Yaoxi Village received 119,618 visitors in July, with up to 10,000 people arriving daily to enjoy the scenery when lotus flowers bloom.
Excitedly, Feng shared that the village plans to establish night markets and offer folklore performances to attract more visitors. ■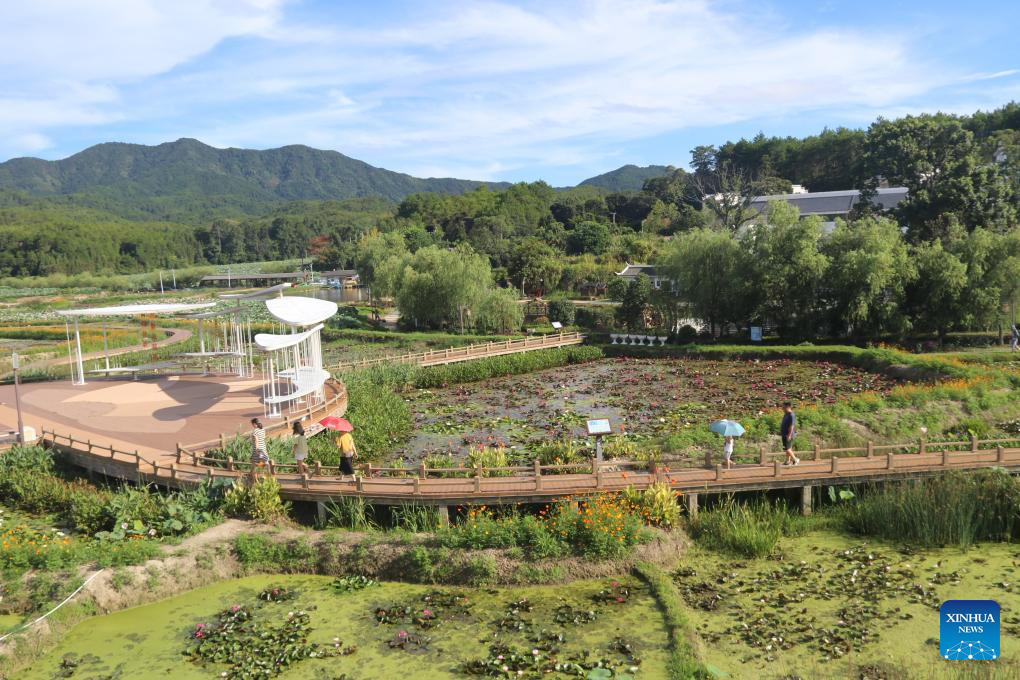 This photo taken on July 27, 2023 shows visitors wandering in Yaoxi Village, Guangchang County of east China's Jiangxi Province. (Xinhua/Liu Yang)
Editor: JYZ