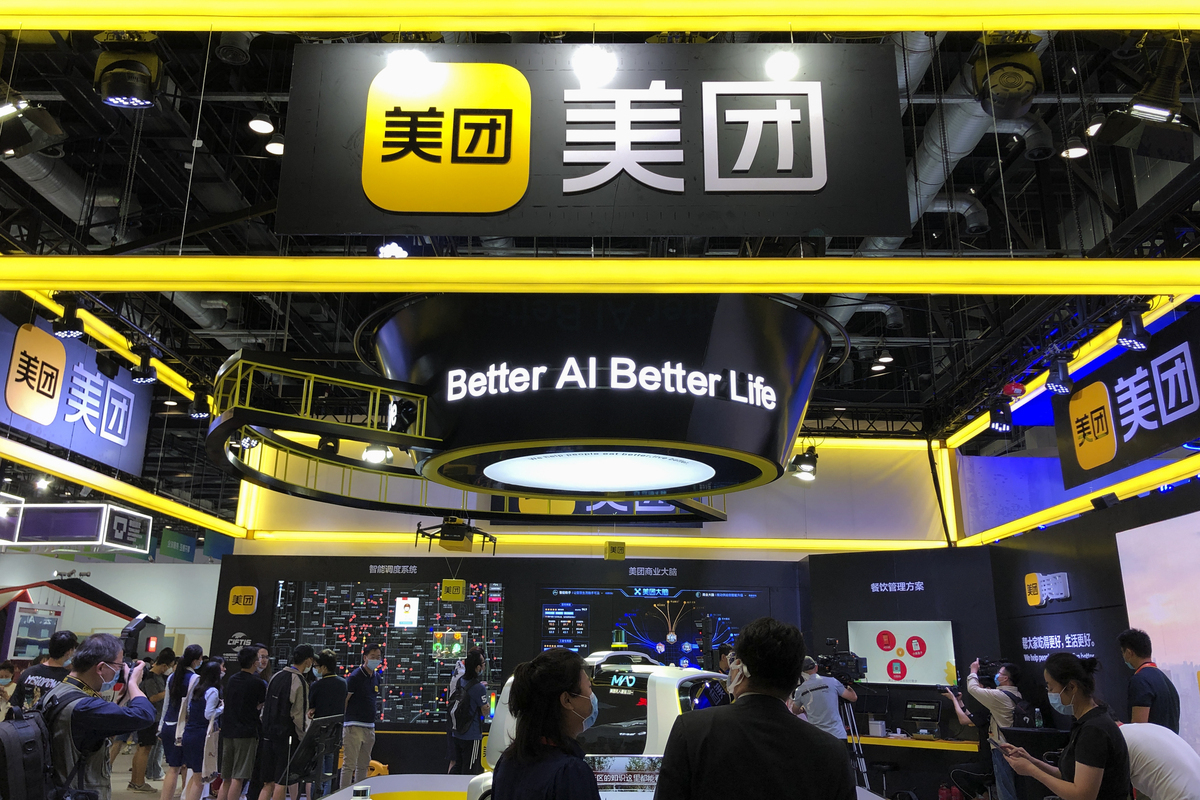 A Meituan booth during an expo in Beijing. [Photo provided to China Daily]
In the year and a half since e-commerce food delivery platform Meituan rolled out its first drone delivery route in the city of Shenzhen, more than 184,000 orders have been delivered and 17 delivery routes now exist across the country.
This month, the Tencent-backed firm opened its third delivery route in Shenzhen's Nanshan district.
"With the third route in Nanshan, our drone delivery service is making significant strides in the field of efficient and convenient food delivery," Liu Shuo, head of Meituan's commercial drone strategy told China Daily.
On Monday, Liu gave a detailed introduction of the new route at Shenzhen Talent Park. The launchpad for this route is located in Nanshan's Haiancheng business district, approximately 1 kilometer from the pickup kiosk. Customers placing orders at the talent park can receive their food within minutes of the restaurant's delivery to the launchpad.
Operating in a high-density urban environment like Shenzhen presents unique challenges for drone delivery. To overcome this, Meituan has strategically placed launchpads on the rooftops of shopping malls and pickup kiosks near residential and office buildings. This point-to-point delivery approach ensures that drones can navigate their intended routes and safely deliver food to customers.
Liu said that compared to traditional delivery methods, the key advantage of drone delivery lies in its remarkable efficiency.
"In 2022, Meituan's average drone delivery time was approximately 12 minutes, nearly 150 percent faster than traditional models. This significant reduction in delivery time translates to saving users nearly 30,000 hours of waiting time," Liu said, adding that drone delivery also opens up new possibilities for extending food delivery services.
"Previously, locating delivery addresses within the park posed challenges due to vague descriptions like 'the fourth lamppost' or 'the sixth large tree'. This ambiguity made it difficult for delivery drivers to find the intended locations accurately. With drone delivery, users only need to proceed to the designated drop-off kiosk within the park to collect their meals, eliminating the need for extensive communication," Liu said.
As a front-runner in the race to develop low-altitude economic industries such as drone delivery, Shenzhen has launched supportive legislation and already has a mature drone manufacturing supply chain.
Local authorities said that last year, the low-altitude economy in Shenzhen reached a value of 75 billion yuan ($10.3 billion), accounting for 70 percent of the nation's total.
This year, the Shenzhen government included the development of the low-altitude economy in its government work report for the first time, aiming to create a comprehensive demonstration zone for the general aviation industry and a civil unmanned aerial vehicle test area.
"We firmly believe that drone delivery will eventually scale up because it stems from user demand. We will continue to promote the construction of a three-dimensional urban distribution network system to provide consumers with a more efficient experience," Liu said.
"I was initially skeptical about drone delivery, but after trying it, I'm a believer. The delivery time is significantly shorter, and I appreciate the precision in locating the drop-off point. It's a futuristic experience," said Chen Chen, a drone delivery user.
Yi Yang in Shenzhen contributed to this story.
Editor: JYZ