Situated within the sprawling Grand Canal High-tech Industrial Park in Gongshu District, Hangzhou City, the Hangzhou Esports Center stands as a beacon of modernity and technological prowess. The venue occupies about 1.28 hectares. Beyond its cutting-edge features and state-of-the-art technology, the center seamlessly integrates with the rich history of its surroundings, such as the picturesque Zhaoxi Lake and the ancient Tongji Bridge.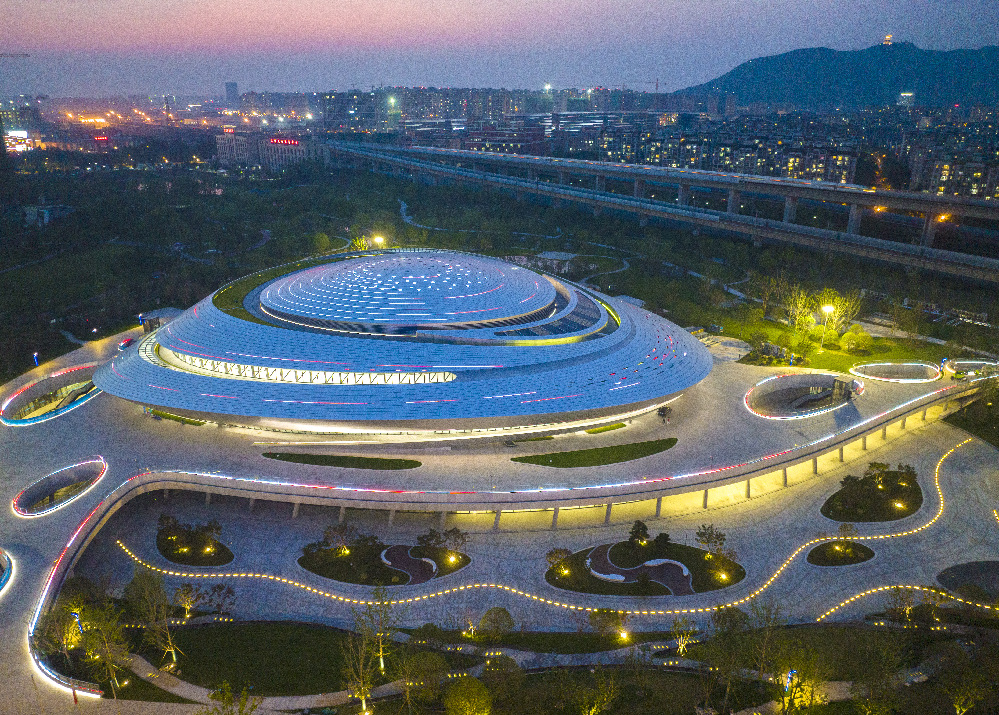 Aerial photo shows the night view of China Hangzhou Esports Centre. (Photo provided to GMW.cn)
The 24-meter-tall Hangzhou Esports Center, designed to meet Asian Games standards, can seat up to 4,500 spectators. Classified as a Class A venue, it boasts a three-star standard for greening.
The center's architectural design, conceived by Zhongnan Design Institute, embraces the concept of an "Interstellar Vortex," seamlessly blending elements of esports fashion with the timeless allure of the Grand Canal and ecological park. This fusion highlights the modern sports' unique charm while paying homage to the canal's luminous heritage.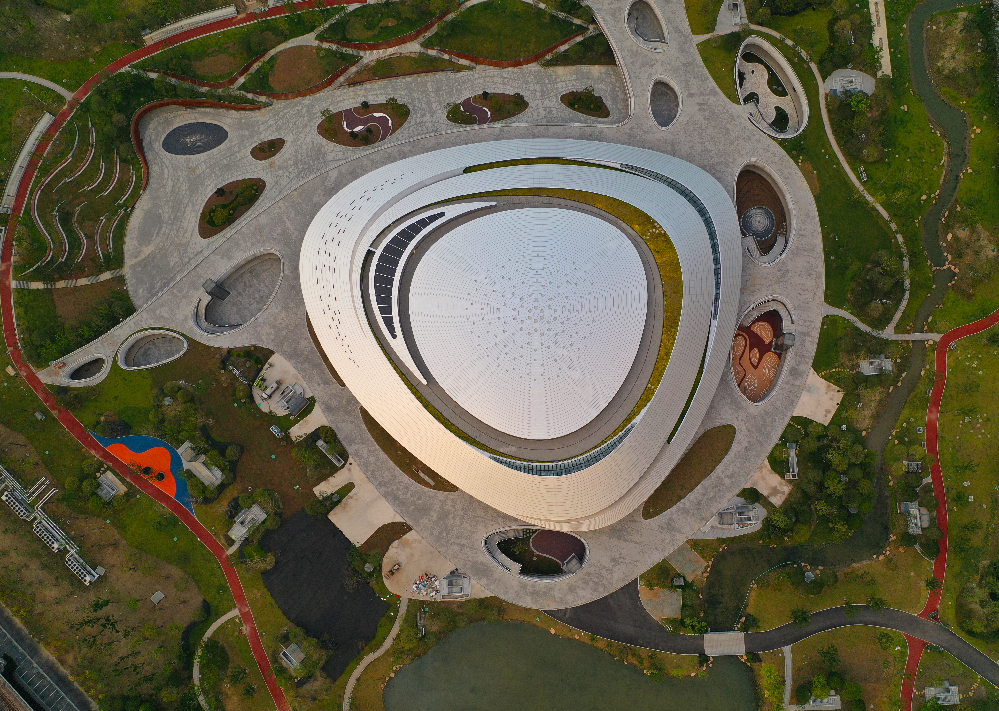 Aerial photo shows the night view of China Hangzhou Esports Centre. (Photo provided to GMW.cn)
Constructed primarily with steel, the venue showcases intricate construction technology. Its facade incorporates specially customized anodized aluminum plates and electrochromic glass skylights. It is the largest single building with uniquely shaped curved anodized aluminum plates in China and has received the "Gold Award of China's Steel Structure," the highest honor in the nation's steel structure industry.
In a nod to the digital, intelligent, and specialized nature of esports, the Center is equipped with a sound and light system built to first-level standards, aiming to provide a visual and auditory feast for esports enthusiasts.
The Center is poised to shine as it hosts several exciting events for the upcoming Hangzhou Asian Games. These events include popular games like League of Legends, Arena of Valor Asian Games Version, Peace Elite Asian Games Version and DOTA2. Anticipating over 1,000 athletes and 400 media representatives, the games will encompass both mobile and computer gaming, with various team and individual formats.
Since its completion, the Center has successfully hosted a series of prestigious events, including Naraka: Bladepoint, Journey to the West, the 6th National Finals of Arena of Valor, and the 2022 TGA Winter Finals.
The Center stands as a testament to the convergence of tradition and modernity. Its remarkable architecture, cutting-edge technology, and role as host to prestigious events solidify its status as a global esports icon and a symbol of Hangzhou's commitment to innovation and excellence.
Editor: WXL