UAE ambassador to China: "Belt and Road" further promotes China-UAE cooperation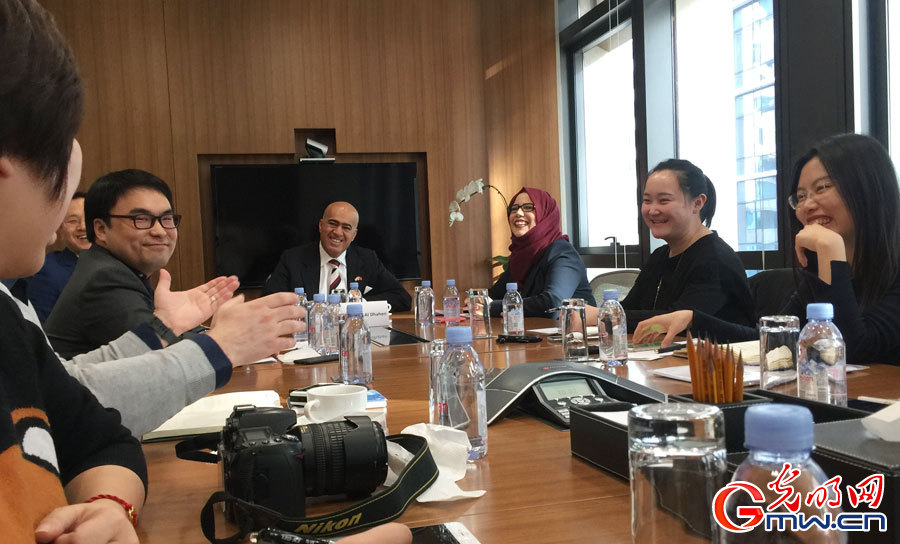 Ali Obaid AI Dhaheri, Ambassador of the United Arab Emirates (UAE) to China, talks with reporters at a press conference at the Abu Dhabi Global Market (ADGM) China Office in Beijing, capital of China, on Feb. 8, 2018. (Photo by Zhang Zhou/ Guangming Picture)
By Zhang Zhou
Beijing, Feb. 9 (Guangming Online)--"The UAE is among the first countries to take part in the exciting 'Belt and Road' initiative put forward by President Xi Jinping," said Ali Obaid AI Dhaheri, Ambassador of the United Arab Emirates (UAE) to China, at a press conference at the Abu Dhabi Global Market (ADGM) China Office in Beijing on Thursday. "The 'Belt and Road' can further promote cooperation between both countries and benefit the two peoples."
Ambassador Dhaheri took office as UAE Ambassador to China last October. He said China has developed fast in recent years, and it's fortunate for him to serve as UAE Ambassador to China at this moment and have a chance to take part in the development of China as well as China-UAE relationship.
The two countries established diplomatic relations in 1984 and strategic partnership in 2012. Ambassador Dhaheri said his top priority is to advance the strategic relationship between the two countries and take it to a higher level in all respects. The friendly relationship is built on trust, confidence and win-win cooperation. Although the two countries have different cultural backgrounds, they share a same vision, similar principles and ways of thinking. As China and the UAE both are in the process of economic transformation and upgrading, they choose the same way of promoting open economy and carrying out international cooperation based on mutual benefits, peace and harmony. He said he will make efforts to promote exchanges and cooperation in fields like business, culture, technologies, innovation and education to benefit the two peoples.
Speaking of cultural exchanges, Ambassador Dhaheri said the UAE realizes the importance of China and its culture, and has already taken measures to let more people in the UAE know about China. For instance, many schools in the UAE offer Chinese language courses and there are some cultural exchange activities like "China Week". Ambassador Dhaheri said, during his term of office, he will make some plans and hold cultural activities to enhance mutual understanding between the two peoples. On Jan.16, 2018, the UAE became the 11th country to sign an agreement with China on mutual visa exemption. Mutual visa exemption will contribute to people-to-people exchanges, business and cultural interaction between both countries.
Ambassador Dhaheri pointed out that the ADGM will promote and attract more investment in the framework of "Belt and Road" initiative and can further develop the initiative in relevant areas. The ADGM China Office will strengthen exchanges between China and the UAE.
At last, Ambassador Dhaheri extended Chinese Lunar New Year greetings to Chinese people as the traditional Chinese holiday draws close.
Calvin Fu, Chief Representative of ADGM China Office, also attended the press conference. He said that the ADGM, as a government institution and financial services regulator, will promote investment and financing cooperation between the two countries under the guidance of the "Belt and Road" initiative. ADGM aims at becoming a national-level "'Belt and Road'—Middle East North Africa Investment and Financing Center", serving significant institutions and projects of the two countries, promoting financial cooperation between both countries and establishing the offshore RMB clearing center covering the Middle East and North Africa regions.

[ Editor: Liu Jiaming ]