Elections postponed concerning coronavirus: UK agreed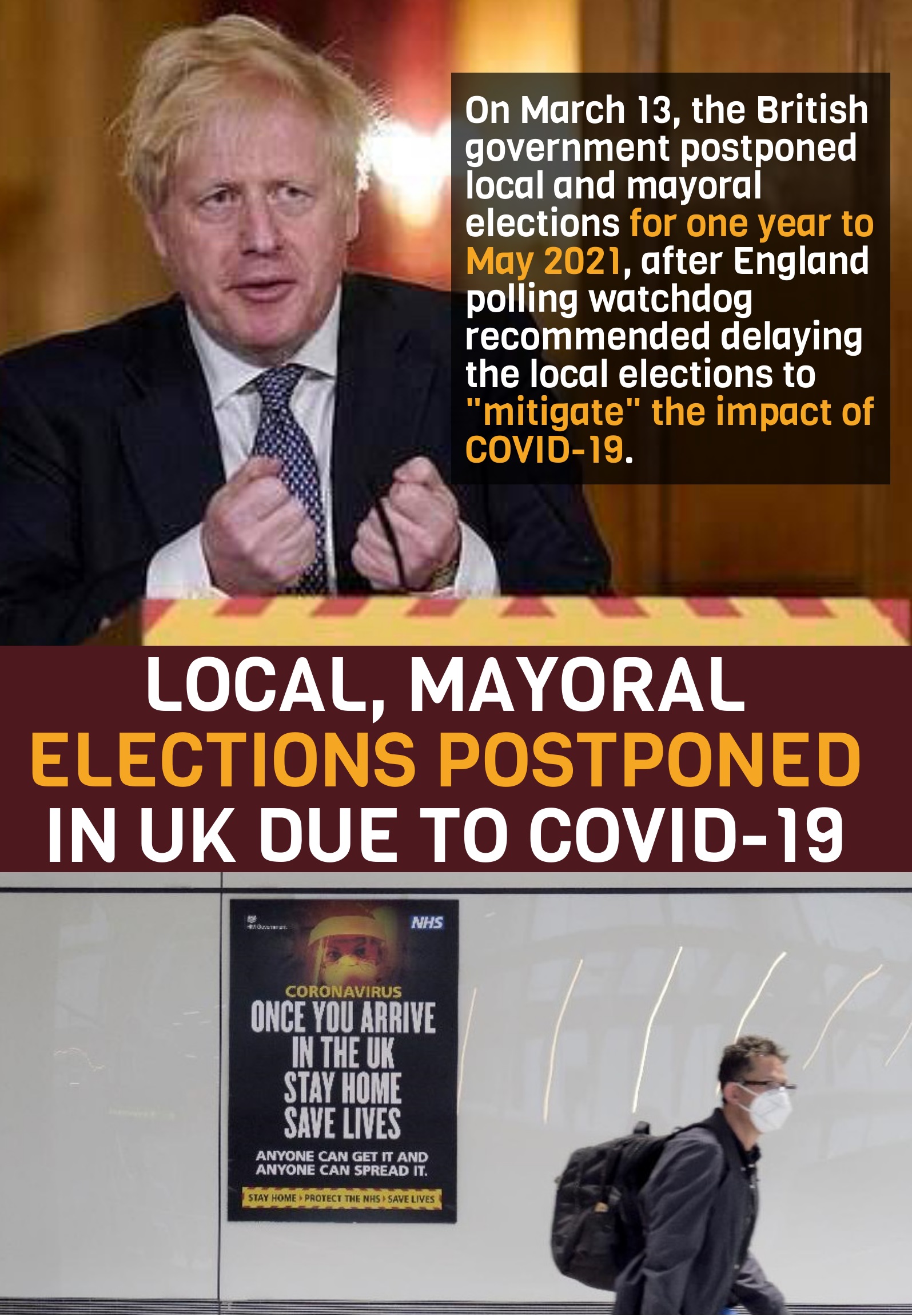 On 13 March, 2020, the UK government confirmed that the following elections in England and Wales scheduled for the first week of May would be postponed for a year due to the outbreak of the coronavirus:
- 40 Police and Crime Commissioner (PCC) elections in England and Wales
- London Mayor and members of the Greater London Authority
- Councilors in 118 English councils
- 3 local authority mayors (Bristol, Liverpool and Salford)
- 4 combined authority mayors (Greater Manchester, Liverpool, Tees Valley, and West Midlands)
- Parish council elections in some parts of England
Considering the ongoing coronavirus pandemic, the UK Parliament made decisions to pass emergency legislation to delay the elections. The emergency legislation introduced, which is known as the Coronavirus Bill (Bill 122 2019-21), included provisions to delay the elections. "It made provisions to delay the decennial electoral registration canvas that was due in Northern Ireland this year. The Bill also allows for unscheduled electoral events, such as by-elections in devolved elections and recall of MP petitions, to be delayed. No scheduled local elections were due to take place in Scotland, Wales and Northern Ireland," according to Coronavirus Act 2020, an Act of the Parliament of the United Kingdom that grants the government emergency powers to handle the COVID-19 pandemic. "The postponements of any of these electoral events cannot go beyond 6 May, 2021," as it stated.
The decision was made early on, when ten people have died with the virus, with 798 cases confirmed UK-wide. BBC reported on the postponed local elections, saying that there are cases to follow, "the last time elections were delayed was in 2001, when they took place one month late due to the foot and mouth outbreak".
It is believed that the postponement of May 2020 elections is a "proportionate and reasonable" move, and it is generally agreed by the UK society that it was a right and responsible decision under the circumstance. "The decision was taken following advice from the Government's medical experts in relation to the response to the Covid-19 virus and the advice of those delivering elections," said a press release by GOV.UK. Acting Liberal Democrat leader Sir Ed Davey said the move to delay the polls was the "right decision". "Postponing them seems to me in the circumstance to be the right thing to do," Labour General Secretary Jennie Formby indicated.
[ Editor: WXY ]