New research suggests COVID-19 death rate may be underestimated in North America: South China Morning Post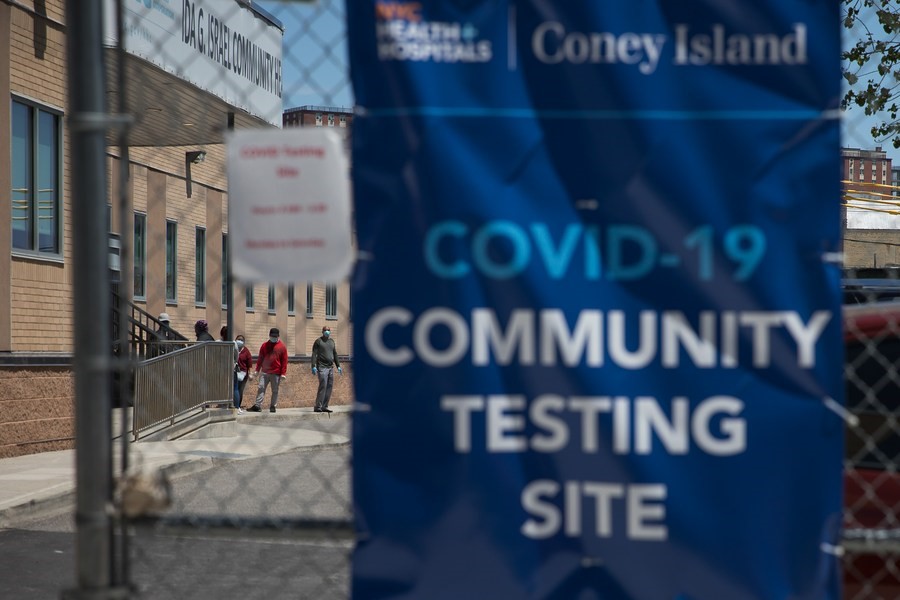 Photo taken on May 14, 2020 shows a COVID-19 community testing center in Brooklyn, New York, the United States. (Source: XInhua)
A new research conducted by a team of Chinese and American scientists indicates that the COVID-19 death rate may be underestimated in North America, according to an article in the South China Morning Post published on Sept. 2, 2020.
Scientists used new data and improved modelling on the first wave of COVID-19 outbreak in central China's Wuhan, and put the actual death rate at 4.54 percent.
According to the researchers, the new death rate estimates they made provided "a more accurate picture than data from North America," the region that has been hardest-hit by the pandemic.
Comparing the rates of symptomatic case in the initial coronavirus outbreak in Wuhan, and of that in the first few months of outbreak in US and Quebec, Canada's worst-hit province, researchers indicated that there might have been some Americans and Canadians died from COVID-19 but "not taken into account in the official figures."
The lack of testing compacity is another problem. In North America, there have been no mass nucleic testing programs as Wuhan had carried out few months ago. The test is "preferentially," as only "people with signs or symptoms consistent with the diseases" and those who are "the close contacts of confirmed cases" got tested. The incomprehensive testing could have led to underestimates of COVID-19 cases in the regions.
According to the researchers, the death rate from COVID-19 pandemic "could be as severe as – or worse than-" that of the 1918 Spanish flu pandemic.
For more information, please find the original article at https://www.scmp.com/news/china/science/article/3099956/coronavirus-death-rate-may-be-bad-or-worse-spanish-flu-pandemic
[ Editor: SRQ ]