Canadian Ambassdor: We can get a strong forward-looking relationship with China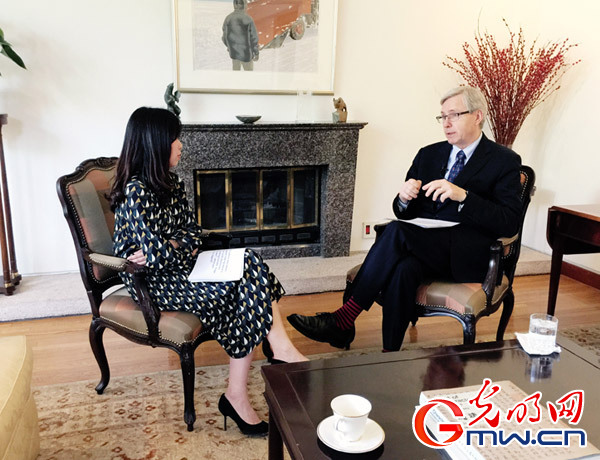 Reporter: Qiu Xueying
Camera man: Zhang Zhou
Video Editor: Fan Zichuan
GMW.CN: China has become Canada's largest trading partner in Asia, and with trade relations maturing, both governments have recently expressed the hope working towards a free trade agreement. What is your take on this issue? What might we expect in terms of future collaboration in fields of clean energy, infrastructure, finance and agriculture, for instance?
Guy Saint-Jacques: Well, this is a very good question, and I think we have a very good basis where we start from. I know that in 2015, trade was pretty good, because China increased its exports to Canada by 11%, for total about 65 billion dollars. This happened at a time where the overall exports of China went down by 2 or 3%, so it was a contrary to the trend elsewhere. In Canada, China increased its exports and similarly we increased our exports to China by 4.5% at a time where China's imports reduced by 11%. And this happened despite the fact that the price of commodities such as iron or copper went down affecting Canada's commodities exports to China. So despite the fact that the prices went down, still the value of our exports went up. In terms of investment, Canada is the third destination for Chinese investment. We calculate that there is now some 70 billion dollars' worth of Chinese investment in Canada. We welcome this kind of investment. In my view Canada is a great destination, with the best investment environment among G7 countries, because of the fact that Canada has the best banking system in the world, we have a well-educated workforce, we have also the lowest corporate taxes among G7 countries. In Canada, it's 17.5%; in the US, it's 35%; in Germany it's 30%, so much cheaper in terms of taxes for Chinese companies.
Canada is a country with a stable government, rule of law, but also with a welcoming multicultural society, so I think foreigners feel welcome. For all those reasons, I think that we hope that we'll continue to see more Chinese investment. I would add to this that last year we established the first Renminbi training hub in North America which is a good development because it allow companies to use Renminbi to settle trade, and can help to lower the costs of doing business. Also last year, the Foreign Investment Protection and Promotion Agreement (FIPA) came into force, offering more reassurance to companies that want to invest in each other's country. So if I look ahead in the field you mentioned, I think Canada can help to make a contribution, we all know the emphasis put by the Chinese government to fight pollution. While we have a number of Canadian companies involved in clean technology – whether to remove pollutants from emissions, or to treat waste water or to handle contaminated soils – we also have developed renewable energy: we are a leader in solar energy, hydropower, and nuclear energy. And in all areas we can help China to meet its energy needs and to lessen its dependence on coal and more on renewable energy so I think if we work hard, we can develop our links. Furthermore, I am encouraging Canadian companies to look at the "One Belt, One Road" project, because we have expertise in large infrastructure projects which hopefully Canadian companies could come in a complimentary fashion. We understand of course that China already has a lot of very good companies that have developed infrastructure projects but there are probably some areas where Canadian companies can come in to help. Canada is a big country so we have developed some expertise in transportation. You probably know the company Bombardier which has substantial operation in China in terms of rail and air, parts of their aircrafts are manufactured in China. We have a good, large engineering companies that also can help China. But also we have expertise in PPP--public private partnerships and I think that expertise can be very useful as well.
Furthermore, in Canada, we have some large pension funds that are interested in investing in large infrastructure projects. For instance, the Canada Pension Plan Investment Board manages the funds that provide money for Canadians in retirement. In Canada we have a population about 35 million people and they manage the funds for about 12 million people who either are retired or are contributing to the regime, so they are always looking for good investments. So far, they have invested about 12 billion dollars in China but they want to make China a substantial part of their portfolio. There is also the Ontario Teacher's Fund which is very large fund that manages the retirement money of teachers in the province of Ontario. So again, there is expertise there and these are groups are looking for partners to invest in larger projects together.
In terms of where the future trade relationship could go, I can confirm that there are lots of conversations taking place now in Canada about how to expand this relationship and I think that there may be some important announcements that will take place at the time of high-level visits in the future. But what we want to do is to have a very ambitious arrangement with China – one that will benefit both sides and that will also reflect the strong public consensus in Canada and that will be mutually beneficial. With this, we think we can get a strong forward-looking relationship with China. And on this, to be frank, I think it's also important for China to move towards establishing a more level playing field because many of our companies have difficulties doing business in China. To give you an example, the use of non-tariff barriers can be an impediment to trade and create unnecessary challenges to foreign imports. So we hope that we will be able to make progress on all those issues and, again, from my perspective, there is a lot of untapped potential in the relationship. When I look at the two economies, there is lots of complementarity and we could do a lot more together.
GMW.CN: And what about its bilateral policy towards China? How do you see current relations between Canada and China? Will Prime Minister Trudeau want to create stronger ties, and if so in what areas?
Guy Saint-Jacques: Obviously, Canada will want to deepen its engagement with China. Shortly after he was elected the Prime Minister travelled to Turkey for the G20 summit where he met with President Xi Jinping in November. The two leaders had a very good conversation, our Prime Minister also spoke with Premier Li Keqiang. Our ministers of Trade and Foreign Affairs have spoken with their counterparts in China as well. And further, if you look at the mandate letter that was given by the Prime Minister to Minister Chrystia Freeland, our International Trade Minister, for instance, the letter very specifically tasked her with deepening economic and trade relations with China. So, I expect that there will be some announcements that will be made in the near future.
As you know, also this year, China is the host of the G20 summit. We will have a steady flow of Canadian ministers coming to China to attend G20 ministerial meetings in June and July. I think we will have at least seven ministers visiting for the G20 meeting including in early June our Agriculture Minister. Then later in the same month, our Energy Minister, and Industry Minister will also be coming to China. Then in early July our minister of International Trade will be coming to Shanghai. The Minister responsible for Labour and Employment will come for the G20 ministerial and then there will be the third meeting of Finance Ministers and our Finance Minister will attend that meeting in Chengdu in July. Our Citizenship and Immigration Minster will also probably want to come over the summer and of course all this will culminate with the G20 Leaders Summit in Hangzhou on September 4th and 5th.. We hope that maybe around that our Prime Minister, Justine Trudeau, will make an official visit to China. We are in discussions right now with China on this. We have also invited Premier Li Keqiang and President Xi Jinping to visit Canada and we hope that maybe Premier Li could come at some point in the fall. These visits are very important to send the message that we want on both sides to re-engage to expand the relationship, and this, of course includes the trade and investment side, but also we want to engage China a lot more on the political side. In our view, the more successful China is, the more successful Canada will be as well.
We start from a very good basis. We have established relations 46 years ago, we celebrated 45th year of diplomatic relations last year. We have had many very successful collaborations in many areas. Our developing agency CIDA has operated for more than 30 years and had a very substantial program in China to help develop the education sector, the agriculture sector especially the dairy industry and helped to improve the pork industry. We helped to create the Ministry of Environmental Protection and I see a lot of unfinished business and untapped potential; so now I think it's time for us to try to bring the relationship to the level where it should be.
GMW.CN: Since Prime Minister Trudeau was sworn into office, Canada has been talking about a return to multilateralism in its diplomatic engagements, and rebuilding Canada' image as a "world peace defender". What will Canada undertake in this regard?
Guy Saint-Jacques: Well, I think that we have already seen a number of changes. Mr. Trudeau wants to get back to the years when Canada was a more active player on the international scene. We saw this at the Paris Climate Conference that took place last December where Canada played a greater role and I think you can expect that Canada will be a lot more active in multilateral organizations. For instance, at the UN we have indicated we will want to be more involved in peace operations and peace keeping activities. Canada is the 9th largest contributor to these budgets. And you may have heard that Canada announce will run for election to the UN Security Council. We will be seeking a non-permanent seat for the year 2021, 2022. The election will take place in a few years from now. And so, we hope we will get a lot of support from this. Also, Canada has come back to climate change when the Prime Minister went to Paris in December, where he announced that Canada will contribute 2.65 billion dollars over 5 years to help developing countries adapt to climate change, especially the most vulnerable ones. And also in the middle east, Canada has contributed a lot of money to help. In the case of Syria, if I add up everything we have given, it's getting very close to 1 billion dollars. One of the promises of the liberal government when they ran in the last election was that Canada would receive 25,000 refugees from Syria. This was completed in February. The government has since indicated that it will welcome 10,000 more Syrian refugees. So, I think you can expect that there will be more activities like this. Also, for Canadian women's rights, the fight against discrimination, and rule of law are all very important subjects. And we are very glad to have been elected to the UN Commission of the Status of Women where Canada will play an important role. I think you can expect that Canada will want play a more visible role in the multilateral organizations where we have traditionally played a key role. Canada is a small country in terms of population. We live beside a giant, the United States, and for this reason we know that it's important to have good international rules and that's why traditionally we have been very active in multilateral organizations, so I am very encouraged by the position taken by the new Prime Minister.
GMW.CN: What do you consider to be the major challenges in your role as Canada's Ambassador to China over the past few years? How do you view your achievements as the Ambassador?
Guy Saint-Jacques: I would hope to have better access to senior Chinese leaders and find ways to discuss some difficult issues. In fact, I was at a meeting with premier Li two weeks ago when we had the visit of our former Prime Minister, Mr. Jean Chretien. At the end of the meeting Premier Li said there will always be some issues where we have different views and we have to find ways to discuss them. I agree entirely with him, but I think we have to find mechanism to do that. But I am very optimistic in this regard because as part of our renewed engagement strategy with China, we will want to make full use of new mechanisms that have not been used yet. For instance, there has been an agreement that there would be an annual dialogue between foreign affairs ministers. And we hope that the first meeting will take place. Similarly, there will be a new dialogue on economic and strategic financial issues again, a great forum to discuss all kind of issues.
Canada could have had a more consistent approach over the last years. I am confident that this is what we will see in the future with a new government it will be, there is a lot of interest in Ottawa to develop the relationship with China and I think you will see a regular flow of visitor. People interested to really look at this untapped potential that we have in the relationship and hopefully this will translate in very good results for both countries.
Guy Saint-Jacques joined the Foreign Affairs Department in 1977. His postings have included Beijing, Hong Kong, Kinshasa, Washington and London. (In his most recent assignments to Washington and, just prior to that, London, he served as Deputy Head of Mission).More>>
"There are lots of conversations taking place now in Canada about how to expand this relationship and I think that there may be some important announcements that will take place at the time of high-level visits in the future."
"What we want to do is to have a very ambitious arrangement with China – one that will benefit both sides and that will also reflect the strong public consensus in Canada and that will be mutually beneficial. With this, we think we can get a strong forward-looking relationship with China."
"From my perspective, there is a lot of untapped potential in the relationship. When I look at the two economies, there is lots of complementarity and we could do a lot more together."
Follow Guangming Online for exclusive content and more:
Consultant producer:Zeng Fanhua
Designer: Zhou yueqin
Art Editor: Li Wenfeng
Executive Editor:Xueying