How can China feed 1.4 billion people amid Covid-19 and flooding?
2020 marks a hard year for global food production. The latest report published by the World Food Programme shows that the world is on the brink of its worst food crisis in 50 years. People in some 25 countries are set to face devastating levels of hunger in coming months due to the pandemic.
In China, when the COVID-19 epidemic disrupted agricultural production, massive flooding in the south wiped out more than 1 million hectares of crops in the Yangtze River basin, known historically as the country's rice bowl.
When food supply chains are under pressure, people's sense of security easily changes. Although Chinese citizens have hardly perceived a volatile food market since the COVID-19 outbreak, it's natural and reasonable to worry, will China suffer from food insecurity in the near future?
Statistics tells an optimistic story.
Sixteen years in a row. Despite all the disruption, China has reaped a bumper summer grain and early rice harvest. The summer output of grains hit a record high of 142.8 million tons. The output of early rice increased by 1,028,000 tons over last year, according to the National Bureau of Statistics.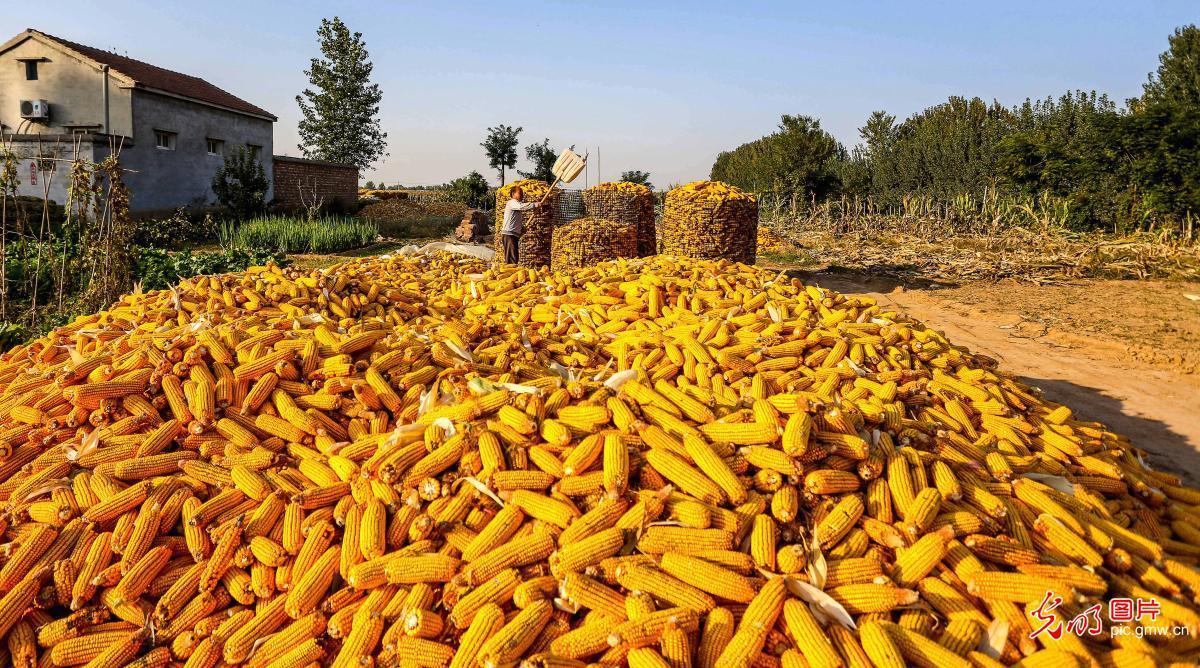 Photos taken on Oct.7, 2020 show farmers busy drying corn in the fields. 180,000 mu of corn fields await a golden harvest season in Jize County, Handan, Hebei Province. (Hua Jin/Guangming Picture)
A great harvest is also expected in autumn, the third harvest season in a year. "The expansion of more than 85.3 million hectares of arable land lay a solid foundation for output increase," Chinese Minister of Agriculture and Rural Affairs Han Changfu said. "Mild weather conditions all over the country also promise flourishing crops in autumn."
Considering the huge population, large amounts of gross output does not necessarily guarantee every Chinese is well fed. The country needs to support over one fifth of the world's population, while occupies a little above 12 percent of the global arable land. From this perspective, China's strong performance is once proved with 470 kg food output per capita, much higher than the 400-kg mark for global food security.
Ratio of cereal stock to utilization is regarded as a key indicator of emergency capacity. 17-18 percentage is the minimum necessary to safeguard world food security, according to the Food and Agriculture Organization. Further modernized storage facilities secure a constant increase in Chinese food storage capacity, which is far exceeding international standard. The stock of wheat and corn ushers in the most abundant period in history and can support the population for more than one year. Emergency reserves of refined grains for around one month are available in large and medium-sized cities and areas prone to price fluctuation.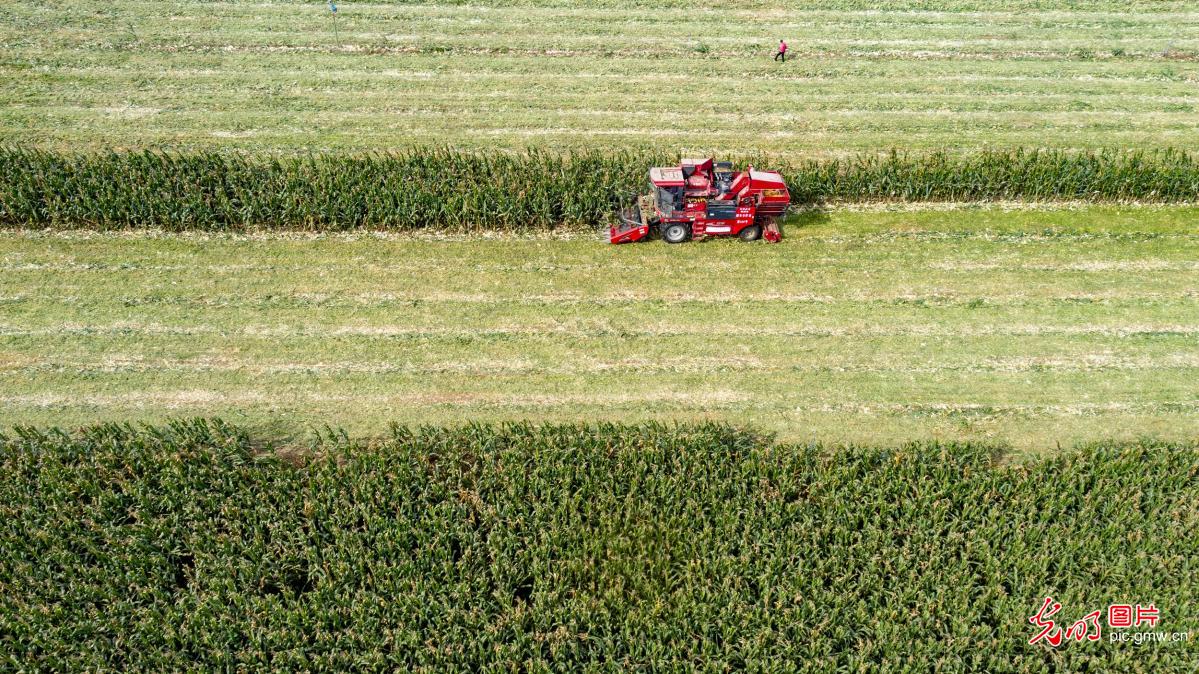 Photos taken on Oct.4, 2020 show a large farm machine harvesting corn in Nangao County, Shijiazhuang, Hebei Province. Local farmers are busy drying and processing corn to satisfy market demands. (Mingfa Li/Guangming Picture)
Main cereal grains grown in China have achieved 95% of self-sufficiency. In contrast, soybean accounts for more than 80% of imported food, for the reason that China decided to import rather than grow soybean to free most arable land for higher-yielding crops. The main driver of other food imports in this biggest agricultural importer is to satisfy the need for variety.
This hard-won harvest could not be achieved without people's efforts. Precise decisions were made to balance the epidemic control and agricultural production. Hard work was done to take every step of farming on time amid the pandemic. Farming technologies were devoted to the fast recovery in many devastated regions. The "Clean Your Plate" initiative launched recently involves every Chinese to do their bit by reducing food wastage. It's a sensible move aimed at developing the habit of valuing food, which is not a warning light for food insecurity, but a fine virtue on the consumer's part that is worth encouragement at any time and in any place.
The status quo of China's food production evokes cautious optimism, while concerns still remain with an aging population and decreasing resources. At present, the coronavirus is still spreading in many countries. Coupled with extreme weather and trade protectionism, the world is facing severe food security challenges. According to a report issued by the United Nations in July, 690 million people in the world would suffer from hunger. When it comes to food security, China shares the fate of the world. China will work with other countries to strengthen cooperation and common development, make unremitting efforts to ensure world food security, and move firmly towards the goal of eliminating hunger and poverty in the world.
[ Editor: WXL ]