Zhong Nanshan: R&D of vaccines in China comparable to Pfizer's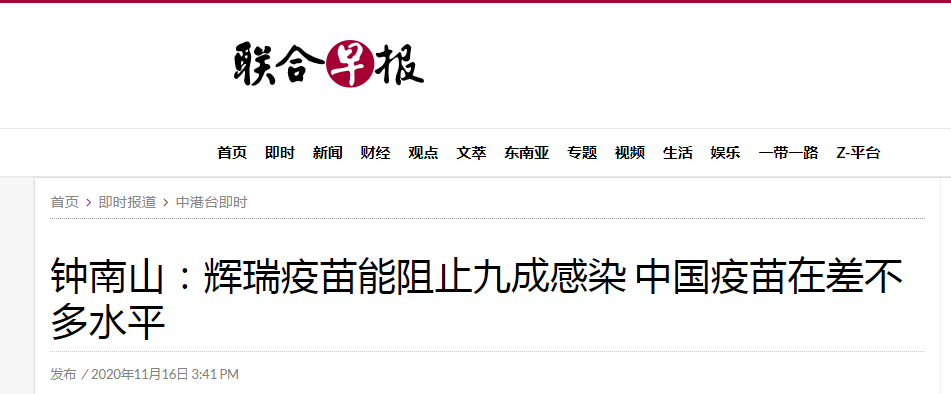 The 2020 Guanzhou International Biological Forum was held on Nov. 16, 2020 in Guangzhou, south China's Guangdong Province. During the opening ceremony, Zhong Nanshan, academician of Chinese Academy of Engineering, also China's renowned respiratory disease expert, mentioned in his keynote speech that the research and development of vaccines in China have reached "a similar level" with Pfizer, but can only be officially announced after the results from the first phase trial are released.
Earlier this month, Pfizer made an announcement on Nov. 9, 2020 that a coronavirus vaccine jointly developed with BioNtech, a German biotech company, demonstrated to be 90% effective against COVID-19 in the Phase III of large-scale clinical trials, which has brought a burst of optimism to the world.
However, as the world has not yet figured out the epidemic pattern, nor has traced its source, major problems still await to be resolved. There is no yet highly targeted and very effective drug for treatment. Some drugs such as remdesivir have only been found to be effective in early treatment.
"China managed to control the dreadful pandemic guided by the ideology of putting people's lives and health first," Zhong Nanshan emphasized in his speech, "it is not easy for China to achieve mass prevention and control at community level." He also specifically mentioned that Wuhan is now very safe.
Zhong Nanshan pointed out that the COVID-19 outbreak is unlike the difficult situation faced in 2003 of the SARS epidemic 17 years ago. Though he introduced clinical experience to more than 30 countries in a year's time after the SARS epidemic ended, the scientific research on SARS was still insufficient. Zhong Nanshan mentioned that this time, even at the beginning of the outbreak, there was so much support, especially in scientific research.
He believed that the current problem demands the cooperation from multiple aspects, including the combination of basic research, clinical research and industrialization, integrated to a better mechanism in biopharmaceuticals.
Find the original article at https://www.zaobao.com/realtime/china/story20201116-1101436
[ Editor: WXY ]