Lab-leak theory half-truths, misrepresentations, and tendentious conjecture: says media
Months after a WHO-convened global study reported it "extremely unlikely" that the novel coronavirus spread from a lab leak in Wuhan, China, the so-called lab-leak theory was hyped up with a Wall Street Journal report alleging that three researchers from China's Wuhan Institute of Virology (WIV) fell sick in November 2019 and sought hospital care. However, not only were the sources dubious by citing a so-called "previously undisclosed U.S. intelligence report", the evidence of the article was deemed untenable and politically driven by the scientific community.
"The evidence right now, well, for the lab side, it's political: It's from an intel agency that's not been shown. That's not scientific," said Peter Daszak, zoologist and member of the WHO-led team investigating the origins of Covid-19, during a recent virologist podcast. "It's not something that you can really reasonably launch a major audit of."
Another team member speaking alongside Daszak, Danish epidemiologist Thea Fischer pointed out that in the absence of any new evidence pointing to a lab accident, the investigation should focus on the main hypothesis - that the virus spilled naturally from animals to humans, outside a laboratory.
"Nothing's really tipped me or made me flip-flop or anything about it," said Robert Garry, a microbiologist at Tulane University who has analyzed the genome of the virus, as cited by National Public Radio (NPR) on May 28. "I'm more convinced than ever that this is a natural virus."


Screenshot of NPR report "Many Scientists Still Think The Coronavirus Came From Nature", published on May 28, 2021
Ian Lipkin, another researcher from the Mailman School of Public Health at Columbia University also disbelieved the virus a lab leak result and said that there's no evidence for human manipulation, according to NPR.
Even scientists who signed Relman's letter in Science calling for further investigations into the origins of COVID-19 have voiced opinions. Some emphasized that they are not endorsing the lab-leak theory and are highly skeptical of the lab leak hypothesis.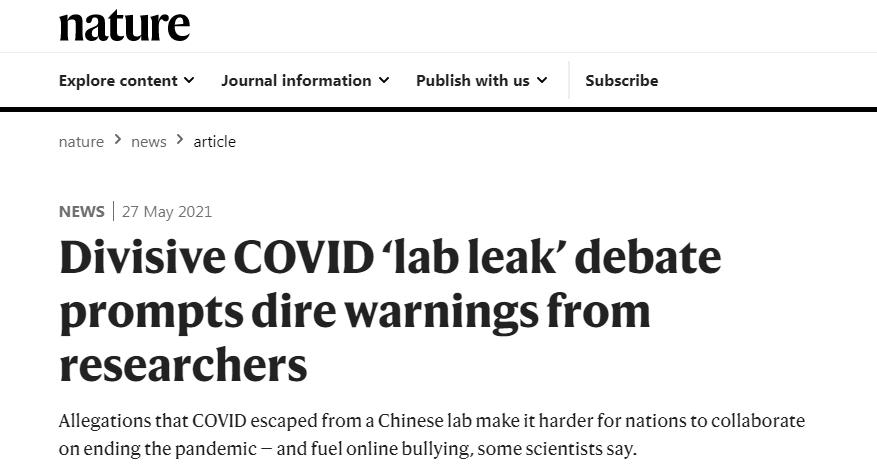 Screenshot of Nature research report "Divisive COVID 'lab leak' debate prompts dire warnings from researchers", published on May 27, 2021
"I am not saying I believe the virus came from a laboratory," said the organizer of the letter, David Relman of Stanford, in a Nature research report on May 27.Another signatory, Ralph S. Baric of the University of North Carolina, told the New Yorker, "The genetic sequence for SARS-CoV-2 really points to a natural-origin event from wildlife."
Russian virologist and expert at the World Health Organization Dmitry Lvov also ruled out the man-made origin of the virus, saying that the concerns over the artificial origins of COVID-19 do not have any value.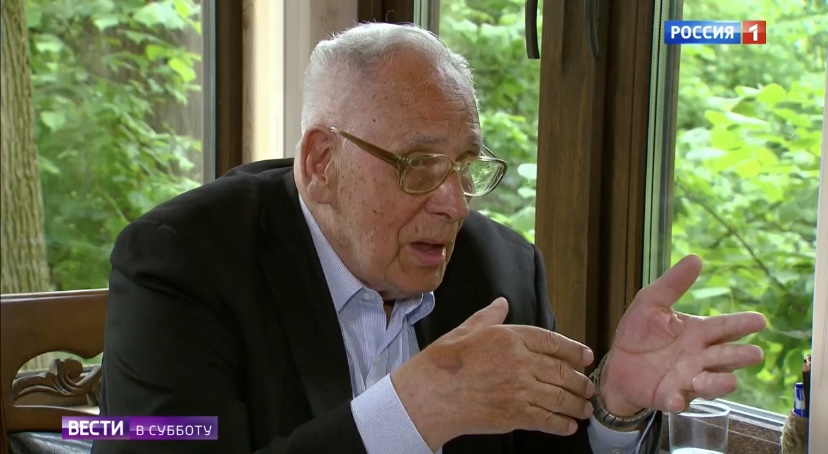 Screen grab from footage released by Russia-24 news channel shows that Russian virologist and WHO expert Dmitry Lvov is being interviewed on May 29, 2021.
"Coronaviruses are primarily viruses associated with bats. Someone could have been infected either in a room where a bat spent the night or in a cave where bats usually live in large numbers," Lvov said in a Russian television program on May 29.
He added that roughly 150 viruses have been transmitted to humans from animals during the domestication of wild animals, and further suggested other possibilities such as a person could have eaten some meat from animals that have ecological ties with bats, thus becoming the first source of infections.
An L.A. Times columnist refuted the triggering May 23 article in Wall Street Journal, saying there was no evidence that the three researchers had contracted COVID-19 as opposed to flu or any other virus.

Screenshot of Los Angeles Times column "The lab-leak origin claim for COVID-19 is in the news, nut it's still fact-free", published on June 3, 2021
The writer, Michael Hiltzik contended that there was no evidence - not a smidgen - for the claim that COVID-19 originated in a laboratory in China or anywhere else, or that the China lab ever had the virus in its inventory. "There's even less for the wildest version of the claim, which is that the virus was deliberately engineered. There never has been, and there isn't now."
"What remained of the lab-leak theory was half-truths, misrepresentations, and tendentious conjecture."
The hypothesis, said Hiltzik, was touted by ideologically suspect promoters of falsehoods, whose lies had often been targeted at China for political reasons, aiming to paint China as an untrustworthy economic and political actor, according to L.A. Times.
[ Editor: GSY ]