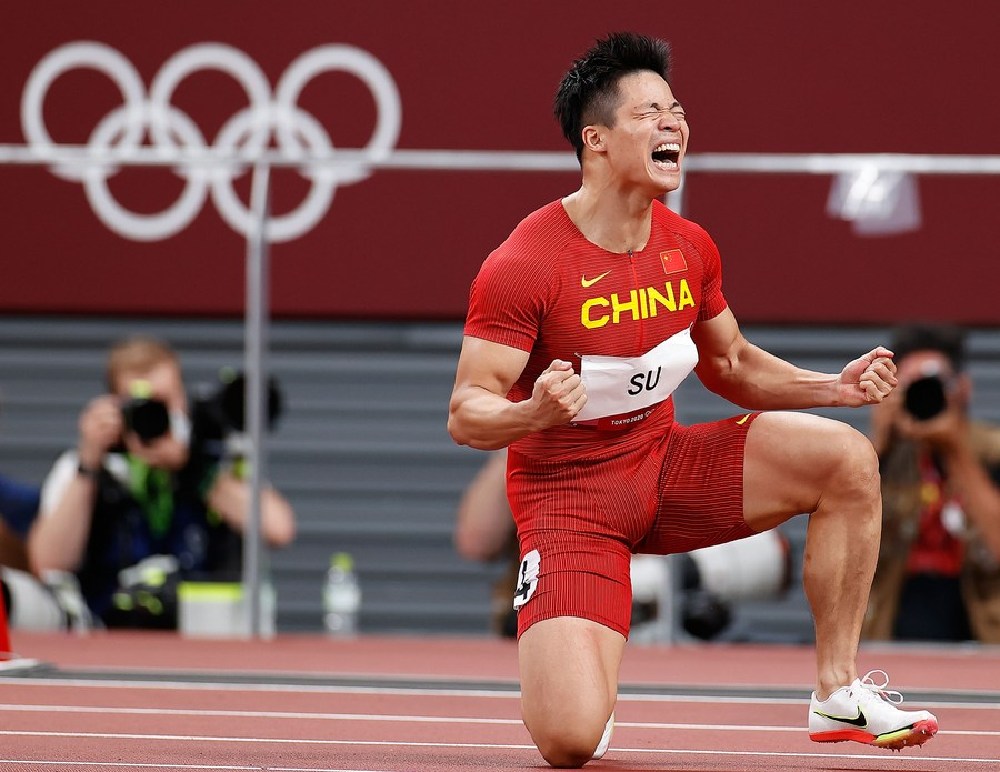 Su Bingtian reacts after qualifying for the men's 100m final at the Tokyo Olympic Games on August 1, 2021. (Xinhua/Wang Lili)
Ask any Chinese person: Who won the 100m Men's Final in the Tokyo Olympic Games? The answer you get will probably be something like: I don't know but Su Bingtian, Zhongshan Fei Ren (Zhongshan's flying man) was the first Chinese runner to be in the finals (for the record, it was Italy's Marcell Jacobs).
Situated by the Pearl River, North of Macau and South of Guangzhou and Foshan; Zhongshan, by Chinese standards isn't very big, three million registered residents, including this writer, live in the city which, despite not being large, is very well-known. It's one of the few places in China named after a person. The man who led the revolution in 1911 to overthrow the Qing Dynasty, Dr. Sun Yatsen, also went by the name Sun Zhongshan. After his death, his hometown, Xiangshan was renamed Zhongshan in his honour. People who live in here are very proud to tell you where they're from and there's no one in China who doesn't know Zhongshan city.
In recent days though, Zhongshan is back in the news because of a different sporting hero, Su Bingtian. The part of Zhongshan he hails from, Guzhen, is known as a town of factories and shops that make and sell lights. Su however, isn't famous for lights but for his lightening speed on the track.
While his record on the track speaks for itself and stands as a great model for future Chinese athletes, many people outside China who are not so familiar with him or those who pay little attention to the sport, may think this great sprinter just arrived on the scene: he didn't just arrive. Some, quite spitefully, believe he was lucky, in a world so affected by Covid that the Games were postponed a year and athletes from Covid affected countries may not have been at their peak: he wasn't lucky.
Known throughout China as Zhongshan Fei Ren, Su Bingtian is part of a growing disruption in the sprinting and athletics world which started to be noticed less than 20 years ago.
China's first Olympic Men's Track and Field Gold Medal was in the 110m hurdles in 2004. The world was astounded by the speed and ability of China's Liu Xiang. Like Su Bingtian, Liu Xiang was no fluke, nor was he the lucky winner of a one-off athletic meet. Liu won the Olympic Gold Medal at the same time as he held the World Record and the World Championship. He's now an icon in China having dominated most of the world's 60 and 110 metre hurdling events over a 12-year career until he retired from competing in 2012. It's no secret, nor should it be a surprise, that Su Bingtian looks to Liu Xiang as a role model and inspiration.
Su Bingtian is fast, very fast.
Indoor sprinting is hugely popular amongst athletes. The fastest sprinters in the world compete in a dash across 60 metres. Not only does Su, with a speed of 6.42 seconds, hold the record for being the fastest Asian, it makes him fifth fastest runner in history. Su is also one of only four Asian athletes (plus one African Asian) and the fastest one ever to have run 100 metres under 10 seconds. According to figures published by Wikipedia, this barrier has only been reached by 163 people in athletic history. In the 50 years since this barrier was broken, only 7 have been faster than Su's best time of 9.83 but 5 of those have the taint of negative drug results in their history.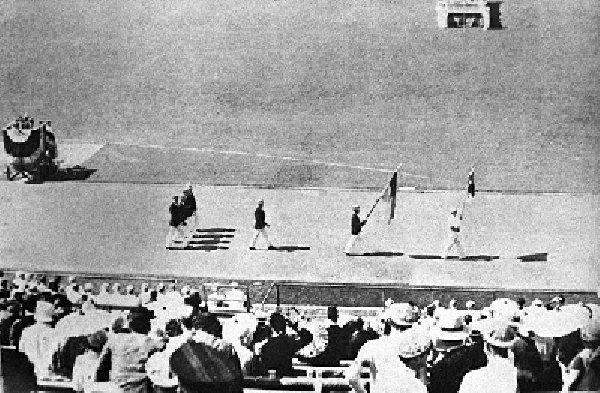 Photo shows Liu Changchun (2nd R) parades in the stadium at the opening ceremony of the 1932 Summer Olympics in Los Angeles. He was the first athlete to represent China at an Olympic Games as well as China's sole competitor at the 1932 Los Angeles Summer Olympics. (Xinhua/File Photo)
Tokyo 2021 has been a reminder for Chinese people of another historic Olympic moment. In 1932, at the Los Angeles Olympics, Liu Changchun, a Chinese sprinter lined up for the heats of the men's 100m. Controversy surrounded him, coming from Dongbei (Northeast China), he had brazenly decided to race under the Chinese flag rather than that of the Japanese occupied state of "Manchuko". So, although there were two Chinese competitors, only Liu represented the Republic of China in those long-ago Games. Exhausted from over a month on a ship, without any ability to train while he travelled, anxious and concerned by the controversies surrounding his decision to represent the country he loved, rather than the oppressors he lived under, he failed to qualify for the finals. According to his own diary, he was beaten by a runner who was 0.1 second faster than him, needing to be in the first three to go through to the final, he was fourth. One can only imagine the frustration at the time. Not just to him, but to millions of people at home in China who applauded his courage for standing up to the occupiers.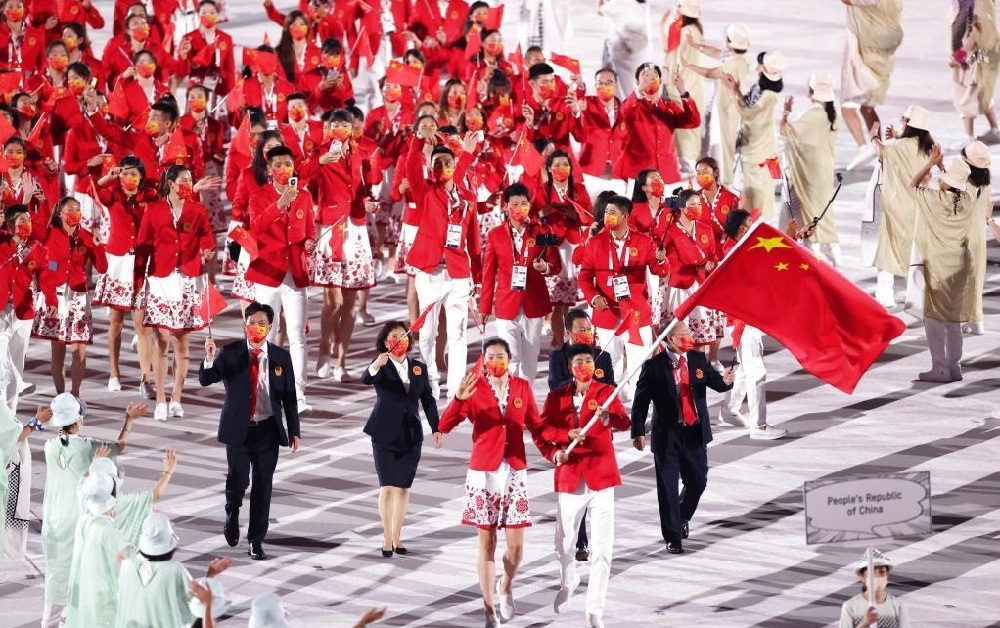 Led by flag bearers Zhu Ting and Zhao Shuai, Olympic delegation of China parade into the Olympic Stadium during the opening ceremony of Tokyo 2020 Olympic Games in Tokyo, Japan, July 23, 2021. (Xinhua/Xu Chang)
By comparison with those turbulent inter-war years, when Liu, a privately funded, self-trained athlete was the only man representing his troubled country: in 2021, China sent 431 professionally trained, well-disciplined and peak performing athletes to Tokyo to continue the Asian disruption.
Challenging the Gene Theory Myth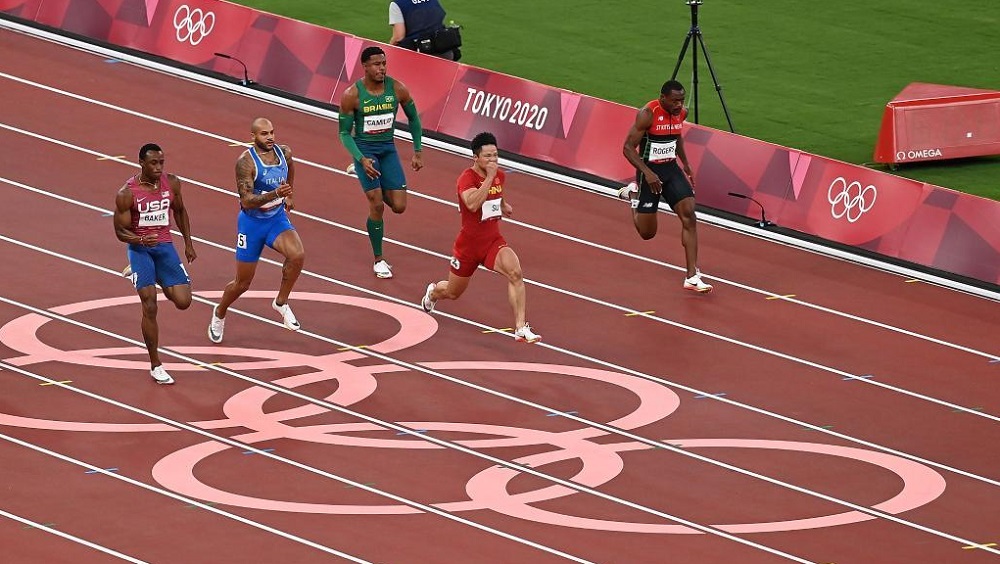 Su Bingtian (2nd R) of China competes during the men's 100m semifinal at Tokyo 2020 Olympic Games, in Tokyo, Japan, Aug. 1, 2021. (Xinhua/Li Yibo)
In a sport dominated by West Indians, Africans and African Americans, Asia is getting noticed as the new kid on the block through the successes of these athletes.
Only one Asian in the past 90 years and now, only two in Olympic history have run in an Olympic men's 100m final, Su Bingtian in 2021 and, coincidently, in 1932, as Liu Changchun was swallowing his disappointment on not making the finals for his beloved China it was, ironically, Takayoshi Yoshioka of Japan, who made history. This historical absence of Asian athletes appears about to change.
It's generally believed that Asians have an inherent, genetic inability to beat the Africans, West Indians and African Americans. What Su, Liu Xiang and a handful of other Asians have done, with their astonishing achievements up to and including Tokyo, is shattered what is known as the "gene theory".
Scientists have isolated a gene they call ACTN3. Since the isolation of the gene, almost all elite sprinters who have been tested, have been found to have this. Without getting too deep into the science (because this is an article about a great runner), there are some proteins encoded in the gene (alpha-actinin-3(1)) that pertain mostly to elite athletes and particularly to elite sprinters, they create the power to "fast-twitch" muscles. Asians don't have this gene and, because of this, until recently have been considered by scientists to be totally unsuitable to meet the requirements needed to beat the people who do hold this natural advantage. Liu Xiang was the first to challenge this theory. This quietly spoken, low-profile athlete was faster out of the blocks and faster across both the 60 metres and 110 metres hurdles than all other athletes during his 12-year career.
Watch any of Su Bingtian's races and you'll see, he proves the science wrong too, he's usually the first out of the blocks, he's the fastest for the first 40-60 metres and then the length of stride of the Jamaicans, African Americans and African athletes, who are all giants compared to Su's 5'8"/173cm frame take over. However, in the 60 metres sprint, there are only 4 runners in the history of athletics (one of whom is tainted with a negative drug finding) who are faster than Su's time.
The genetics are as much about size and strength as well as the fast-twitch muscles but it's our hero Su, who is proving this theory, and the genetic advantages some athletes are believed to have, can be overcome. Not just with his amazing performances on the track but with his own groundbreaking scientific research.
Science Developing China's Future Athletes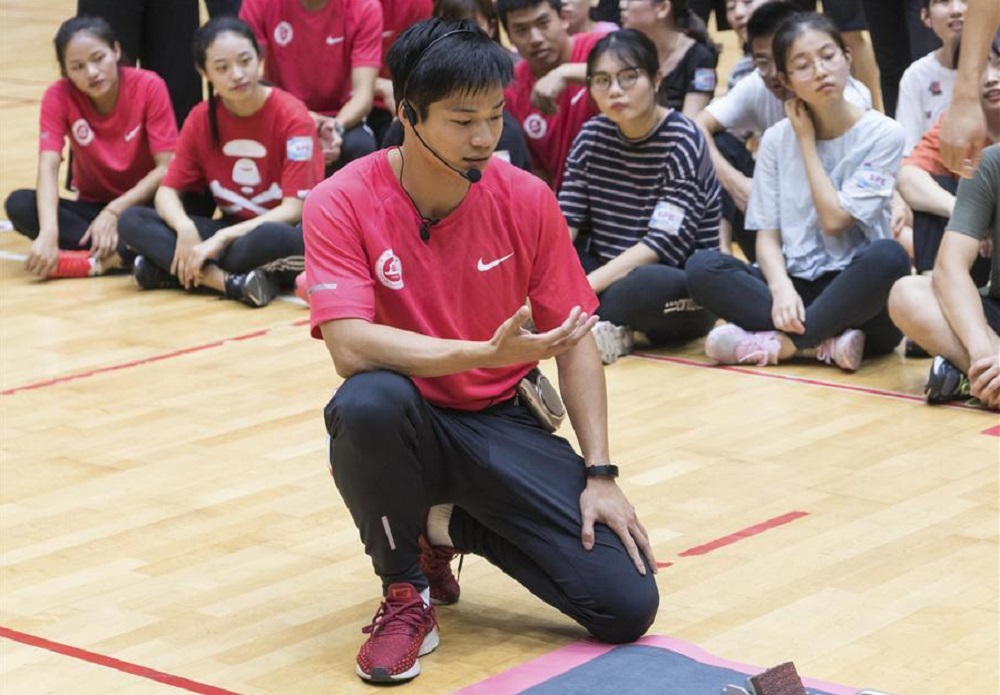 Su Bingtian, as an associate professor, explains the functions of a starting block and the way to use it to students at Jinan University in Guangzhou, south China's Guangdong Province, Oct. 15, 2018. (Xinhua/Zhou Ziyang)
A little-known fact outside of China, is that Su Bingtian is an Associate Professor in Guangzhou's Jinan University. He's published several papers in which, rather unusually, he studies himself. In his case studies he scientifically analyses his own training methods and results. Based on his findings, the improvements he's experienced and the future developments he proposes, there is a very strong possibility that the path he, and his compatriots, recently blazed onto the Olympic and World Championship tracks, is just the start of a new era of sporting prowess.
At a team level, societal changes brought about by economic development in China over the last 50 years, has created an environment where sports can flourish. Further proof of this, if needed, is the number of athletes representing China in even more track finals since Liu in 2004. As well as Su's appearance in Tokyo's 100m final, we've seen ladies and men in Sprint Relays, athletes reaching finals they've never reached before, Tokyo also saw China's best ever record in an Olympic Marathon and swimmers surging through the pool to pick up medals. These results aren't due to lucky timing, China isn't winning because other competitors are weakened, they're winning in their own right making new, and breaking old records because of individual achievements supported by a national approach in a country that has seen positive increases in every measurement of life and lifestyle improvement. It looks like we are going to see a lot more "Fei Ren" flying on the track and Asian disruption in Track and Field proving that China really has, in the sporting arena, come of age.
Recognition of Heroes
Dalian University of Technology has a stadium named after their 1932 hero, Liu Changchun, and pride of place in the city's Olympic Square belongs to a large statue of Liu. He remains, even now, almost 90 years after competing in the Olympics, a household name in China. Like Dalian, the city of Zhongshan celebrates their hero, Su Bingtian.
National athletics in China will never be the same again. The next generation of athletes, inspired by these heroes, and the sports fans who follow them, will look back to this era accrediting many of the positive changes to the inspirational successes on the track as well as the innovative training methods, seminal research and the developmental strategies of "Zhongshan's flying man" coupled with the "lucky coincidence" of living in a country of consistently improving economic, societal and sporting environments.
In the same year that China launched its own space station and put a vehicle on Mars, it launched a new era of future athletic prowess. For many years the idea of Asian athletes reaching the top of the tree in track and field events was nothing more than a pipe dream. This barrier has now been removed and the future of elite sports has changed. In the way that Yuan Longping changed the way that Chinese farmers could grow enough food to feed 1.4 billion people and set the scene for China to help in many other developing nations and, in the way that Zhong Nanshan safely led the people of China through the SARS epidemic and then again through the COVID-19 pandemic, these men changed the way that Chinese people view their place in the world. Like these two men, who are also responsible for saving of millions of lives, Su Bingtian has, in China, created a sense of pride, hope and an achievable dream. If China can lead the way in space exploration, pandemic handling, agricultural improvements and sporting prowess, what else can't they achieve?
Reference:
Did you know there is a "sprinter" gene?
https://www.didyouknowdna.com/lifestyle/genes-fitness/dna-sprinter-gene/
The writer, Jerry Grey, has lived and worked in Zhongshan since 2004. He holds post graduate qualifications in Cross Cultural Change Management and is well-known in the city for being the only foreigner who has cycled the length and breadth of the entire country – twice!
He retired from full time work a few years ago and now spends much of his time correcting the myths and misconceptions about China through his writing, and travelling China on a bike while blogging about his experiences. He can be found on Twitter @jerry_grey2002.
Editor: WXL