Up to now, the ongoing COVID-19 pandemic has done much more harm to human health and safety as well as social and economic development than anyone could have imagined since its outbreak. As it seems that the novel coronavirus will coexist with mankind for a long time, major countries should consider how they should view international relations and assume international responsibilities in the post-pandemic era.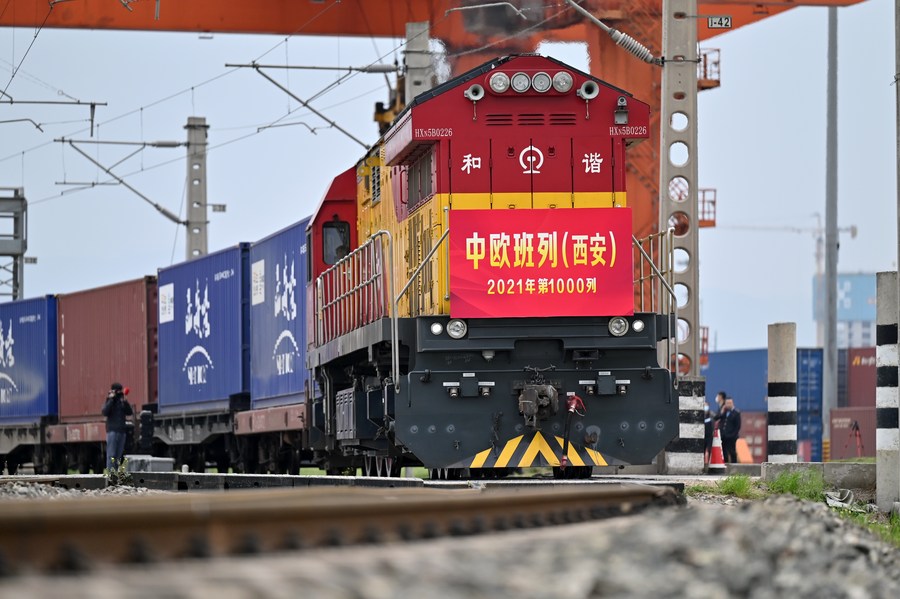 A China-Europe freight train leaves Xi'an International Trade and Logistics Park in Xi'an, northwest China's Shaanxi Province, April 13, 2021. (Xinhua/Li Yibo)
In step with the pandemic, profound changes unseen in a century are accelerating. The competition brought by the new round of scientific and technological revolution and industrial transformation is unprecedented. Global issues like climate change are profoundly affecting the international community, putting human beings once again at a crossroads.
"Let's make concerted efforts to protect the life and health of people in all countries. Let's work together to safeguard planet Earth, our common home. Let's work together to build a global community of health for all," Chinese President Xi Jinping proposed at the opening ceremony of the 73rd World Health Assembly via video link in May 2020.
A year later, at the Global Health Summit in May 2021, President Xi emphasized again that the pandemic is yet another reminder that we humanity rise and fall together with a shared future. "Confronted by a pandemic like COVID-19, we must champion the vision of building a global community of health for all, tide over this trying time through solidarity and cooperation, and firmly reject any attempt to politicize, label or stigmatize the virus," Xi said.
President Xi has given the world China's answer: advocating a new form of international relations, promoting the construction of a community with a shared future for mankind, and celebrating the common values of peace, development, fairness, justice, democracy and freedom.
As the largest developed country and the No.1 military power in the world, the United States is somehow losing its confidence under the pandemic, continuously engaging in political manipulation, labeling and stigmatizing, and even stirring up confrontation between different ideologies and development paths. This has not only been of no help to its own fight against the pandemic, but has greatly disturbed the international cooperation in combating the virus.
China-US relations have reached "a precipice", former US Secretary of State Henry Kissinger said during the 2021 New Economy Forum, "we're through the mountain pass, on a precipice from which you can look in both directions. And now it depends which direction is chosen." The remark serves as a reminder for China and the US to avoid conflict in protection of all. It is equally applicable to China-France and China-EU relations.
France has performed fairly well in containing the coronavirus and stabilizing economic and social development. On Jan. 1, 2022 France took over the rotating presidency of the European Union.
China-France relations have developed well in recent years. Since the outbreak of the novel coronavirus, Chinese President Xi Jinping and French President Emmanuel Macron have made seven phone calls, together attended three summits of leaders of China, France and Germany (Europe) online, the leaders' summit of the 15th meeting of the Conference of the Parties to the Convention on Biological Diversity (COP15) and other important international conferences, exchanging in-depth views on issues of common concern, such as deepening bilateral relations, maintaining multilateralism, coping with climate change, protecting biodiversity, promoting African development, and have reached important consensuses, providing strong support for further cooperation between China and France, as well as China and the EU in the fight against the pandemic while jointly promoting the recovery of the world economy.
China and Europe have fought their way through the pandemic and achieved fruitful results. The year of 2021 marked the 10th anniversary of China-Europe freight train services. The number of China-Europe freight train trips surged to 12,000, starting with less than 20 at the beginning. Up to now, the cumulative train trips have exceeded 40,000, covering 160 cities in 22 European countries, forming a logistics distribution network that covers the whole of Europe. Even during the pandemic, China-Europe freight train service between China and Europe went in an orderly way, which has acted as "the life channel" for the transportation of pandemic prevention materials, and has been known as "the steel camel team" between Asia and Europe.
Another highlight of China-EU cooperation in 2021 was that the bilateral agreement between China and the EU on geographical indications (GI) came into force. Efficient and high-quality French agro-food processing industry is one of the main beneficiaries. The agreement has set in motion mutual recognition of geographical indications between China and the EU, built a platform of dispute settlement mechanisms, reduced import and export costs, and made agricultural food products of both sides, such as tea, wine and cheese, more reliable, while through more convenient channels at lower costs, making a good start for global economic recovery.
As Chinese President Xi Jinping noted, independence, mutual understanding, foresight, mutual benefit and win-win outcomes were the original aspiration of the establishment of diplomatic relations between China and France. Amid increasing instability and uncertainty, major economies like China and Europe should shoulder more responsibilities in promoting not just bilateral ties and cooperation but global economic and trade development.
Today's world needs confidence in the future. China-France and China-Europe ties are some of the most stable ones between major countries of increasing global significance. By advancing steadily and orderly, both sides can jointly stimulate the initiative and creativity of enterprises as market players with stable policy expectations and business environment, catering to the common interests of both sides and even the international community.
In the face of the pandemic, China and France have made joint efforts for the common interests and responsibilities to turn their consensus of "something should be done" into "something to do" in the real world.
On the one hand, third-party market cooperation represented by China and France will be promoted as an effort to work together to build a global community of health for all. It's worth noting that Africa is the region where developing countries are most concentrated, and where the task of combating the virus and realizing economic recovery is the most arduous. We should work together to promote the joint biopharmaceutical research project focusing on the control, detection, treatment, rehabilitation and prevention of the novel coronavirus, support the work of the WHO, help African countries to prevent and control the pandemic, and strive to achieve the accessibility and affordability of COVID-19 vaccines in Africa.
On the other hand, with energy transformation and low-carbon economic cooperation as carriers, China-EU green development partnership will be further developed. In 2021, after the normalization of pandemic prevention and control, China's State Councilor and Foreign Minister Wang Yi chose Europe as the first destination of his visit, and proposed to build a partnership between China and Europe in four aspects: cooperation against COVID-19, investment cooperation, green and digital cooperation, and multilateral cooperation. The situation so far has fully confirmed Wang's strategic foresight on strengthening cooperation between China and Europe.
China has made solemn commitments to the world to peak carbon dioxide emissions by 2030 and achieve carbon neutrality by 2060. For a large developing country with a population of more than 1.4 billion, the target sets far less time than what that of developed countries has taken to get from peaking carbon dioxide emissions to carbon neutrality. It not only means hard work, but also indicates an important opportunity for international cooperation.
On the road of China's emissions reduction from fossil fuels to clean energy, China and France and China and Europe have many successful examples of cooperation in the supply side of clean energy such as civil nuclear energy, hydropower and wind energy, and have also established a good cooperation foundation and mature cooperation mechanism. The significance of strengthening cooperation between China and France and China and Europe lies not only in jointly overcoming technical difficulties such as clean energy storage and transportation, but also in the possibility of achieving a more balanced, stable and safer allocation of clean energy in the world, making the goal of "affordable clean energy" in the 2030 United Nations Sustainable Development Agenda a reality as soon as possible, while changing the energy relations between countries from traditional fossil energy competition to clean energy cooperation, accelerating the construction of a community with a shared future for mankind.
The limited energy and wisdom of human beings should be used wisely to work together, instead of falling into the in-fighting based on suspicion and collusion. The limited strength and resources of each country should be focused on actions to cope with global challenges and strengthen global governance, but not be led to ideological confrontation or the evil deeds of seeking hegemonic self-interest under the guise of ideology.
As the old Chinese saying goes, "Many a little makes a mickle". Confronted by the ravages of COVID-19, all countries should come together and work as one for a better future for mankind.
Article contributed by Yu Jiang, Vice President of China Institute of International Studies (CIIS) and Full-time Deputy Secretary-General of Xi Jinping Thought on Diplomacy Studies Centre
Translated by Wang Xinyuan
Editor: WXY