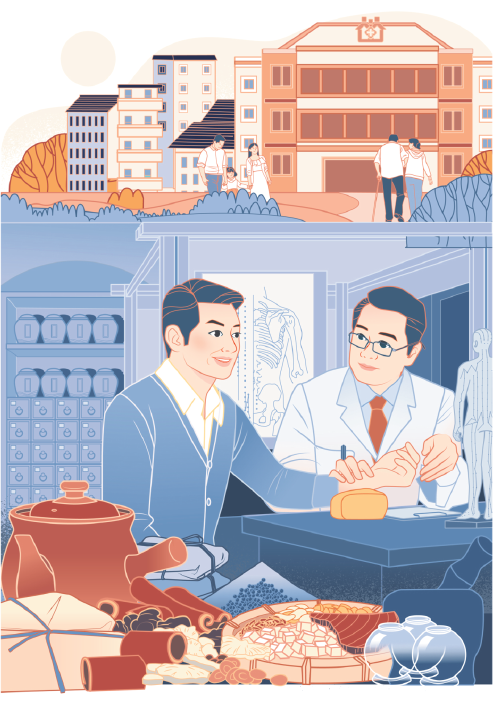 SHI YU/CHINA DAILY
Cambodian site a testing ground for collaboration
Dong Fei is more than happy that appointment slots at the nascent traditional Chinese medicine department she works for at a Cambodian hospital are nearly all taken every day.
"There were over 390 visits during the first nine days of operations, exceeding the average at local outpatient clinics," she said.
A doctor from the Xiyuan Hospital at the China Academy of Chinese Medical Sciences in Beijing, Dong is one of 12 specialists dispatched to Cambodia as part of China's first foreign medical aid team specializing in TCM.
She works at the Cambodia-China Friendship Preah Kossamak Hospital, a Chinese-funded hospital that opened on March 21 in Phnom Penh, the Cambodian capital.
Due to the impact of the COVID-19 epidemic and limited resources in the city, Dong and her colleagues had to hand-wash their scrubs and sanitize clinic rooms for themselves at first, but it wasn't long before the department was operating smoothly, and appointment slots started filling up.
"I think we have successfully taken our first step in efforts to bring the benefits of TCM to Cambodia," she said.
More countries will be able to experience those benefits in the next few years as China plans to boost international exchange and cooperation in TCM, according to a five-year development plan (2021-25) released by the General Office of the State Council, China's Cabinet, on March 29.
In addition to developing more TCM hospitals and training more practitioners, the plan calls for improving TCM's ability to tackle infectious diseases, building friendship hospitals and pharmaceutical parks and promoting the registration and use of TCM medications overseas.
Wang Qi, an academician with the Chinese Academy of Engineering and a professor at the Beijing University of Chinese Medicine, said in an article in the People's Daily, a major official Chinese publication, that five-year blueprints for the TCM sector used to be released by relevant authorities, but this year marks the first time a plan has been published by the State Council, a sign of enhanced support.
In a statement explaining the development plan, the National Administration of Traditional Chinese Medicine said that some in the international community have spoken highly of TCM since the pandemic began.
"However, due to the fundamental differences between the mechanisms and therapies of TCM and those of western medicine, there remain a number of barriers regarding the international promotion of TCM in the future," the administration said.
Cambodia is an ideal testing ground for models of future collaboration, according to experts.
Xu Fengqin, vice-president of Xiyuan Hospital, arrived in Cambodia in late January to prepare for the inauguration of the new hospital and contribute to the fight against the Omicron outbreak sweeping the country.
"Because there is a large Chinese population in Cambodia, local people are already accustomed to TCM and to using TCM medication at home," she said.
Lianhua Qingwen capsules and Huashi Baidu granules-two TCM medications widely used during the outbreak in China-have also been licensed for use in treating mild infections in Cambodia.
"There was a patient who was extremely anxious because his test results had been positive for a month and a half. I was only able to offer consultation via video link because we lived in different cities," Xu said. "About a week after I prescribed TCM medication, his results came back negative."
In addition to COVID-19 treatments, Xu said other TCM services, especially acupuncture, are popular.
"To meet surging demand, we have set up more acupuncture beds in a vacant room," she said. "Even so, appointments are often fully booked."
She added that the Chinese foreign aid team has launched a training program for 100 medical workers to spread awareness of the basic methodology and advantages of TCM.
"We aim to deepen mutual understanding, so that when Chinese doctors encounter a patient beyond our capacity to treat, we can refer them to other doctors, and vice versa," she said.
Xu said that she hopes Cambodian healthcare workers will be able to undergo systematic TCM training in China and take what they learn home.
According to the TCM administration, China plans to cooperate with countries involved in the Belt and Road Initiative to establish 30 TCM centers, 50 collaboration centers and a number of TCM manufacturing centers abroad in the next few years.
More TCM professionals will also be dispatched as part of foreign aid groups.
Zhang Boli, an academician at the Chinese Academy of Engineering and honorary president of the Tianjin University of Traditional Chinese Medicine, said during an online interview in March that over 50 seminars have been held regarding the efficacy of TCM in treating COVID-19.
"I have found that overseas experts were very interested in learning how to view the novel coronavirus from the perspective of TCM," Boli said, adding that Lianhua Qingwen capsules were now on sale in at least 20 countries.
"It shows that TCM is gradually being accepted by more and more people," he said. "The next step is to provide a clear explanation of its efficacy."
Tong Xiaolin, an academician at the Chinese Academy of Sciences and a top TCM expert, said during an interview with Xinhua News Agency that due to cultural differences, it may be difficult for people in developed countries to fully accept TCM.
He said that expanding the influence of TCM by encouraging more nongovernmental exchanges, promoting it as a supplement to regular medical services in communities, and seeking assistance from overseas Chinese are ways of overcoming this potential issue.
Editor: WRX