Chinese President Xi Jinping hosted the 14th BRICS Summit and delivered an important speech via video link on June 23, 2022 in Beijing. Underlining that the meeting is at a critical juncture, Xi highlighted the importance of fostering a more comprehensive, close, practical and inclusive high-quality partnership and jointly embarking on a new journey of BRICS cooperation.
In his speech, Xi raised four proposals and concrete measures to chart the course for the future development of the BRICS mechanism and the pathway for upgrading BRICS cooperation.
Ⅰ. Uphold solidarity and safeguard world peace and tranquility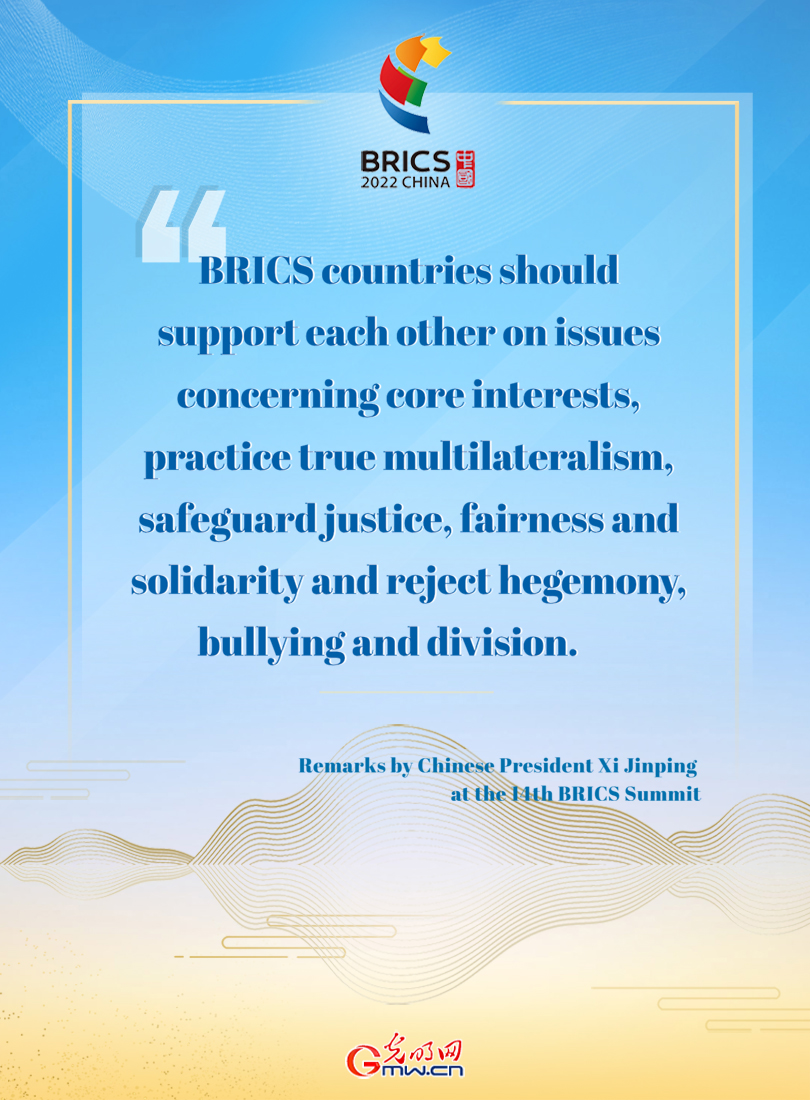 Noting that the world today is overshadowed by the dark clouds of Cold War mentality and power politics, and beset by constantly emerging traditional and non-traditional security threats, Xi called on the BRICS countries to uphold solidarity and safeguard world peace and tranquillity.
"It is important that BRICS countries support each other on issues concerning core interests, practice true multilateralism, safeguard justice, fairness and solidarity and reject hegemony, bullying and division," he said.
Ⅱ. Uphold cooperation to boost development and jointly tackle risks and challenges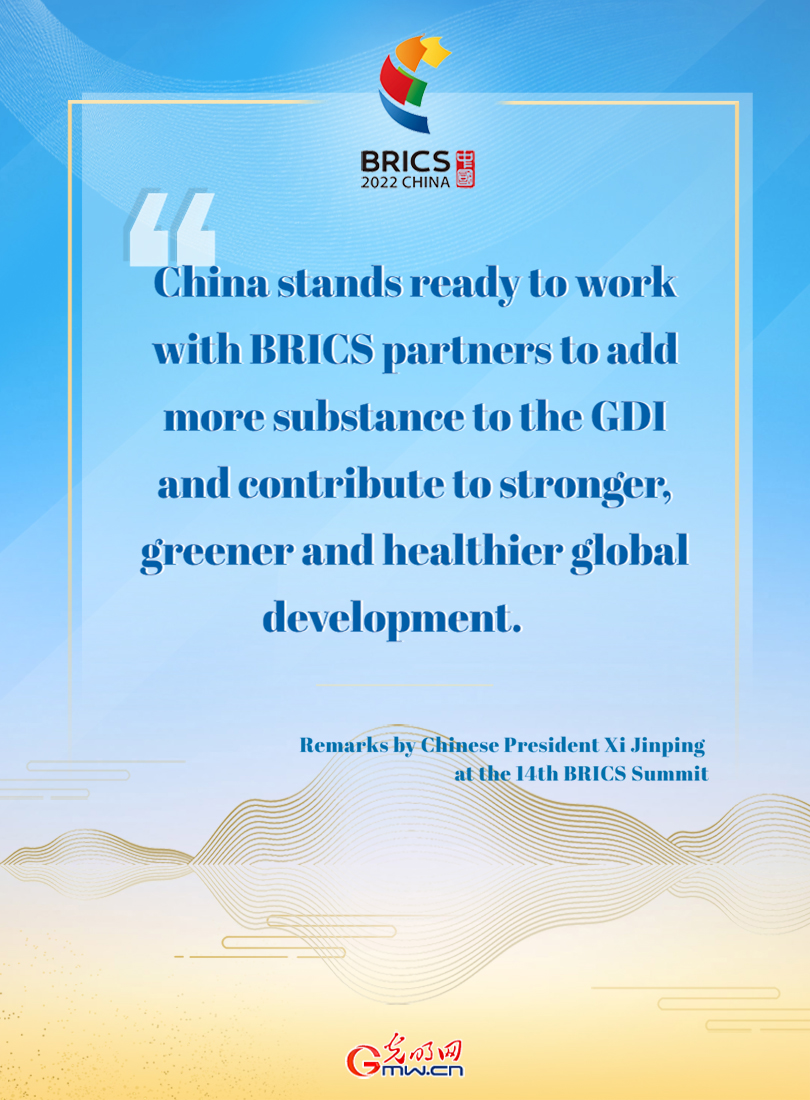 In the face of the disruptions to global industrial and supply chains resulting from the COVID-19 pandemic and the Ukraine crisis, Xi underlined the need to boost the connectivity of industrial and supply chains and jointly meet challenges in poverty reduction, agriculture, energy, logistics and other fields through multiple platforms.
"China stands ready to work with BRICS partners to add more substance to the Global Development Initiative (GDI) and contribute to stronger, greener and healthier global development," Xi noted.
Ⅲ. Uphold the pioneering spirit and innovation and unleash the potential and vitality of cooperation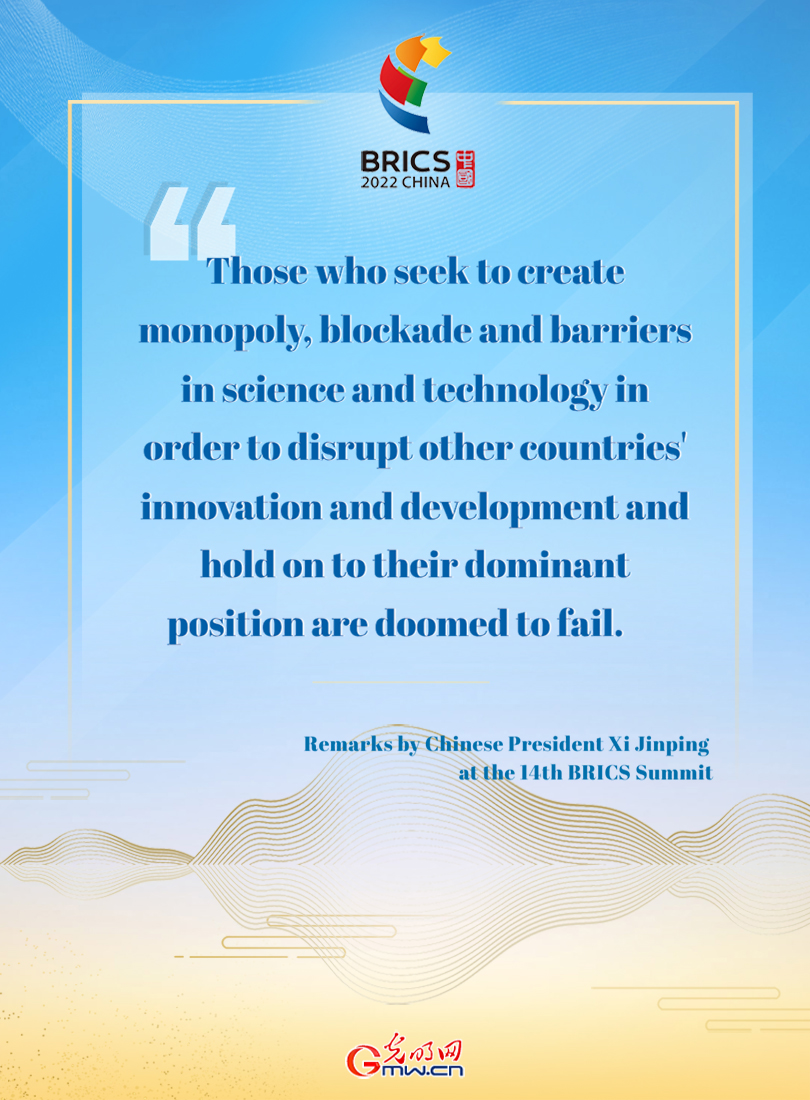 While emphasizing the importance to seize the opportunities of the new economy to keep in sync with the pulse of the times, Xi criticized some countries that resort to monopolies, blockades and barriers.
"Those who seek to create monopoly, blockade and barriers in science and technology in order to disrupt other countries' innovation and development and hold on to their dominant position are doomed to fail," he said.
Ⅳ. Uphold openness and inclusiveness and pool collective wisdom and strength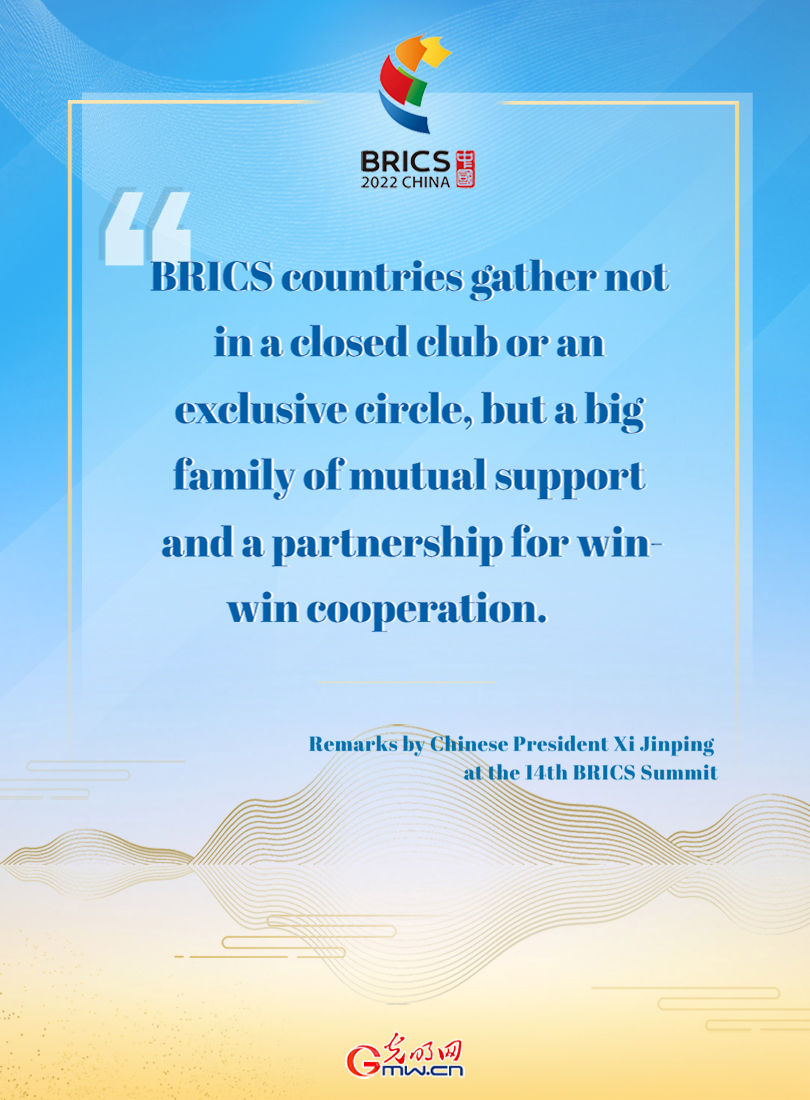 "BRICS countries gather not in a closed club or an exclusive circle, but a big family of mutual support and a partnership for win-win cooperation," Xi noted.
Since the "BRICS Plus" cooperation approach was proposed in 2017, the "BRICS Plus" cooperation has deepened and expanded, setting a prime example of South-South cooperation and seeking strength through unity among emerging markets and developing countries over the past five years, he added.
As representatives of emerging markets and developing countries, Xi called on BRICS countries to make the right decision and take responsible actions at this critical juncture of history, stay united, pool strength and forge ahead to build a community with a shared future for mankind and jointly create a bright future for humanity.
Editor: GSY