Li pottery is the traditional skill of the Li people in Hainan, which has been inherited for thousands of years. In the past, Li pottery was used to serve food, rice, and water. Therefore, it is called the "living fossil" of folk culture history. Manufactured products are mainly kettles, steamers, urns, bowls, pots, wine steamers, rice steamers, etc.
In Baotu Village, Shizhi Town, Changjiang Li Autonomous County, south China's Hainan Province, the technique of Li pottery preserved today is like a "living history", which truly reproduces the specific production mode, lifestyle, and national characteristics of li nationality in ancient times, and reflects the intelligence and wisdom of Li people.
In 2006, the original pottery-making skills of the Li nationality in Changjiang were rated as a national intangible cultural heritage. In order to pass on the Li pottery-making skills, in 2013, with the support of the county government, the Li Pottery Hall was established in Baotou Village. In 2019, the investor invested 1 million yuan in upgrading the original venue, perfecting the original pottery-making function and constructing Li Tao Cultural Industry Creative Park, which can realize the integration of "production, learning, research, and tourism". The Li pottery production is no longer limited to the containers for production and life, and the small and exquisite Li Tao ornaments become popular too.
Nowadays, more and more people know and understand the technique of Li pottery in Changjiang, and the path of product development is getting wider and wider. The injection of young blood in the new era makes the "living fossil" full of vitality.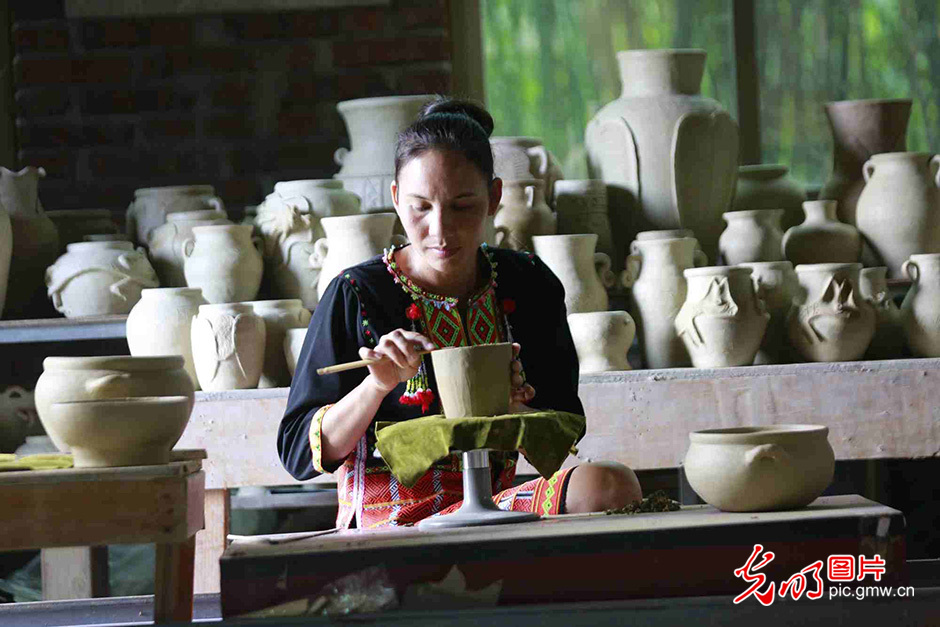 The photo shows a potter making Li pottery at a pottery workshop in Baotu Village,Changjiang Li Autonomous County, south China's Hainan Province..(Fu Kongyang/Hainan Changjiang Li Autonomous County Multimedia Center for Guangming Picture)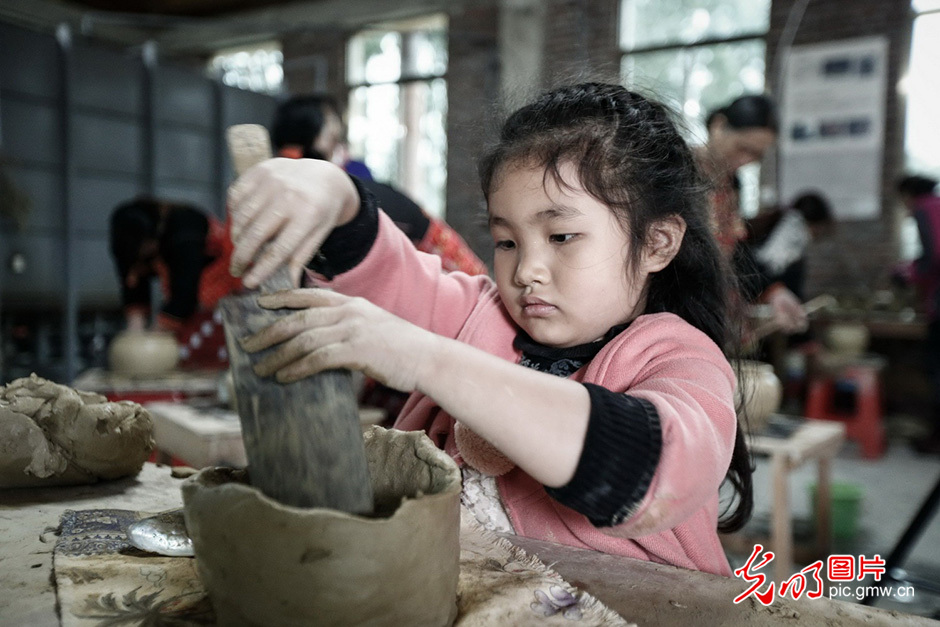 The photo shows a girl practicing Li pottery skill at a pottery workshop in Baotu Village,Changjiang Li Autonomous County, south China's Hainan Province..(Fu Kongyang/Hainan Changjiang Li Autonomous County Multimedia Center for Guangming Picture)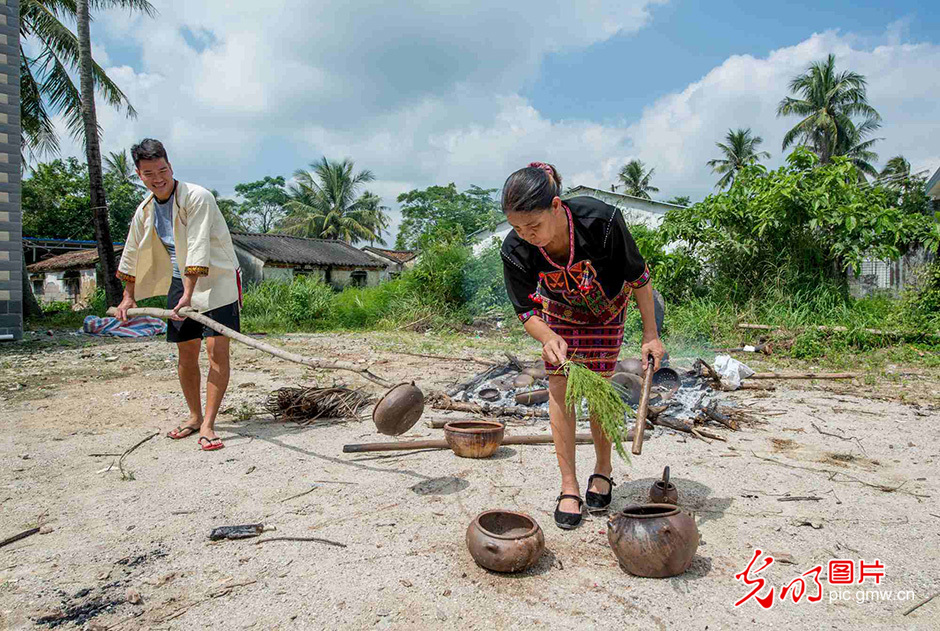 The photo shows open - air burning, the most primitive pottery making method. (Fu Kongyang/Hainan Changjiang Li Autonomous County Multimedia Center for Guangming Picture)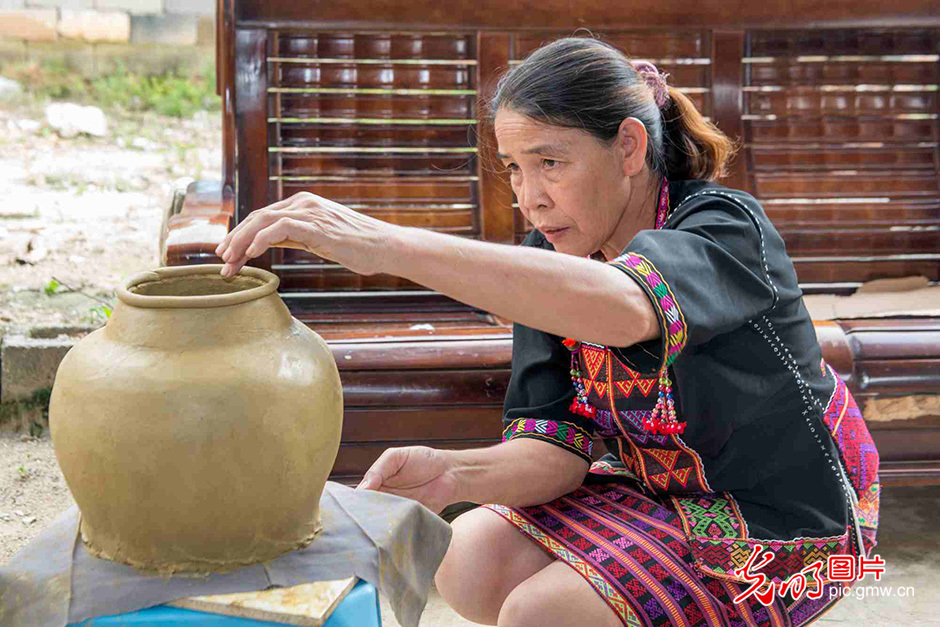 The photo shows potters giving final checks to their pottery at a pottery workshop in Baotu Village,Changjiang Li Autonomous County, south China's Hainan Province.. (Fu Kongyang/Hainan Changjiang Li Autonomous County Multimedia Center for Guangming Picture)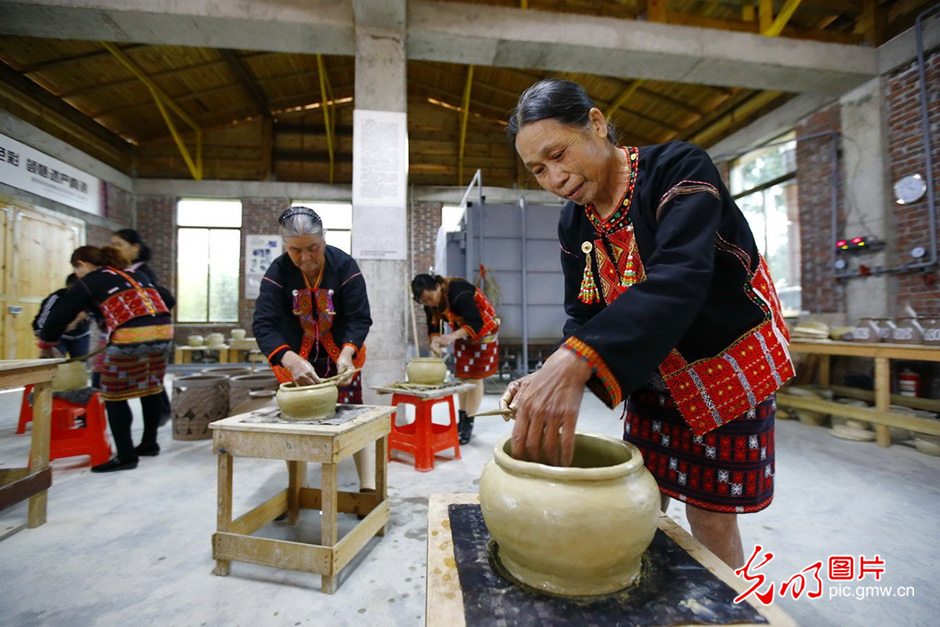 The photo shows senior potters making pottery at a pottery workshop in Baotu Village, Changjiang Li Autonomous County, south China's Hainan Province. For thousands of years, the art of Li pottery has been passed down only to women, not men. (Fu Kongyang/Hainan Changjiang Li Autonomous County Multimedia Center for Guangming Picture)