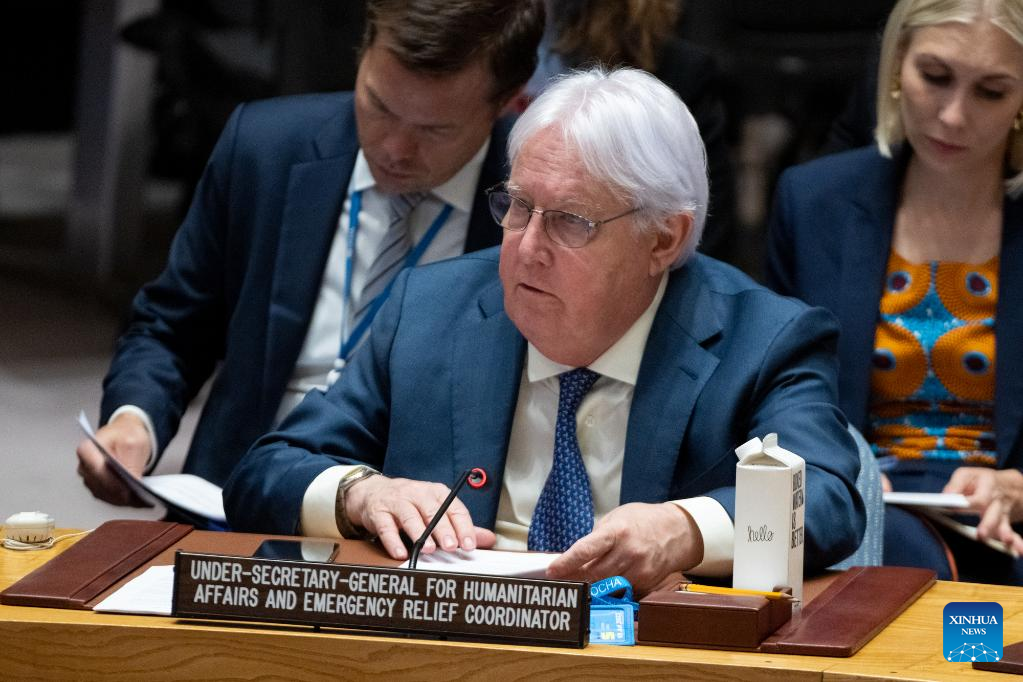 UN Undersecretary-General for Humanitarian Affairs Martin Griffiths speaks at a Security Council meeting on Syria at the UN headquarters in New York on Sept. 14, 2022. Griffiths on Wednesday called for more funding for Syria to meet humanitarian and livelihood needs. (Eskinder Debebe/UN Photo/Handout via Xinhua)
UNITED NATIONS, Sept. 14 (Xinhua) -- UN Undersecretary-General for Humanitarian Affairs Martin Griffiths on Wednesday called for more funding for Syria to meet humanitarian and livelihood needs.
The UN humanitarian response plan for Syria requires 4.4 billion U.S. dollars for 2022. In addition, the regional refugee and resilience plan, which caters for refugee needs in the region outside Syria, amounts to 6.1 billion dollars for this year, bringing the total up to 10.5 billion dollars, he said.
"Quite high amount of money. But the amount reflects the severity of humanitarian needs in Syria and in the region following this decade of crisis," he told the Security Council in a briefing.
To date, only a quarter of the humanitarian response plan is funded. The 6.1-billion-dollar regional plan only has 20 percent funding, he said.
Engagement with regional donors indicates that the United Nations may not even reach half of the funding requirements for the humanitarian response plan by the end of this year. That obviously has a direct impact on the plight of many Syrians, he warned.
Some 14.6 million people in Syria, more than half of them children, need humanitarian assistance. This is the highest level of need since the crisis began, said Griffiths. "We seem to fail the people in Syria more each year. As each year comes and each year passes, the needs grow, the gap increases and the stress and the suffering of the Syrian people from this crisis continues to be exacerbated."
He expressed the hope that funding for early-recovery and resilience programming and livelihood programming will also be increased.
Airstrikes have disrupted operations of the UN Humanitarian Air Service (UNHAS), at Aleppo airport. UNHAS is a critical service for the humanitarian operation. It is the basis on which staff deploy, staff move and occasionally also supplies, he said. "Ensuring continuity in the provision of aid and basic services and protection during those kinds of operations is of critical importance. It is not being the case. We would like to see all humanitarian activities resume as soon as possible."
In the past two weeks, hostilities in Syria have continued. Airstrikes and shelling along front lines have caused civilian death, injury, and interrupted livelihoods, said Griffiths.
Particularly devastating, three children were reportedly killed and four other people injured when an improvised explosive device, attached to a motorcycle, detonated close to a medical facility in a camp near Al-Hasakeh City on Monday, he said.
Griffiths expressed particular concern over news of a cholera outbreak in northern Syria.
"This cholera outbreak is a stark reminder of how critical our continued support remains to the people of Syria, given that the health system is devastated by these 10 years of conflict. This outbreak is also an indicator of severe shortages of water throughout Syria resulting from the low water levels in the Euphrates ... and the extent of destruction of water infrastructure," he said.
"And of course, I call on all relevant parties to facilitate reliable access to safe water. Otherwise, we'll see more of those cases of cholera, we will see more damage to the health system, we will see more problems arising out of the absence of reliable electricity," he added.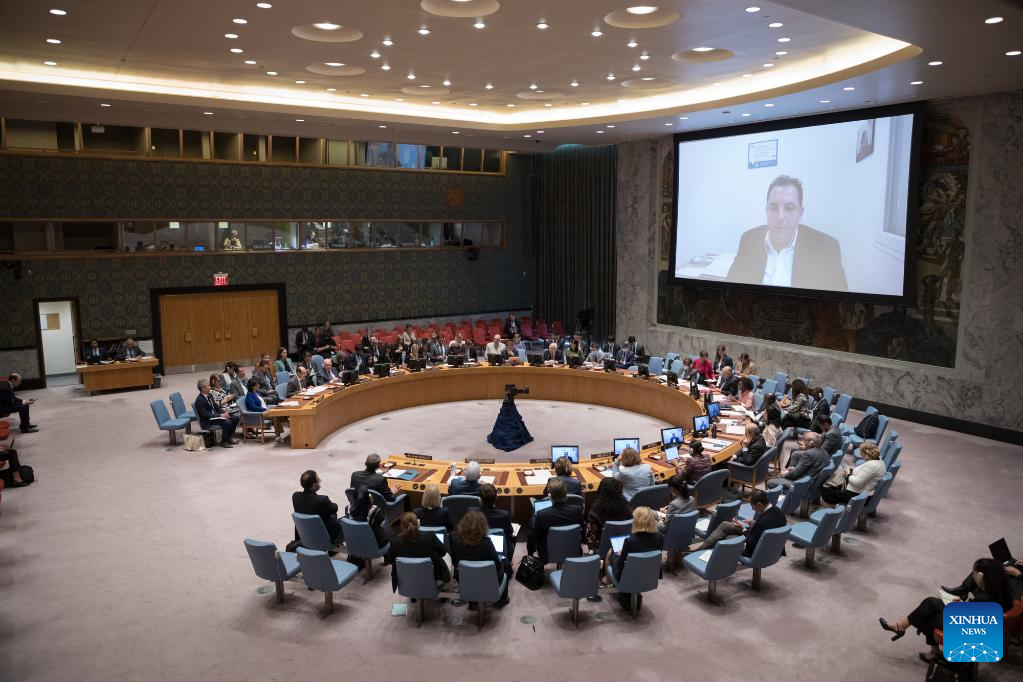 Photo taken on Sept. 14, 2022 shows a UN Security Council meeting on Syria at the UN headquarters in New York. UN Undersecretary-General for Humanitarian Affairs Martin Griffiths on Wednesday called for more funding for Syria to meet humanitarian and livelihood needs. (Jaclyn Licht/UN Photo/Handout via Xinhua)
Editor: WXY