By Zhang Zhou
Since the 18th CPC National Congress, the Party Central Committee with Comrade Xi Jinping at its core has placed sci-tech innovation at the center of national development, and has strengthened the top-level design, forward-planning and systematic deployment of innovation-driven development. China has adhered to the new development concept and implemented the strategy of innovation-driven growth.
China's sci-tech strength has been significantly enhanced, innovation system has been gradually improved, and overall capacity for innovation has reached a new level, getting increasingly close to the front-runners, and the global ranking of its national innovation capacity has risen to the 12th.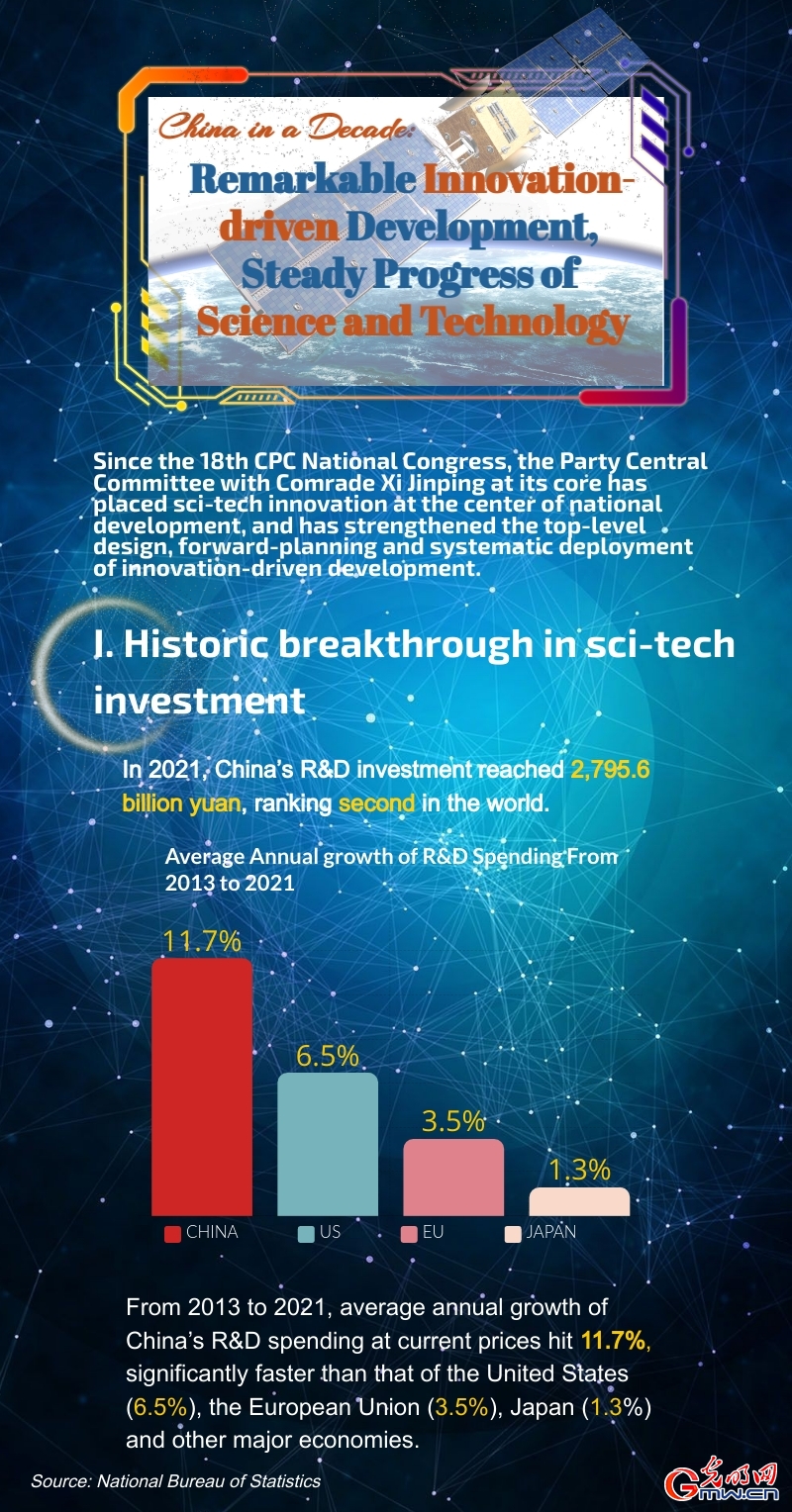 I. Historic breakthrough in sci-tech investment
Investment in R&D has made a historic breakthrough. In 2021, China's R&D investment reached 2,795.6 billion yuan, ranking second in the world. From 2013 to 2021, average annual growth of China's R&D spending at current prices hit 11.7%, significantly faster than that of the United States (6.5%), the European Union (3.5%), Japan (1.3%) and other major economies. R&D intensity (ratio of R&D expenditure to GDP) has jumped from 1.91% in 2012 to 2.44% in 2021, which is close to the average of OECD countries and reaches the level of medium developed countries.
The talent pool for sci-tech innovation is strengthened. Thanks to the workforce development strategy and the initiative of invigorating the country through science and education, China's talent pool for innovation has constantly expanded. In 2021, the total number of R&D personnel, calculated by full-time workload, reached 5.62 million, 1.7 times that of 2012; the total number of R&D personnel in China has ranked first in the world for nine consecutive years since surpassing the US in 2013.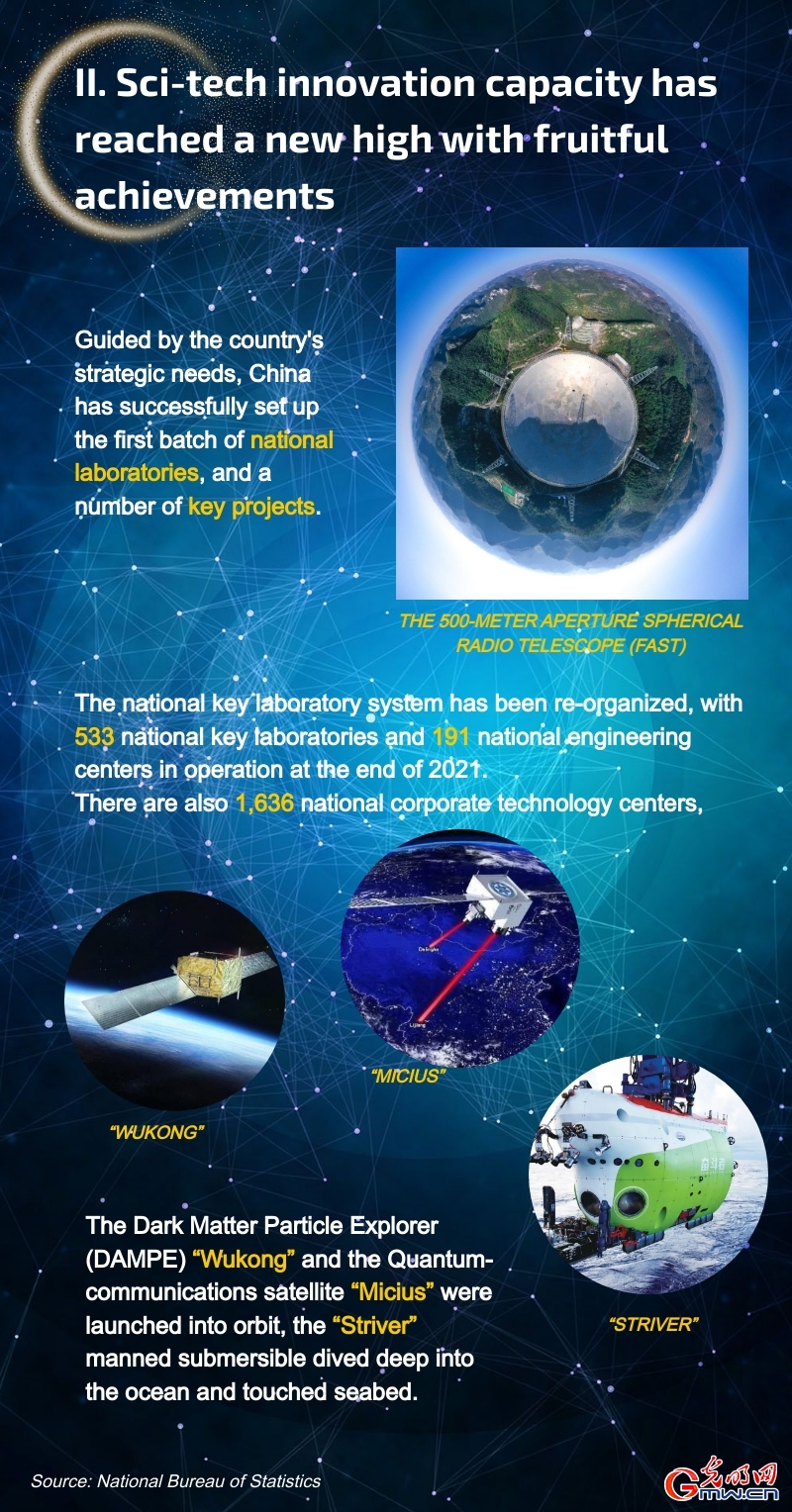 II.Sci-tech innovation capacity has reached a new high with fruitful achievements
Strategic technologies are continuously strengthened. Guided by the country's strategic needs, China has successfully set up the first batch of national laboratories, and a number of key projects such as the 500-meter aperture spherical radio telescope (FAST) and the scattered neutron source have been put into operation. The national key laboratory system has been re-organized, with 533 national key laboratories and 191 national engineering centers in operation at the end of 2021. There are also 1,636 national corporate technology centers, and the layout of innovation bases has been optimized and upgraded.
The Dark Matter Particle Explorer (DAMPE) "Wukong" and the Quantum-communications satellite "Micius" were launched into orbit, the "Striver" manned submersible dived deep into the ocean and touched seabed. The Tianwen No.1 probe kicked off China's Mars exploration mission, and the Tianhe Core Module of the Chinese Space Station was successfully launched and put into operation, manned space engineering has made giant leaps forward, epitomizing China's strength in science and technology.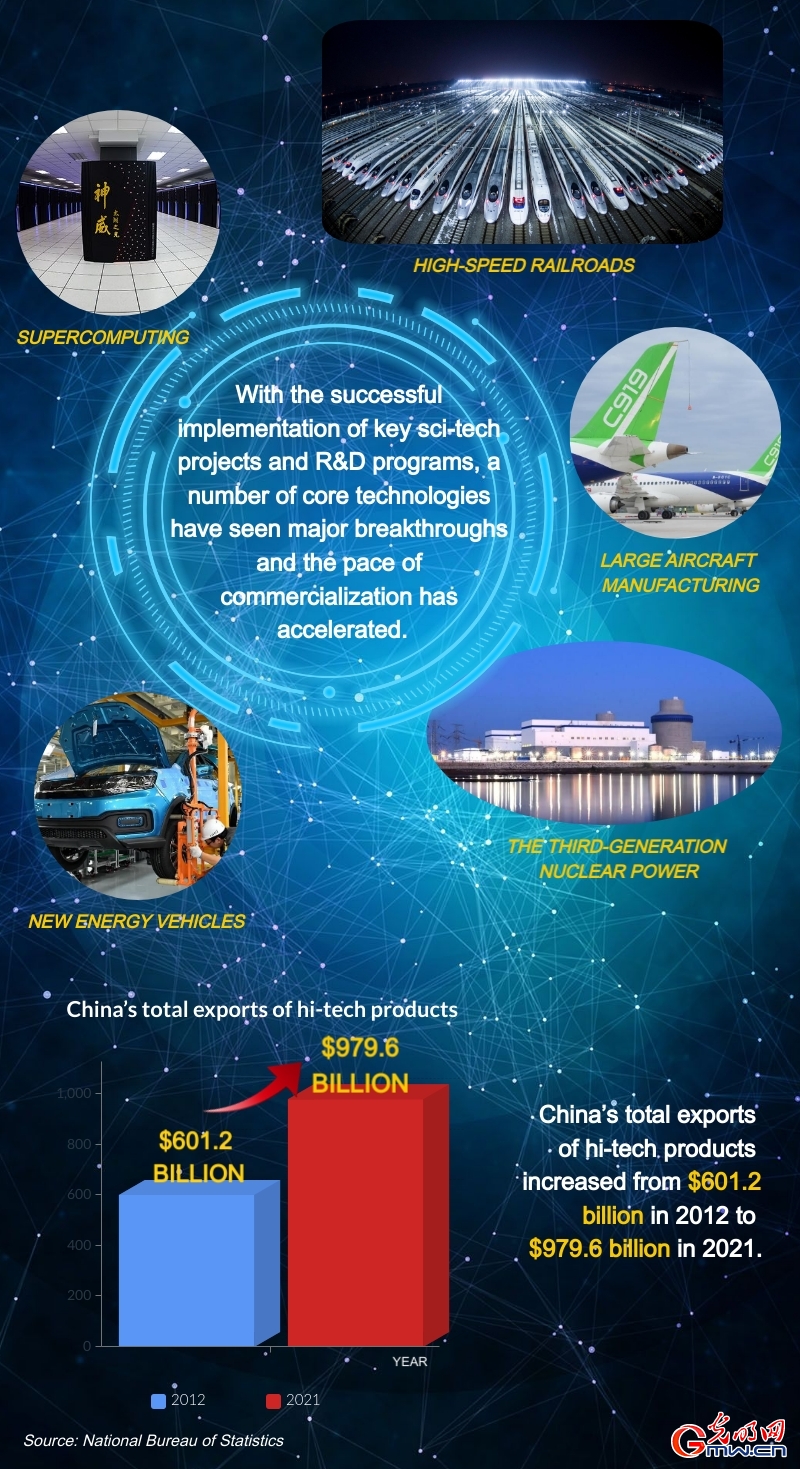 Achievements in high technologies are mushrooming. With the successful implementation of key sci-tech projects and R&D programs, a number of core technologies have seen major breakthroughs and the pace of commercialization has accelerated, leading to fruitful results in the fields of the third-generation nuclear power, 5G, new energy vehicles, supercomputing, high-speed railroads and large aircraft manufacturing to name but a few; integrated circuits, key components and basic software research and development have made impressive progress as well. China's total exports of hi-tech products increased from $601.2 billion in 2012 to $979.6 billion in 2021.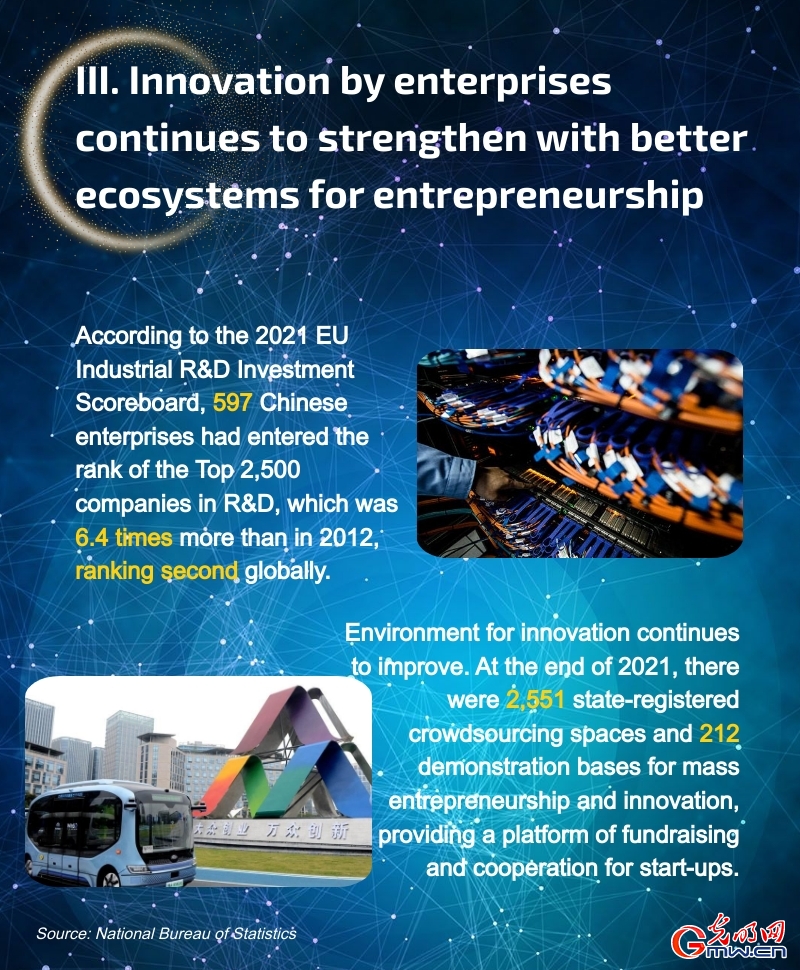 III. Innovation by enterprises continues to strengthen with better ecosystems for entrepreneurship
Leading enterprises have effectively responded to the containment and challenges from the outside by steadily improving their technological strength. According to the 2021 EU Industrial R&D Investment Scoreboard, 597 Chinese enterprises had entered the rank of the Top 2,500 companies in R&D, which was 6.4 times more than in 2012, ranking second globally.
Environment for innovation continues to improve. In 2021, China's technology market saw 670,000 transfers with a total transaction amount of 3,729.4 billion yuan, 2.4 times and 5.8 times that of 2012, respectively. At the end of 2021, there were 2,551 state-registered crowdsourcing spaces and 212 demonstration bases for mass entrepreneurship and innovation, providing a platform of fundraising and cooperation for start-ups.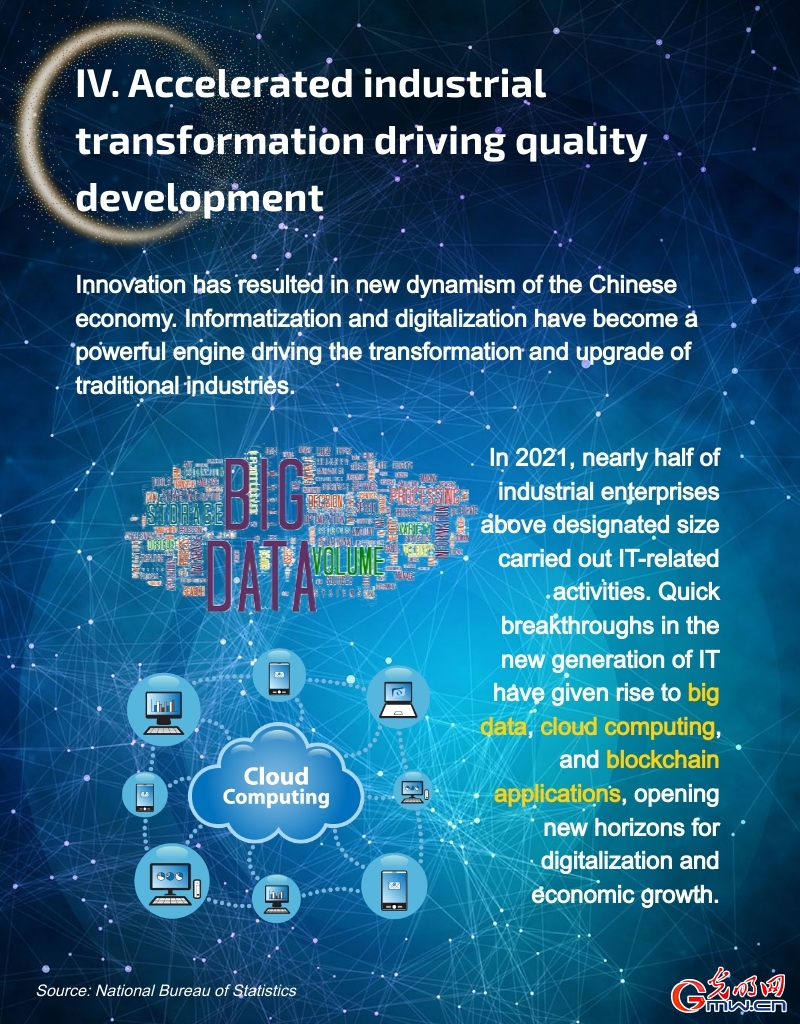 IV. Accelerated industrial transformation driving quality development
Innovation has resulted in new dynamism of the Chinese economy. Informatization and digitalization have become a powerful engine driving the transformation and upgrade of traditional industries. In 2021, nearly half of industrial enterprises above designated size carried out IT-related activities. Quick breakthroughs in the new generation of IT have given rise to big data, cloud computing, and blockchain applications, opening new horizons for digitalization and economic growth. In 2021, the number of Chinese unicorn enterprises exceeded 300, with a total valuation of more than $1.5 trillion.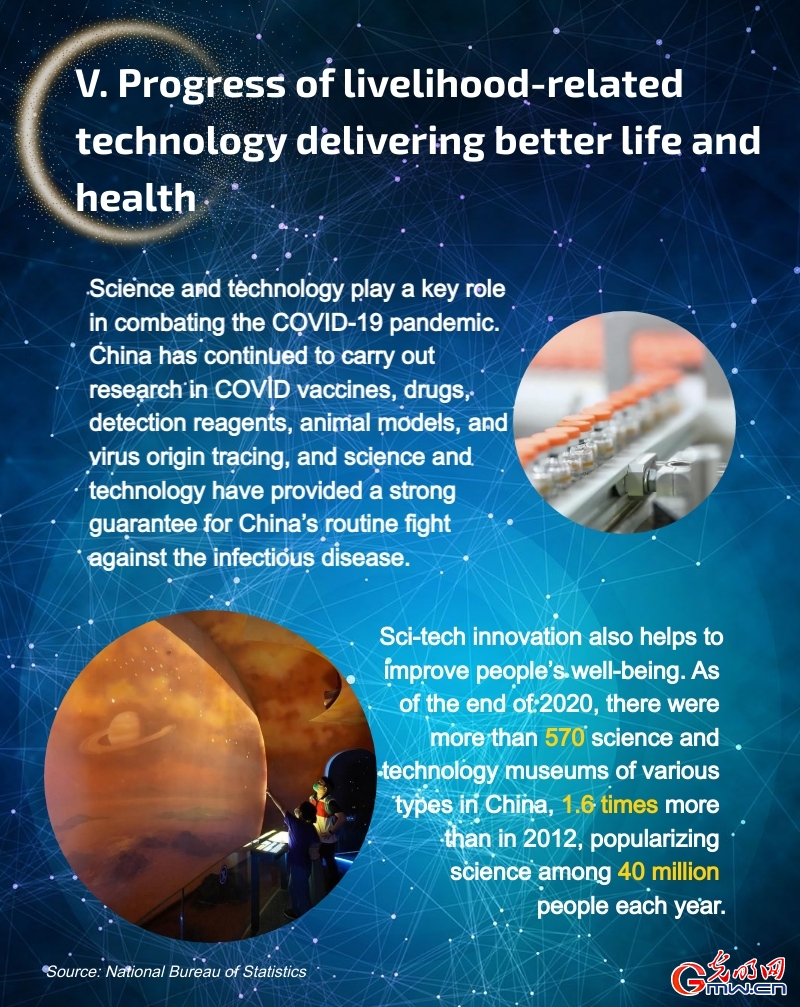 V. Progress of livelihood-related technology delivering better life and health
Science and technology play a key role in combating the Covid-19 pandemic. China has continued to carry out research in Covid vaccines, drugs, detection reagents, animal models, and virus origin tracing, and science and technology have provided a strong guarantee for China's routine fight against the infectious disease.
Sci-tech innovation also helps to improve people's well-being. As of the end of 2020, there were more than 570 science and technology museums of various types in China, 1.6 times more than in 2012, popularizing science among 40 million people each year; China's public literacy in science had reached 10.6%, up 4.4 percentage points over 2015.
Source: National Bureau of Statistics
Editor: GSY