China's State Council Information Office released a white paper titled "China's Green Development in the New Era" on Jan. 19, 2023. The white paper illustrates China's efforts to optimize its governing system of territorial space.
China has strengthened the overall planning and coordinated management and control of territorial space for working and living and for the environment. It has intensified efforts to protect and restore ecosystems, effectively expanded the capacity of the eco-environment, and promoted the rapid accumulation of natural wealth and eco-environmental wealth, leading to historic, transformative, and comprehensive changes in eco-environmental protection and providing strong support for the sustainable and healthy development of the economy and society.
Optimizing the development and protection of territorial space
A country's territorial space is the carrier for green development. China has implemented a functional zoning strategy and established a unified territorial space planning system that is science-based, efficient and built upon clearly defined powers and responsibilities. Taking into consideration factors such as population distribution, regional economic structures, land use, and eco-environmental protection, it has planned for the development and protection of territorial space with a holistic approach, so as to achieve higher-quality and more sustainable development of its territorial space.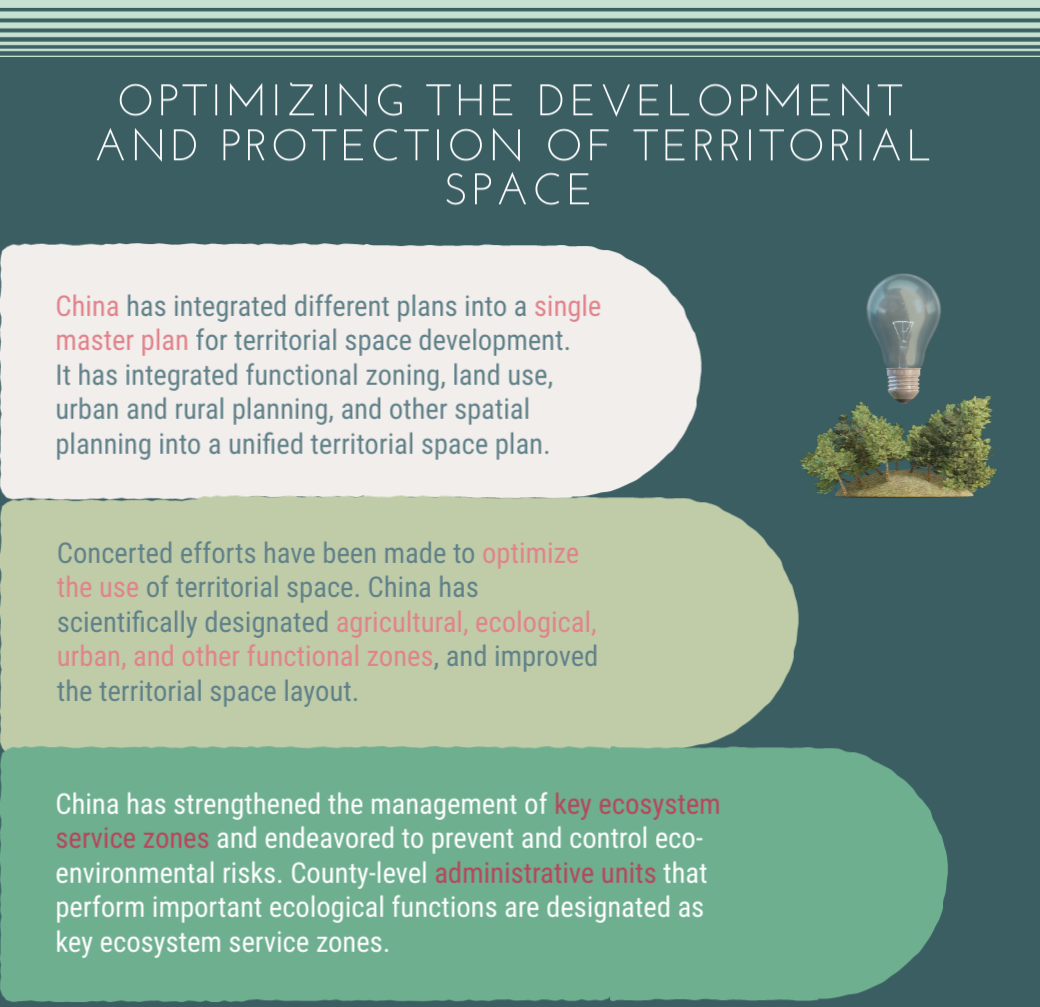 Strengthening eco-environmental conservation and restoration
Mountains, rivers, forests, farmland, lakes, grasslands and deserts are communities of life. China has stepped up systematic, comprehensive, and law-based environment governance, tackling problems at their sources. Prioritizing protection and focusing on natural restoration, it has vigorously pressed forward with the protection and restoration of ecosystems, so as to build a solid national eco-environmental security barrier and strengthen the foundations for the sustainable development of the Chinese nation.

Promoting the green development of key regions
China gives full play to the guiding role of major strategies for regional development and the implementation of these strategies, based on prioritizing eco-environmental conservation and promoting green development. It works to build the key regions into pioneers and models in green development to boost green social and economic development across the country.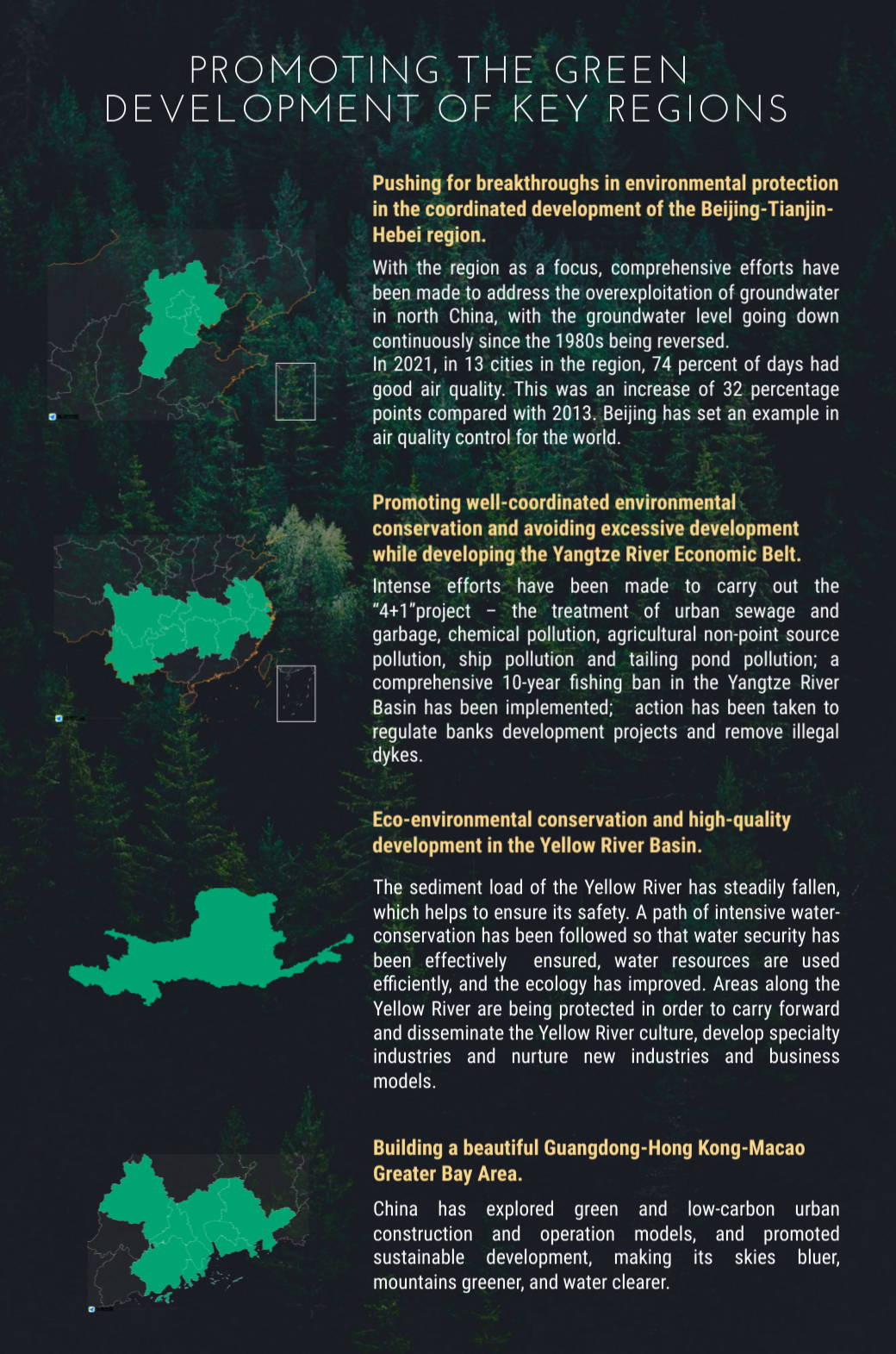 Building a beautiful home with a pleasant living environment
Urban and rural areas are the carriers of human settlements and activities. China integrates the philosophy of green development into urban and rural construction, and promotes beautiful cities and beautiful countryside initiatives. With priority given to environmental pollution control, China strives to improve the living environment to build a beautiful home featuring lush mountains, green fields, singing birds, and blossoming flowers.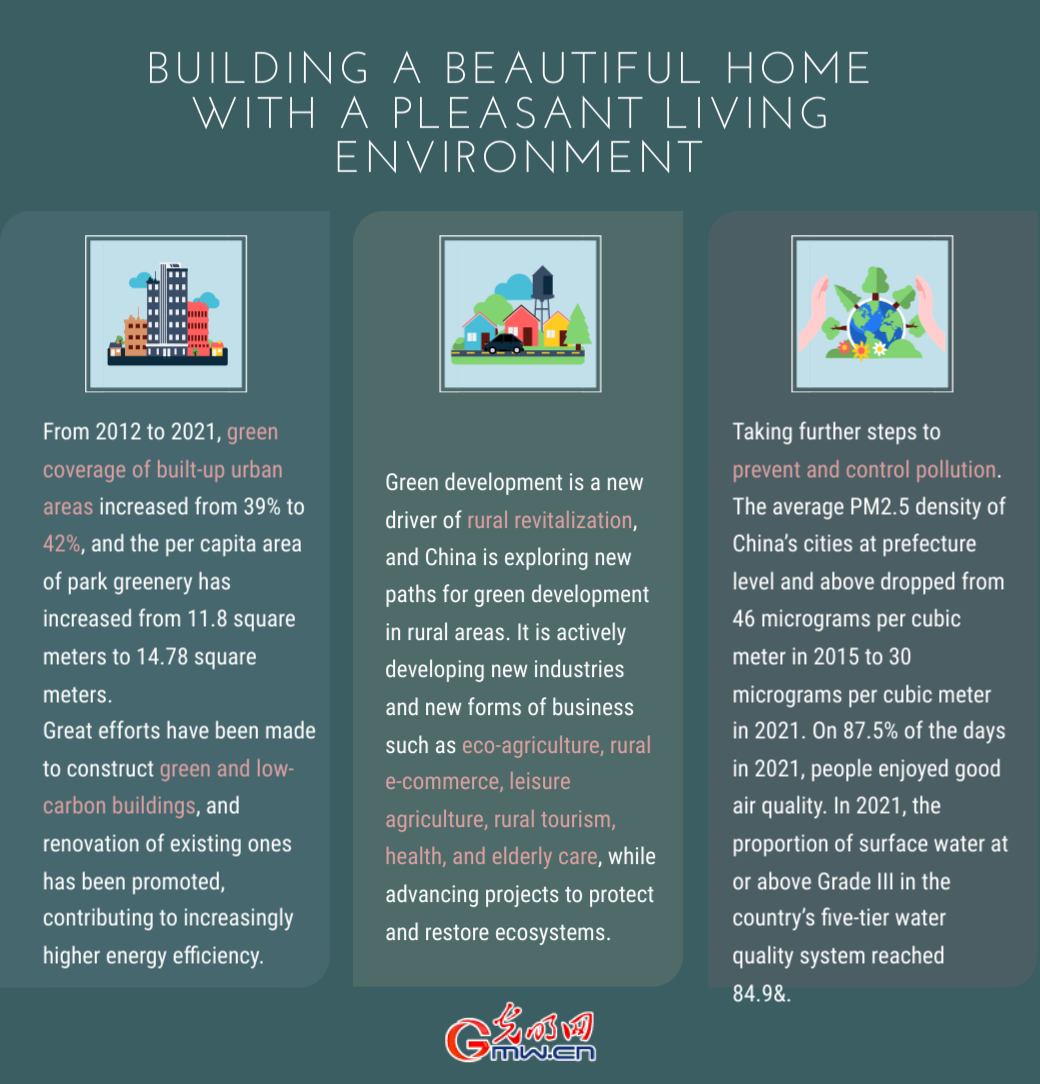 Editor: ZAD