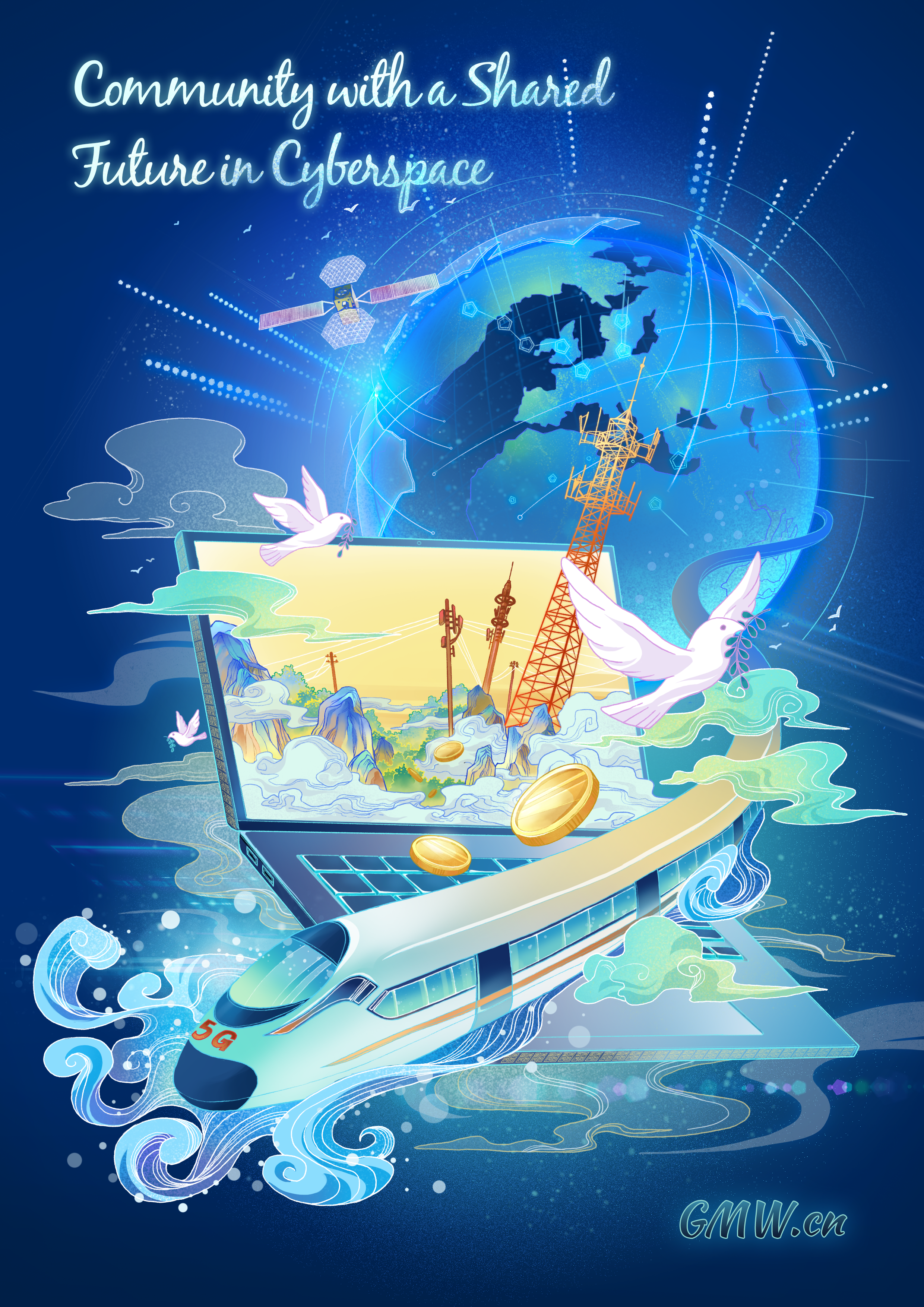 In the congratulatory letter sent to the 2022 WIC Wuzhen Summit, President Xi stressed that "facing the opportunities and challenges of digitalization, the international community must strengthen dialogue and exchange, deepen cooperation, and join hands to build a more fair and reasonable, open and inclusive, secure and stable, and vibrant cyberspace." Xi's proposals not only reflect his profound insight into digitalization and his profound thinking on the human society, but also point the way for deepening exchanges in the digital field and building a community of shared future in cyberspace.
As a driving force in sci-tech revolution and industrial transformation, digital technology is increasingly integrated into the various sectors of socio-economic development, profoundly shifting the way of production, lifestyle and social governance. As the world's largest developing country and the country with the largest number of Internet users, China is implementing a new development concept, creating a new development pattern, and building a digital and inter-connected China. New progresses are made in China in stimulating the digital economy, promoting digital ecology, creating a clean cyberspace and preventing cyber security risks, which not only provided a guarantee for high-quality development at home but also a solid foundation for building a community of shared future in cyberspace. The 20th CPC National Congress, which concluded late last year, set the goals and outlined major policies for the Party and the country in the next five years and even longer, and formulated clearer strategic plans for China's Internet development.
At present, the world's unprecedented changes are accelerating, and a new round of technological revolution and industrial change are well underway. At the same time, the world has entered a new turbulent period as humanity faces the far-reaching effects of the COVID-19 pandemic, the rising trend of de-globalization, unilateralism and protectionism, a sluggish recovery, regional conflicts, and deteriorating global issues. The problems of unbalanced development, unsound rules and unreasonable order in the Internet field are becoming increasingly prominent, and cyber hegemony poses a new threat to world peace and development. Certain countries are using the Internet as a tool to maintain hegemony, where information technology is misused for interference in other countries' internal affairs, large-scale cyber theft, and surveillance activities, pushing up the risk of conflict and confrontation in cyberspace.
Cyberspace governance calls for more fair, reasonable and effective solutions, and global threats and challenges require a strong global response. In his congratulatory letter, President Xi stressed that China is willing to work with all countries to develop a global digital path with shared digital resources, a vibrant digital economy, precise and efficient digital governance, prosperous digital culture, strong digital security and mutually beneficial cooperation, so as to build a community of shared future in cyberspace, and contribute to the peaceful development of the world and the progress of human civilization.
Since the 18th CPC National Congress, President Xi has watched the global trend of Internet with a keen insight and has grasped the trend of the times by embracing digitization, the Internet, and intelligence technologies. Focusing on the common good and shared future for mankind in the information age, President Xi pondered into the question of what kind of cyberspace to build and how to build it. He then creatively put forward the concept of "a community of shared future in cyberspace", and holistically elaborated on major theories and issues related to cyberspace governance, which pointed the direction and painted a promising prospect for cyberspace in the future. Under such guidance, China has been actively participating in the global governance of Internet, drafting international technical standards, building the network infrastructure and the global governance system of cyberspace, and jointly pushing the global governance of Internet to a higher level.
The Internet is the shared home of mankind. No matter how innovative digital technology is, and no matter how the international environment changes, everyone in cyberspace shares the same destiny. A peaceful, secure, cooperative and orderly cyberspace underpins the progress of human civilization and is the common aspiration of all countries. Therefore, countries must join hands to walk a new digital path and create a better cyber future for humanity!
Article contributed by Guangming Daily

Editor: WJH