By Zhang Zhou
China issued "The Report on Human Rights Violations in the United States in 2022" on March 28, 2023.
The report consists of six parts, including "Dysfunctional Civil Rights Protection System", "Hollowed-out American-style Electoral Democracy", "Growing Racial Discrimination and Inequality", "Worsening Subsistence Crisis among U.S. Underclass", "Historic Retrogression in Women's and Children's Rights", and "Wanton Violation of Other Countries' Human Rights and Trampling on Justice."
Here are the highlights of the second part titled "Hollowed-out American-style Electoral Democracy."
Political donations have made American elections a game for the rich, alienation of two-party politics has turned into polarized politics, and American democracy is losing its foundation in public support.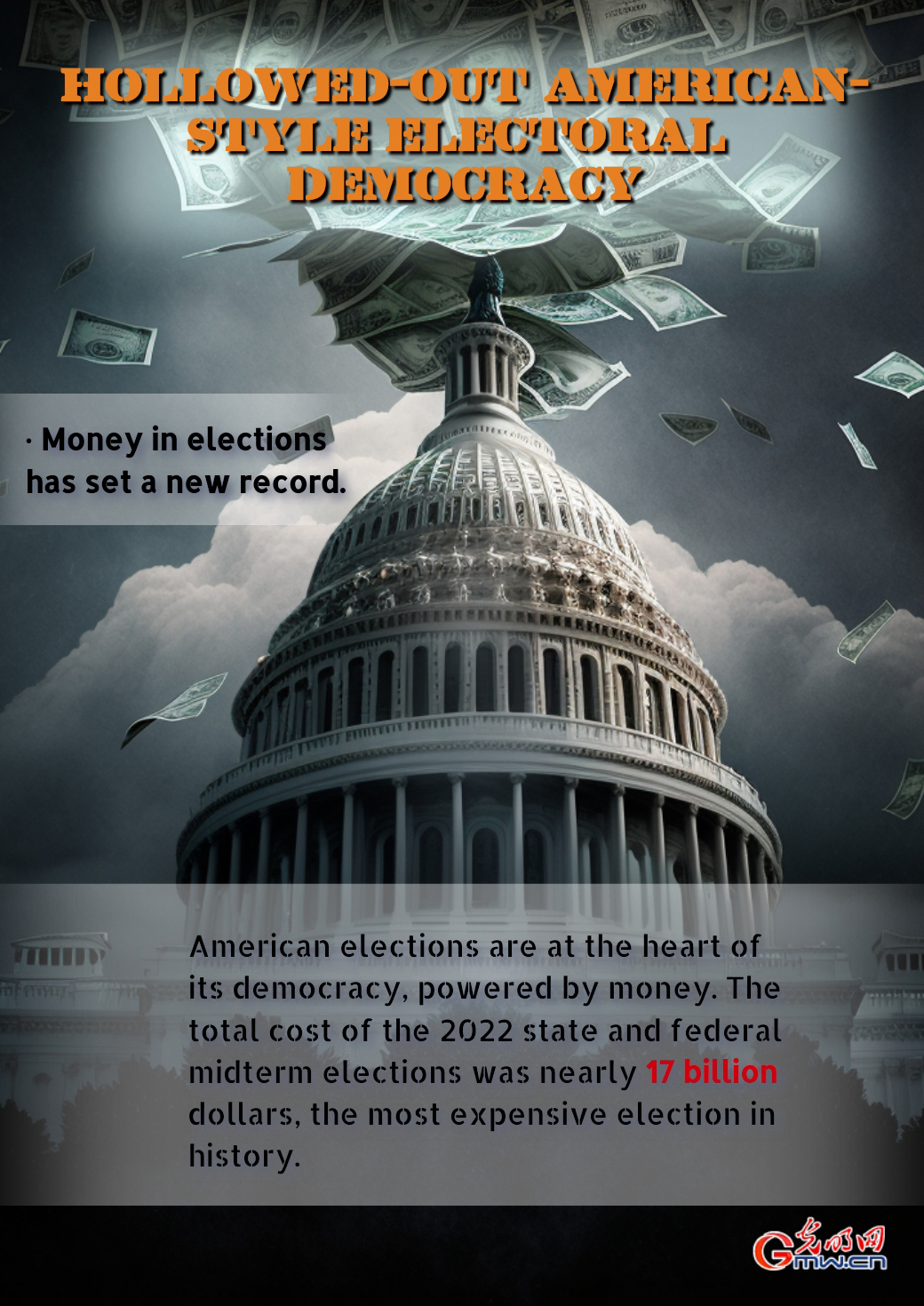 -- Money in elections has set a new record. American elections are at the heart of its democracy, powered by money. The total cost of the 2022 state and federal midterm elections was nearly 17 billion dollars, the most expensive election in history.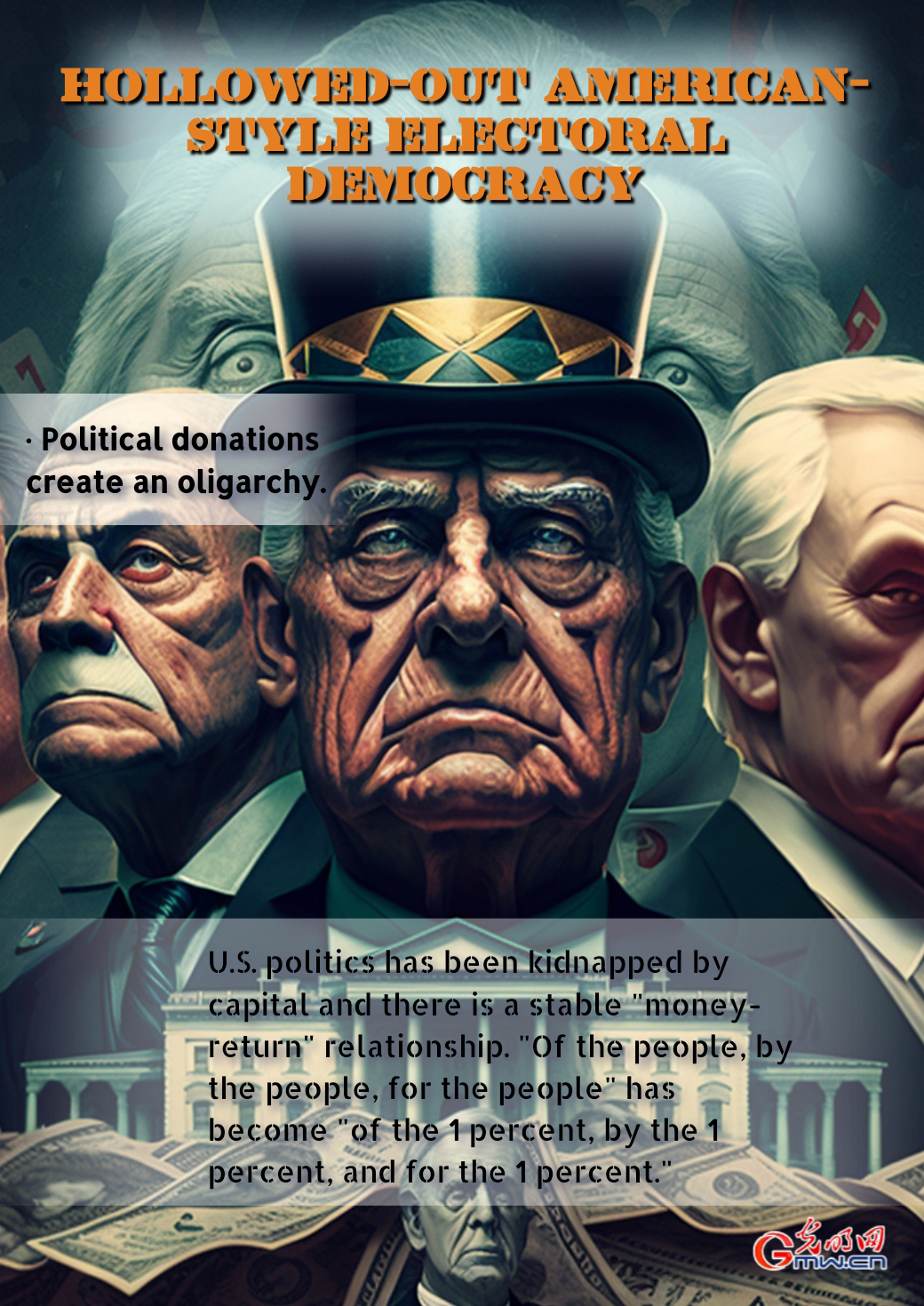 -- Political donations create an oligarchy. U.S. politics has been kidnapped by capital and there is a stable "money-return" relationship. "Of the people, by the people, for the people" has become "of the 1 percent, by the 1 percent, and for the 1 percent." With plutocrats using their money to control the outcome of elections, U.S. elections are increasingly out of line with the nature of democracy.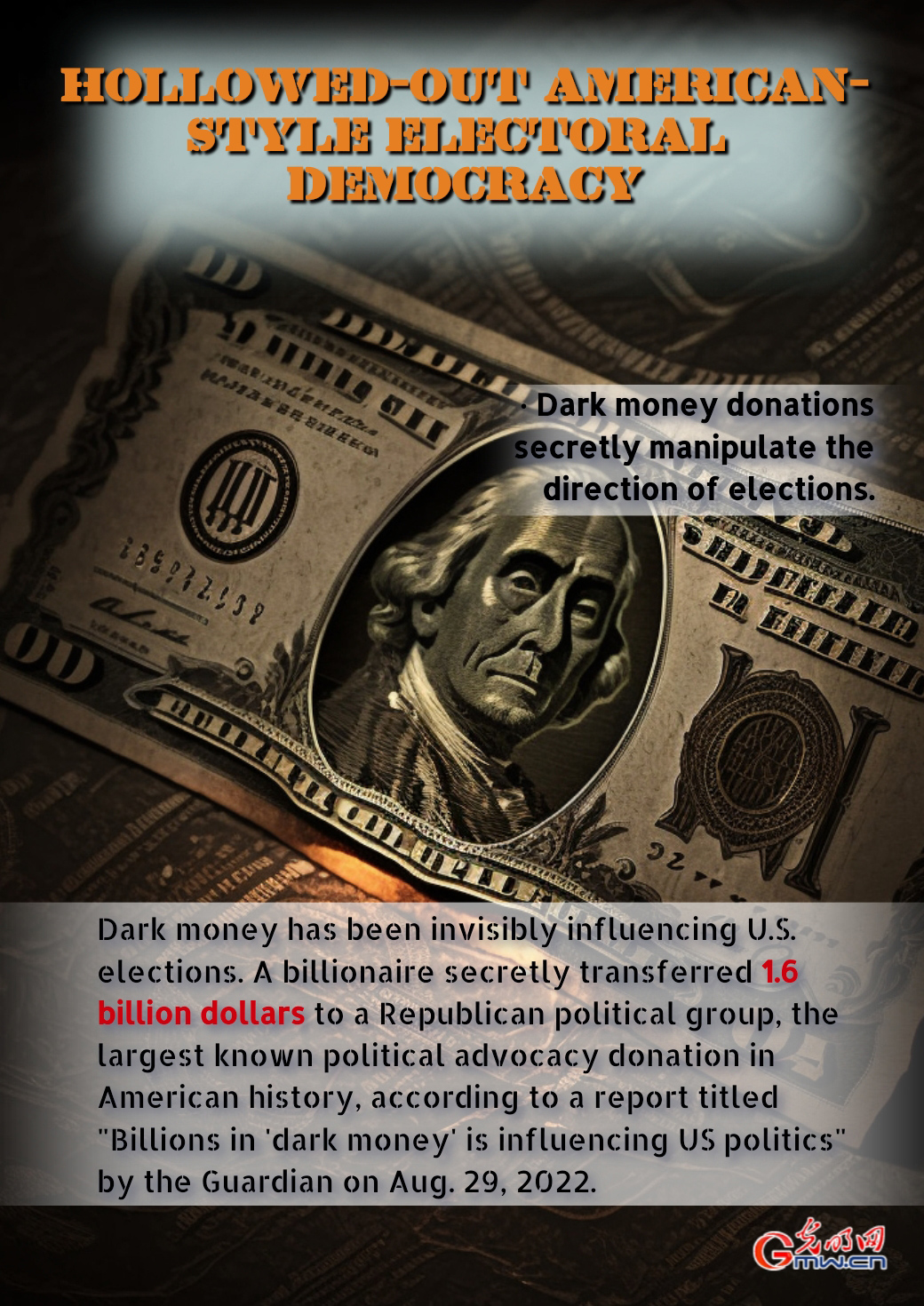 -- Dark money donations secretly manipulate the direction of elections. Dark money has been invisibly influencing U.S. elections. A billionaire secretly transferred 1.6 billion dollars to a Republican political group, the largest known political advocacy donation in American history, according to a report titled "Billions in 'dark money' is influencing US politics" by the Guardian on Aug. 29, 2022.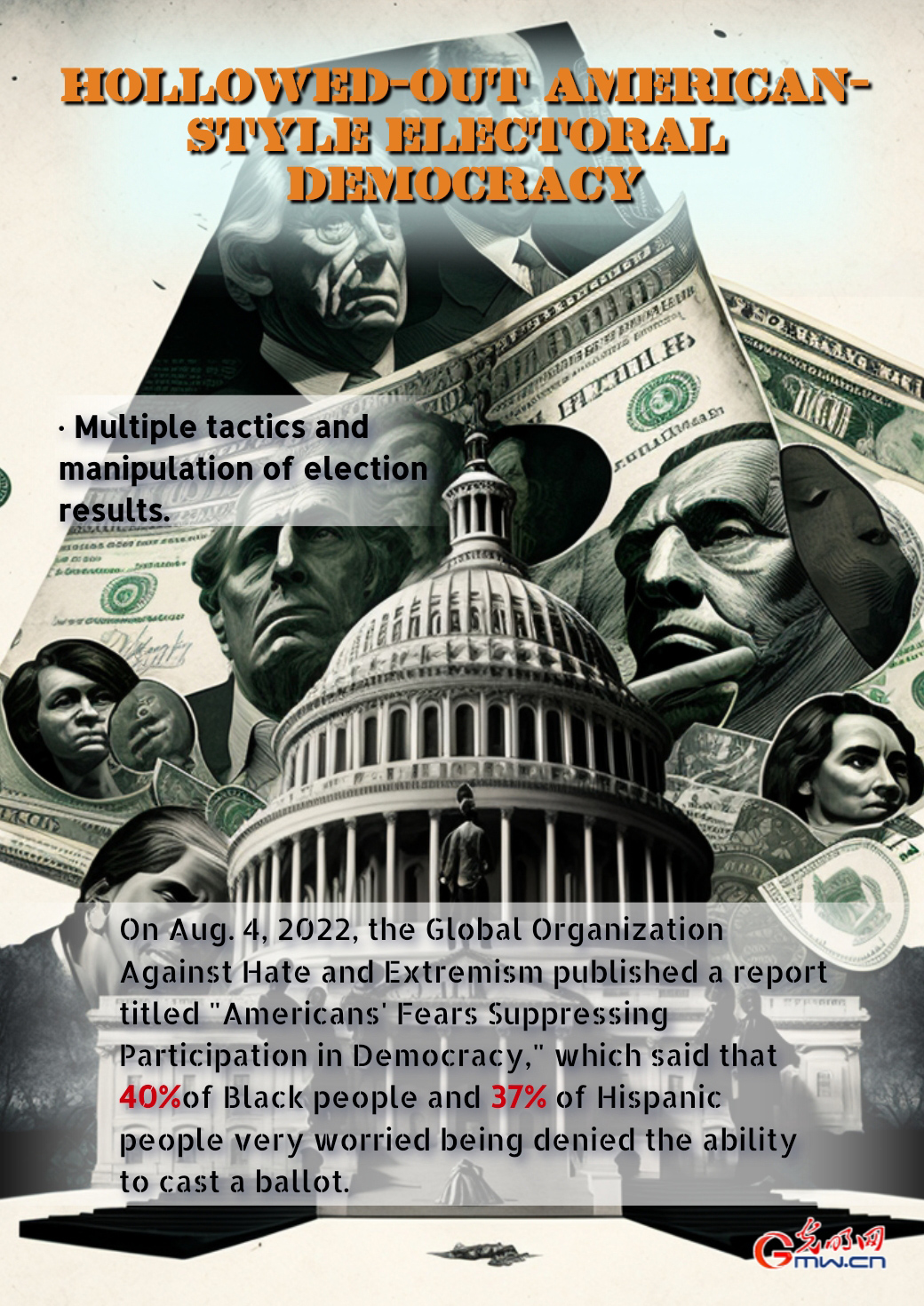 -- Multiple tactics and manipulation of election results. On Aug. 4, 2022, the Global Organization Against Hate and Extremism published a report titled "Americans' Fears Suppressing Participation in Democracy," which said that 40 percent of Black people and 37 percent of Hispanic people very worried being denied the ability to cast a ballot.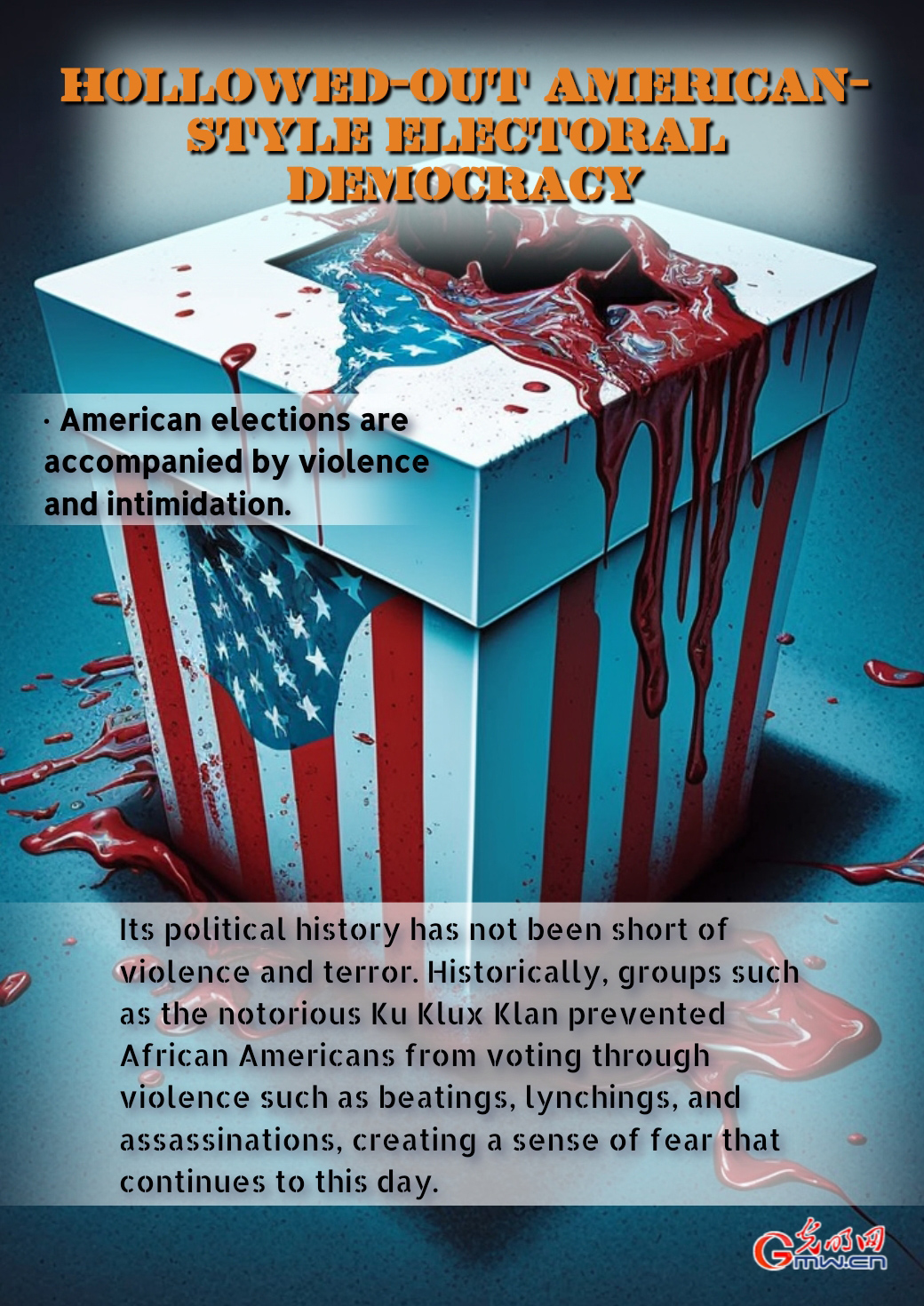 -- American elections are accompanied by violence and intimidation. Its political history has not been short of violence and terror. Historically, groups such as the notorious Ku Klux Klan prevented African Americans from voting through violence such as beatings, lynchings, and assassinations, creating a sense of fear that continues to this day.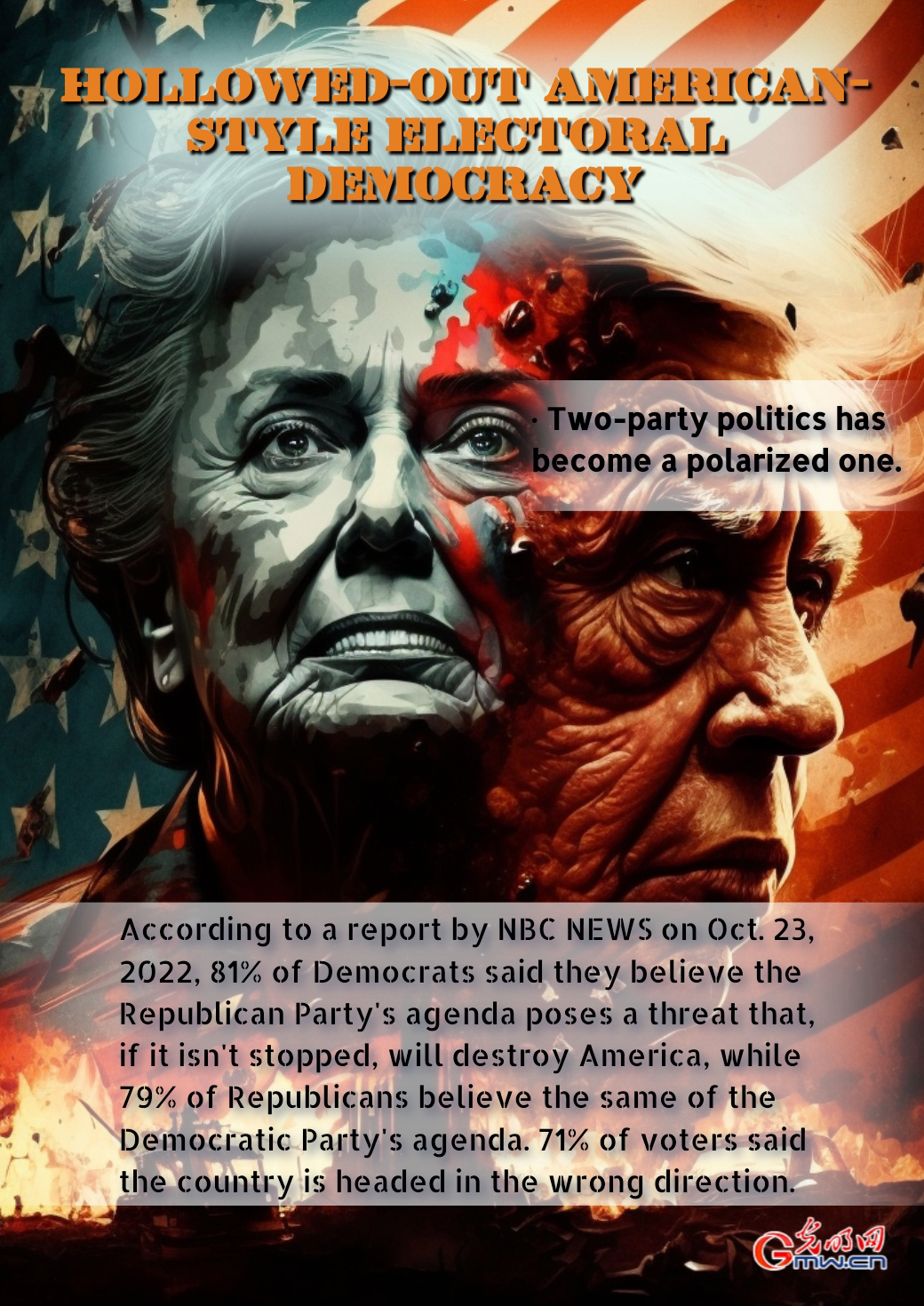 -- Two-party politics has become a polarized one. According to a report by NBC NEWS on Oct. 23, 2022, 81 percent of Democrats said they believe the Republican Party's agenda poses a threat that, if it isn't stopped, will destroy America, while 79 percent of Republicans believe the same of the Democratic Party's agenda. Seventy-one percent of voters said the country is headed in the wrong direction.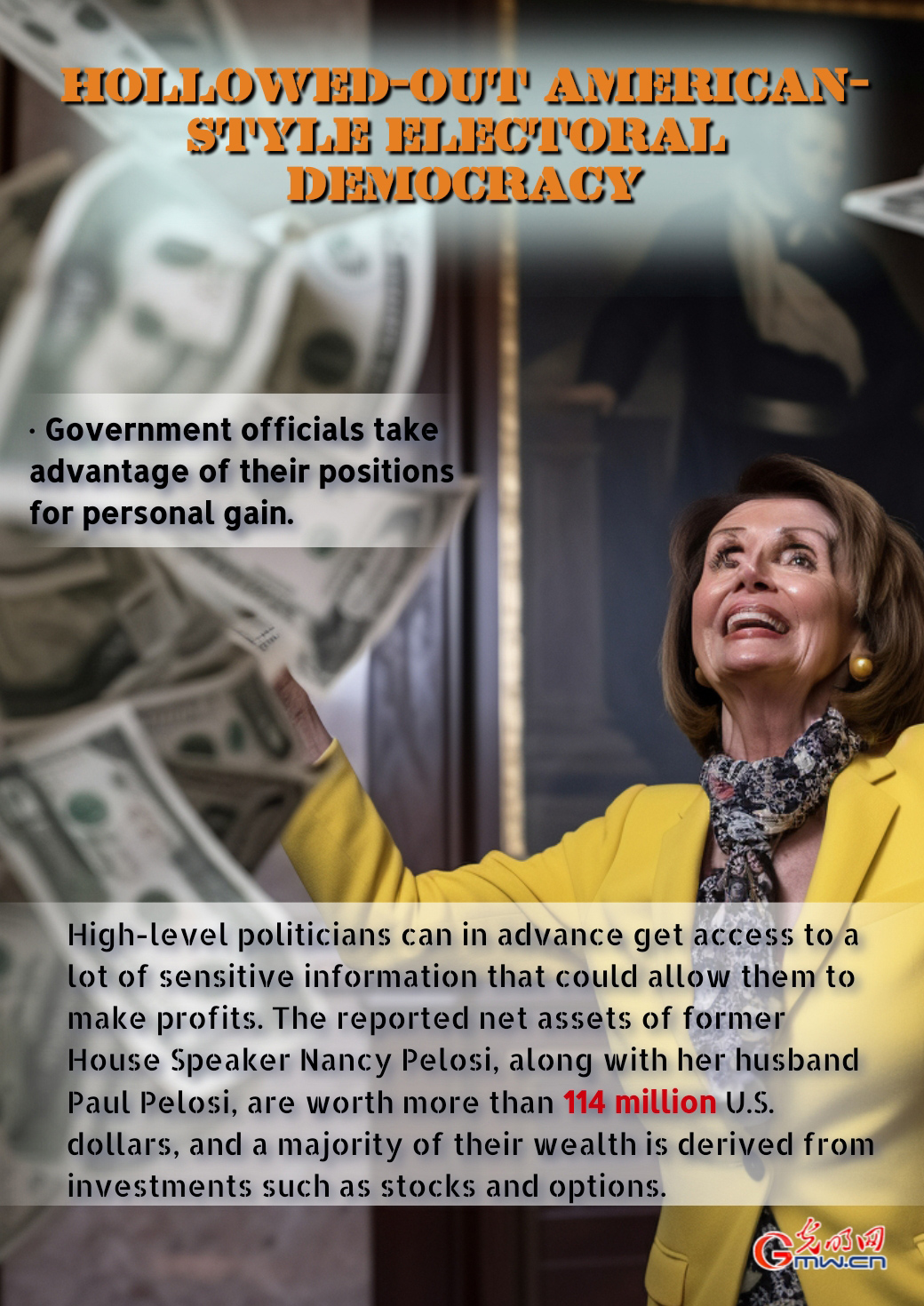 -- Government officials take advantage of their positions for personal gain. High-level politicians can in advance get access to a lot of sensitive information that could allow them to make profits. The reported net assets of former House Speaker Nancy Pelosi, along with her husband Paul Pelosi, are worth more than 114 million U.S. dollars, and a majority of their wealth is derived from investments such as stocks and options, The Hill said in an opinion piece on July 24, 2022.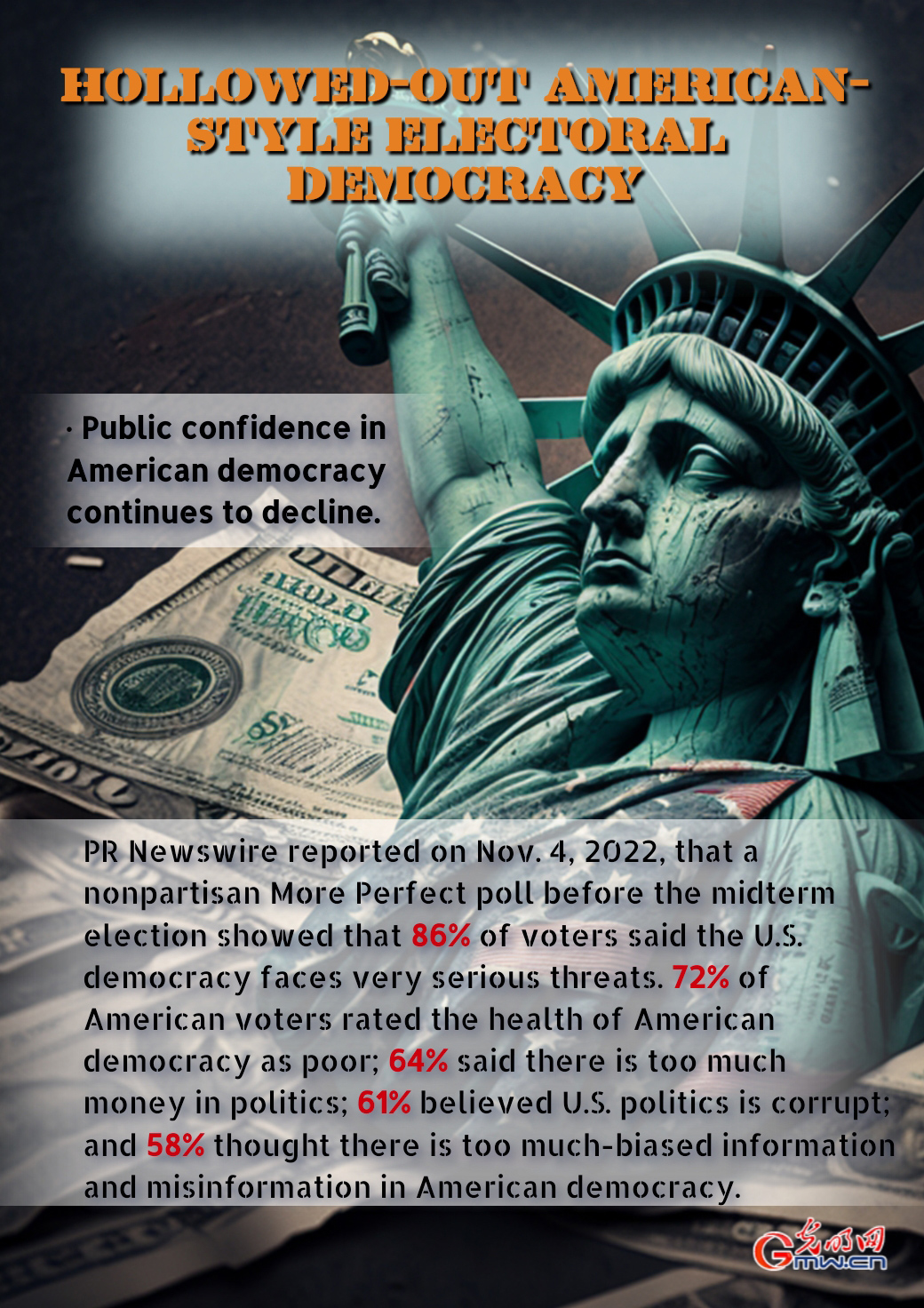 -- Public confidence in American democracy continues to decline. PR Newswire reported on Nov. 4, 2022, that a nonpartisan More Perfect poll before the midterm election showed that 86 percent of voters said the U.S. democracy faces very serious threats. Seventy-two percent of American voters rated the health of American democracy as poor; 64 percent said there is too much money in politics; 61 percent believed U.S. politics is corrupt; and 58 percent thought there is too much-biased information and misinformation in American democracy.
Source: The Report on Human Rights Violations in the United States in 2022
Background images are created by AI creator.
Editor: SYG