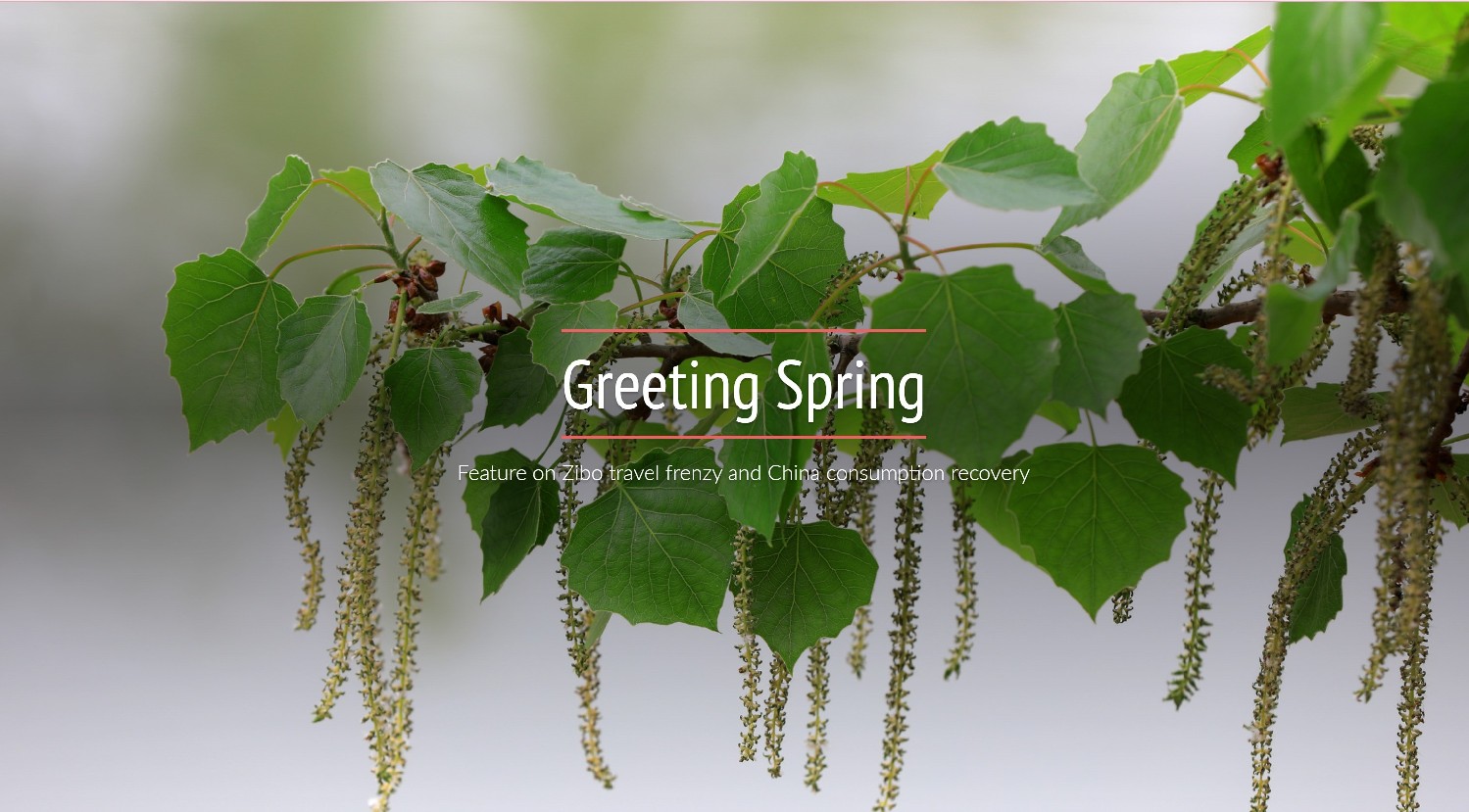 A Newborn Star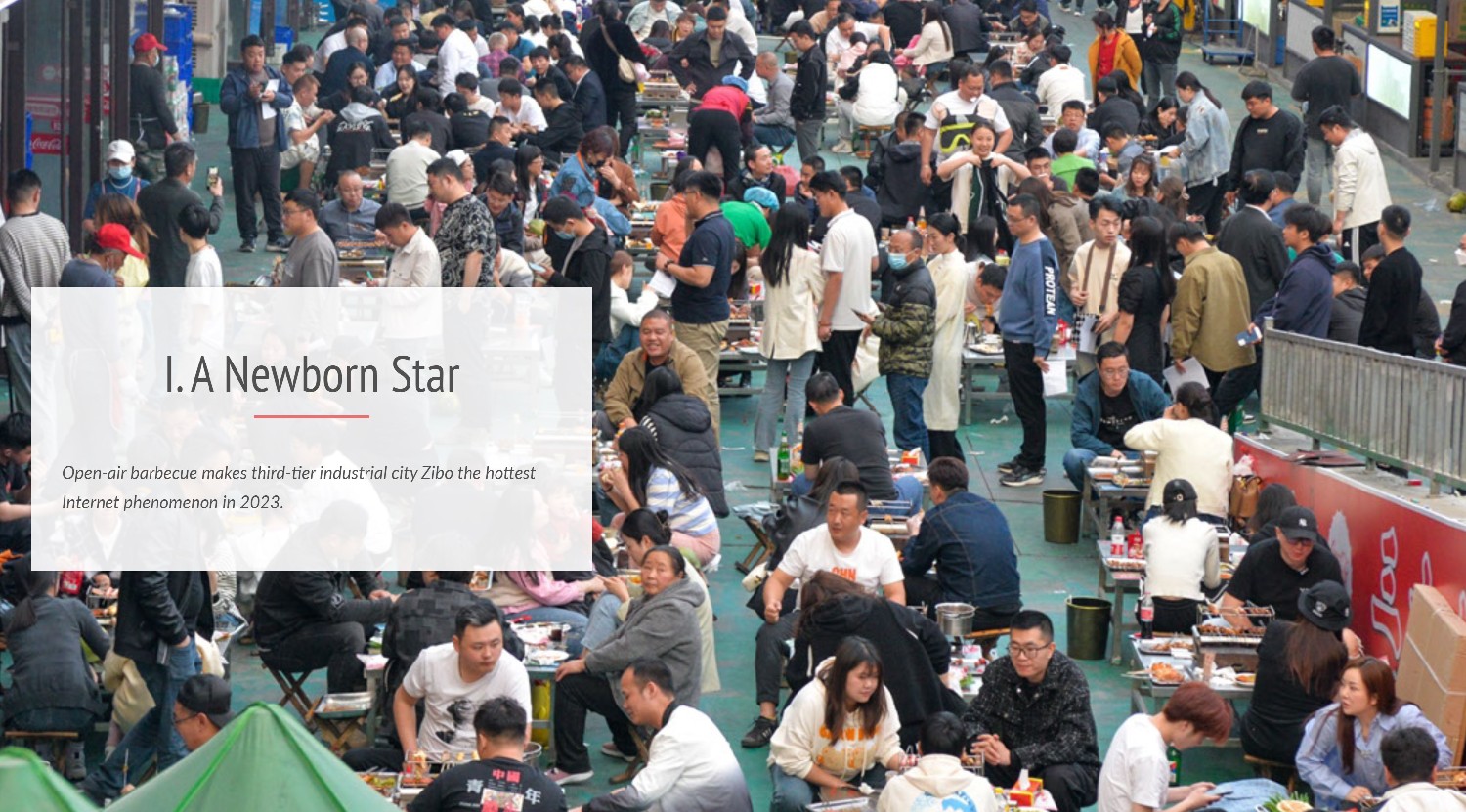 Zibo, a third-tier industrial city in east China's Shandong Province, has never seen so many tourists. Even though Shandong Cuisine (commonly known as Lu Cuisine) claims one of the "Four Great Culinary Traditions" in China, it's still surprising for even the locals that open-air barbecue would make Zibo one of the hottest Internet phenomena in 2023.
Travel restrictions having been lifted, thousands of people are flocking to the city for a bite of Zibo barbecue, which is explosively famous online for its combination of flavors of meat, crispy pancake, spring onion, various seasoning, and a DIY serving style on the stove.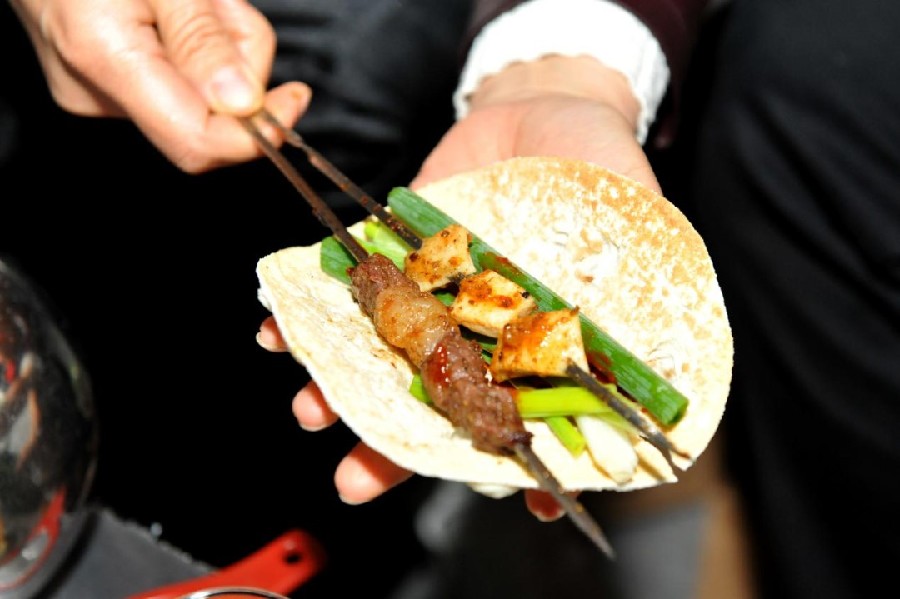 Zibo barbecue is famous for its combination of flavors of meat, crispy pancake, spring onion, various seasoning, and a DIY serving style on the stove. (Photo/Xinhua)
According to Zibo Bureau of Commerce data, since March 2023, Zibo has received more than 4.8 million tourists, with a year-on-year growth of 134%, and tourism revenue has increased by 60%.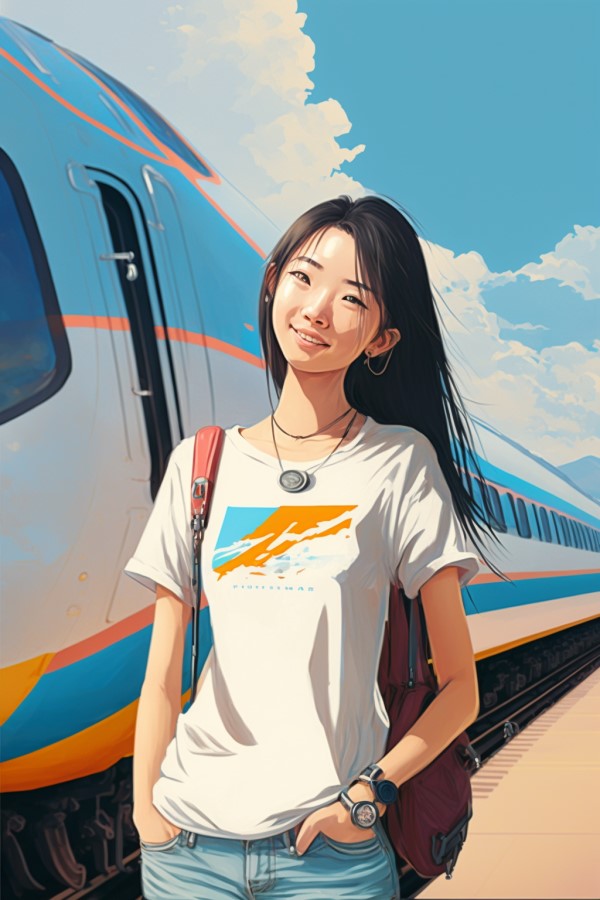 Illustration created by Midjourney.
As a media operator in a Beijing-based internet company, Tata is one of those foodies that set out for a discovery trip for Zibo barbecue. She took the high-speed train from Beijing to Zibo and stayed there for one afternoon -- only to enjoy a meal. In three hours, Beijing office lady Tata was baptized into a devout barbecue believer.
Tata went to the famous barbecue gathering place Badaju Market and found that, in addition to tourists, there were firefighters, law enforcement, and market supervision. "I heard the mayor is also working here overtime just to keep order," Tata said.
At Badaju Market, Tata followed a volunteer's guidance and shouted with the crowd, "Zibo is really nice, come again next time", before which the volunteer gave her a bag of Zibo Huamo as a souvenir. She also saw the enthusiasm of Zibo in the police who took pictures for tourists, the traffic police running along the roads directing traffic, and the tourist line drivers instructing tourists to buy tickets...
Tata enjoyed riding the shared electric bicycle along the city street, but she missed the restaurant she planned to go for there was no place to park the bicycle. She run into a diner far from the busy main street and ate there instead.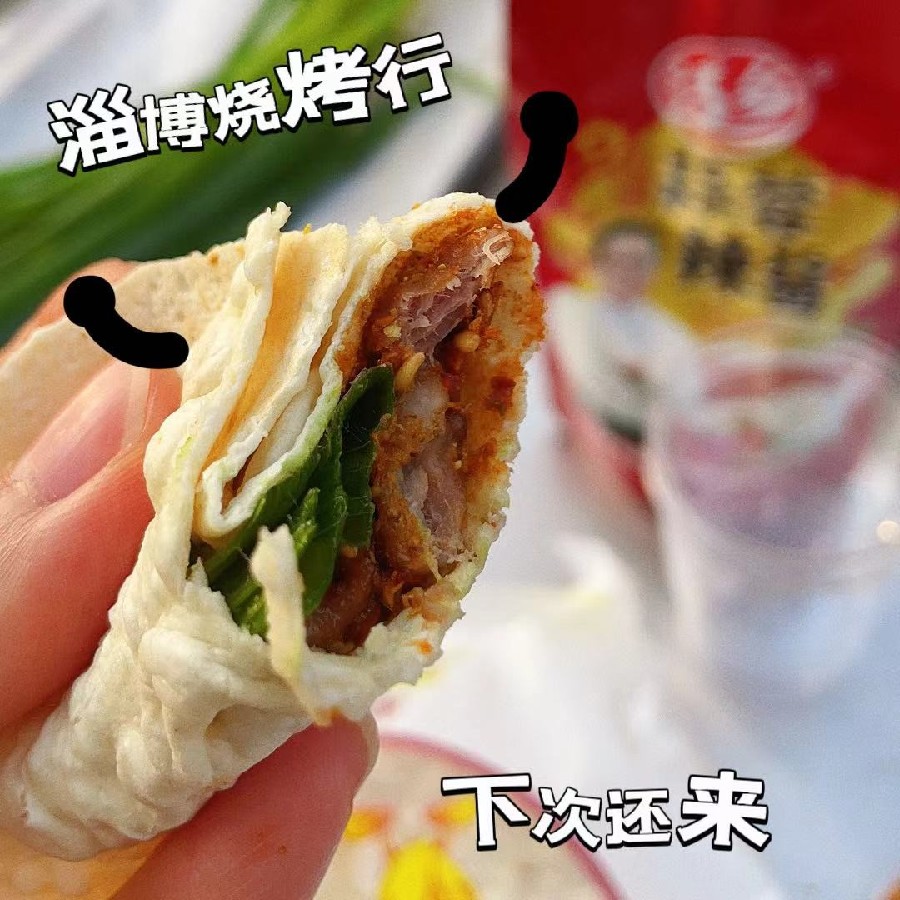 Zibo barbecue. (Photo provided by Tata)
"The barbecue tastes fine, but I feel like it's the kind of mood and experience that Zibo barbecue stands for," Tata said to me, "I hope there will be more travel destinations like Zibo in the future!"
A New Direction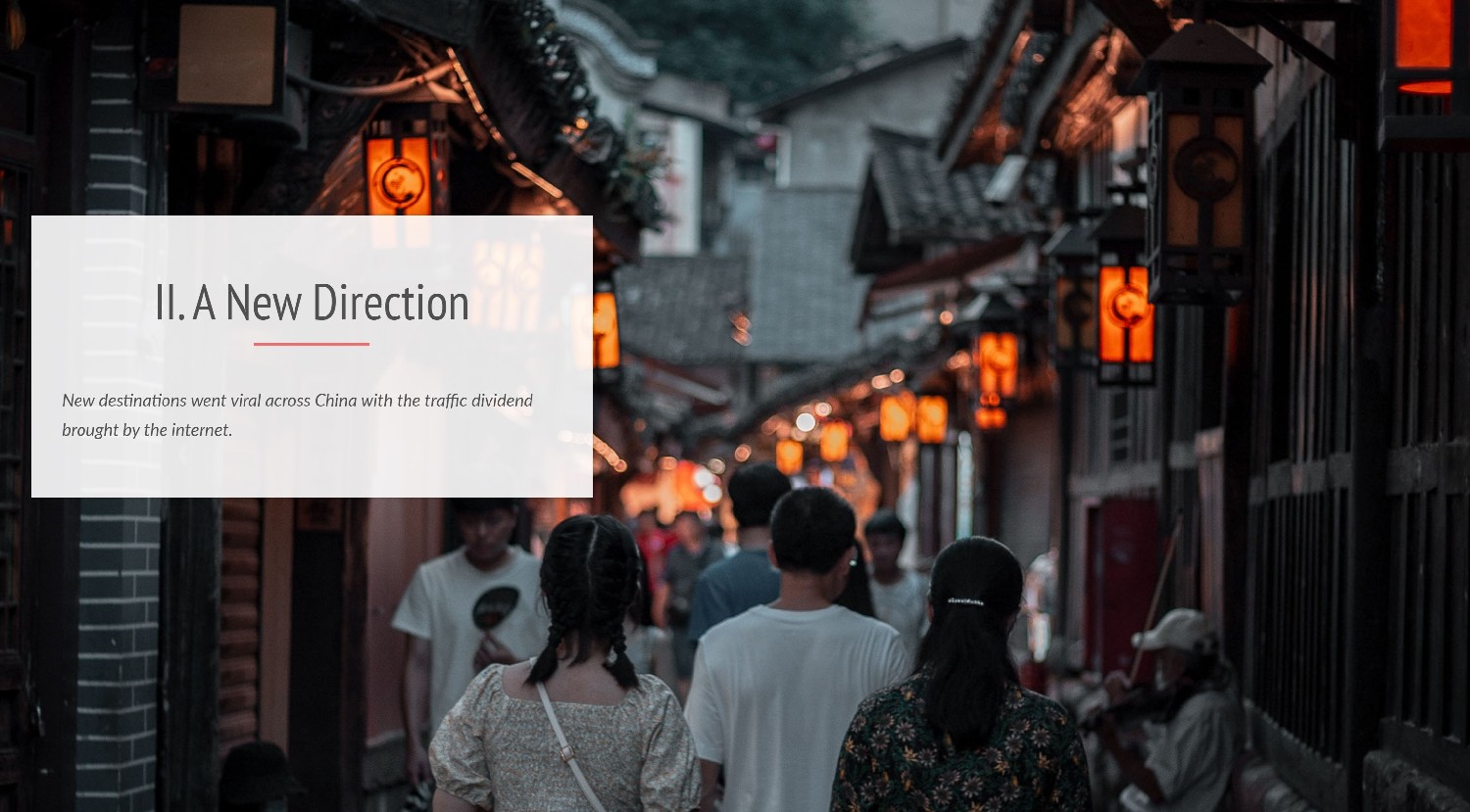 In the past three years, Chinese travelers cast their eyes more on domestic destinations. Apart from cities with an abundance of tourism resources like Beijing, Shanghai, Xi'an, and Nanjing, other smaller and newer regions such as Litang County in Sichuan Province, Hegang City in Heilongjiang Province, Jiangmen City in Guangdong Province, Wanning City in Hainan Province, went viral across the country with the traffic dividend brought by the internet.
We must see the reason behind this consumption hotspot is more than the desire for in-depth travel and catching up with online trends on the consumer end, the local governments have strengthened tourism information publicity and upgraded services by improving infrastructure and security management, which also contribute to the god-making process of "online celebrity" travel destinations.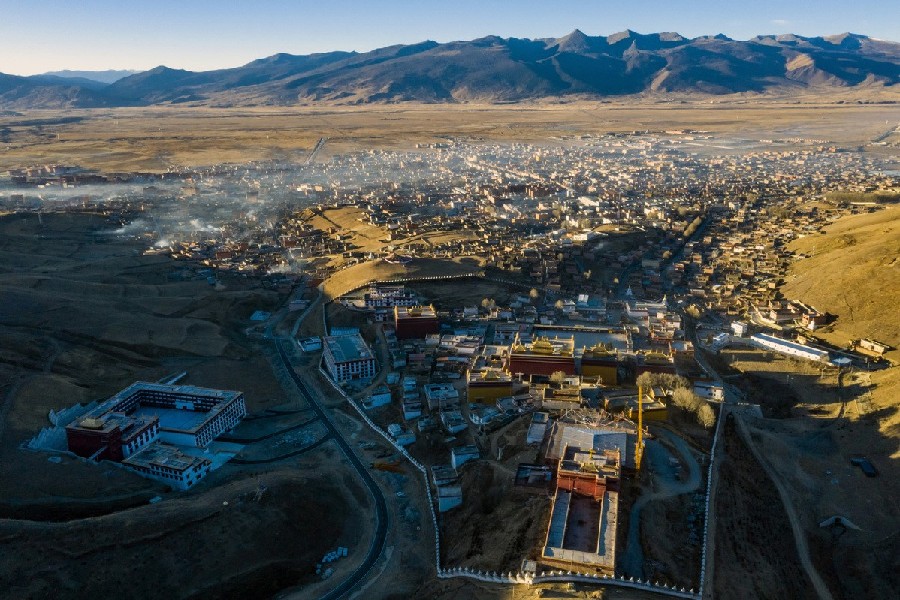 Litang County in southeast China's Sichuan Province. (Photo/Xinhua)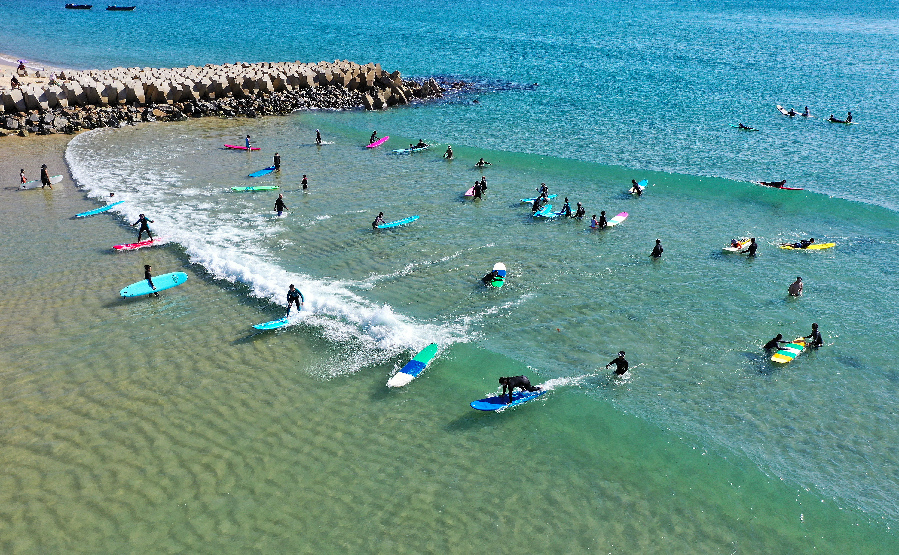 People enjoy surfing in Wanning City, south China's Hainan Province. (Photo/Xinhua)
The Outline of the Strategic Plan for Expanding Domestic Demand (2022-2035) issued by the CPC Central Committee and the State Council at the end of 2022 calls for actively developing service consumption and expanding cultural and tourism consumption. Since the beginning of 2023, many local governments have issued policies and measures on accelerating the comprehensive recovery and revitalization of cultural tourism.
Across the country, tourism is booming as the Labor Day holiday draws near: train tickets snapped up within minutes, and hotels filled up even though prices rose sharply... According to data released by the Ministry of Culture and Tourism of China, a total of 1.22 billion domestic tourist trips were made in the first quarter of 2023, 386 million more than in the same period last year, with an increase of 46.5%. Domestic tourism revenue reached 1.30 trillion yuan, an increase of 0.53 trillion yuan or 69.5% over the previous year.
A First in Three Years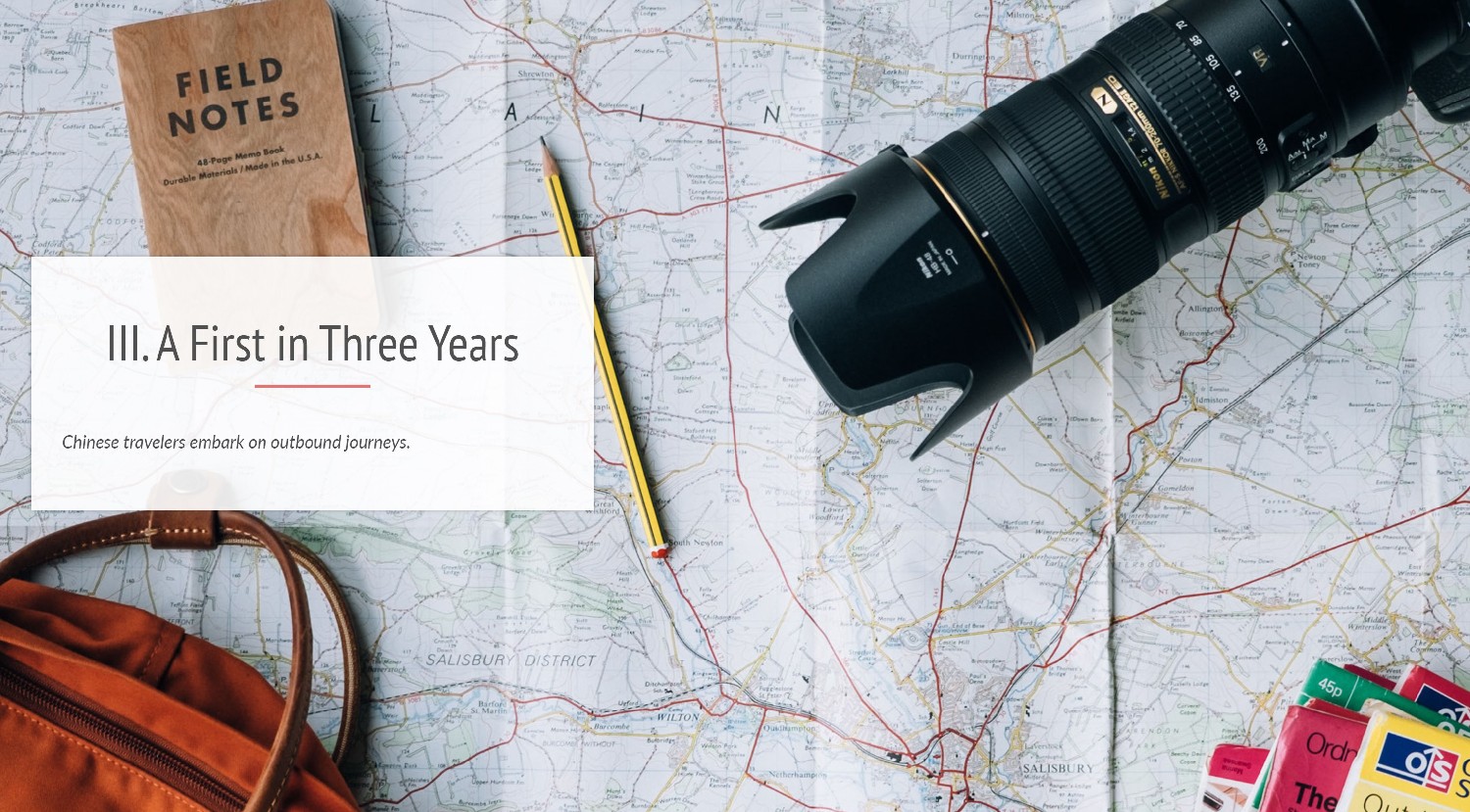 On the other hand, Chinese travelers are expected to embark on outbound journeys as international flights gradually resumed and countries and regions roll out incentives.
Thailand offers visas-on-arrival to fully vaccinated Chinese tourists who have travel insurance and extends their period of stay. Hong Kong Special Administrative Region has put forward the "Hello Hong Kong" campaign and given away free flight tickets.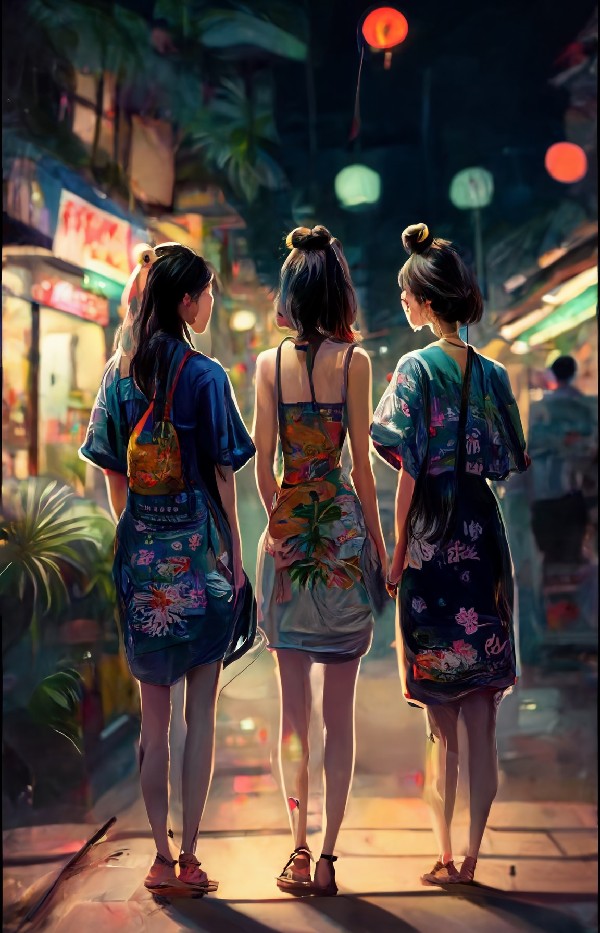 Illustration created by Midjourney.
Tao Linyan, an entertainment reporter in Beijing, noticed a Thailand travel trend in February 2023 when lots of celebrities and stars shared photos taken in Bangkok and Chiang Mai. She checked on the price of flight tickets and found it extremely low - only 2,000 yuan ($288) for round trip; a visa-on-arrival policy is also very friendly to Chinese citizens. "Going to the UK is our second choice," she said, "but we cannot bear another couple of weeks waiting for a visa."
Tao and her friends booked the tickets and set out for Thailand in mid-March. The eight-day trip covering Bangkok, Chiang Mai, and Phuket was lit to them, though not cheap - they spent almost 10,000 yuan ($1,444) each person for the trip. "It's exciting to go abroad after three years," Tao said. "I've always enjoyed experiencing different cultures and making friends with different cultural backgrounds, so I really miss this feeling."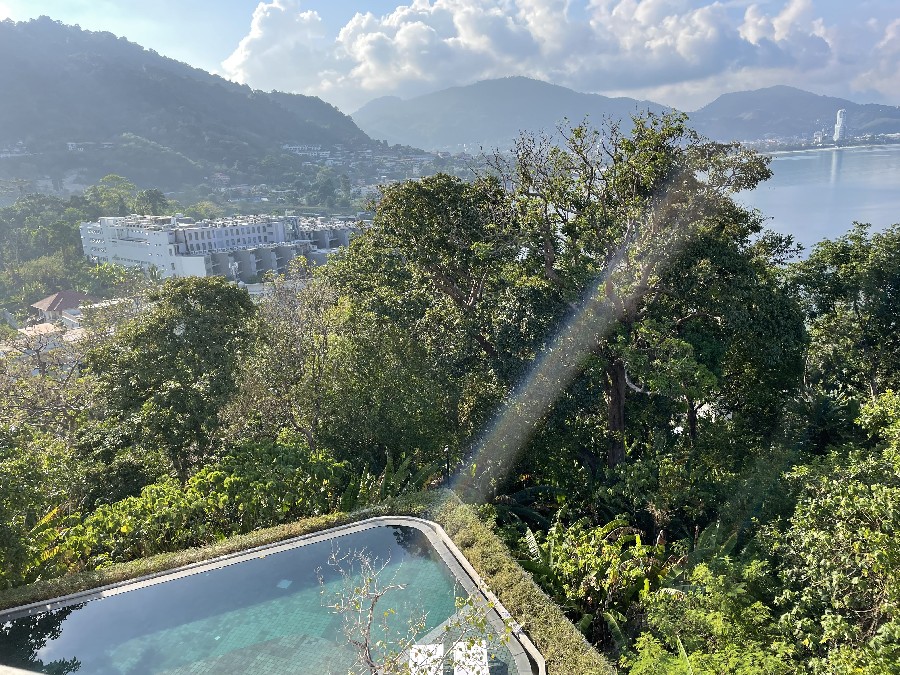 Photo taken by Tao Linyan during her stay in Thailand.
Tao said she would consider going to Japan in the Labor Day holiday if it were not for the strict visa policy. "I think I will consider going abroad again in 2023 because I almost went to all the fun cities in China," Tao said and laughed, noting she had toured China's Hainan, Sichuan, Guangdong, Zhejiang, and other provinces during the pandemic.
Shen Siwen, a partner at McKinsey in Shenzhen, predicts that the Chinese outbound market will recover to about 6 million a month by the summer of 2023, driven by pent-up demand from China's young, affluent population.
A Pillar of Strength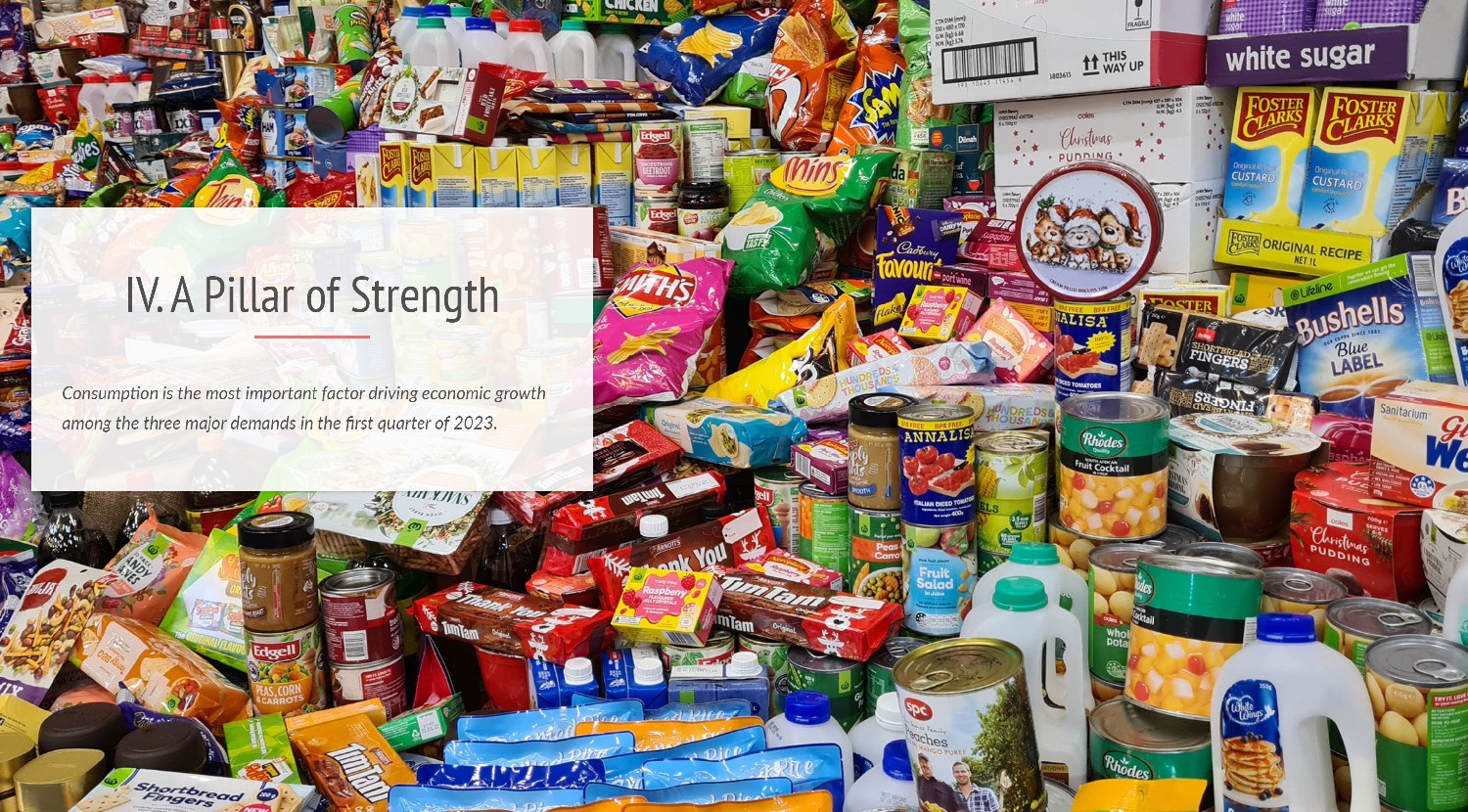 Consumption is the most important factor driving economic growth among the three major demands in the first quarter of 2023.
China's gross domestic product grew 4.5% year on year in the first quarter of 2023, up 1.6 percentage points from the fourth quarter of 2022, according to data released by the National Bureau of Statistics on April 18. The recovery of the economy in the first quarter is mainly attributed to the contribution of the tertiary industry from the supply side and consumption from the demand side.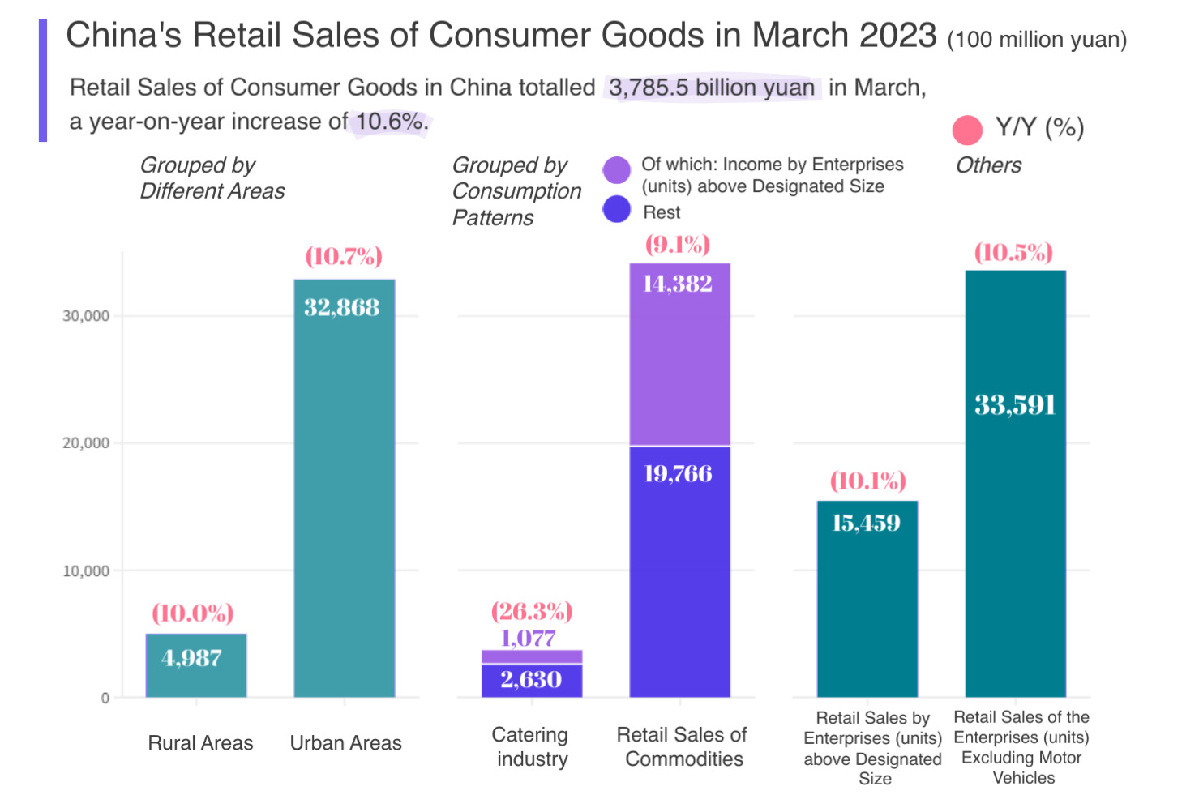 Final consumption contributed 66.6% to economic growth in the first quarter, significantly higher than the 32.8% in 2022. It is the most important factor driving economic growth among the three major demands.
The Labor Day travel frenzy reflects people's financial prosperity, and mental optimism, and is an indicator of consumption's strong resumption.
The numbers tell the same story. In the first quarter, the total retail sales of consumer goods reached 11,492.2 billion yuan, up 5.8 percent year on year. Grouped by consumption patterns, retail sales of goods were 10,278.6 billion yuan, up 4.9%; income from catering was 1,213.6 billion yuan, up 13.9%. The sales of high-value goods went up markedly, with the retail sales of gold, silver, and jewelry growing by 13.6%. The increase in social activities and the recovery of the offline scene drove the growth of optional and upgraded consumption.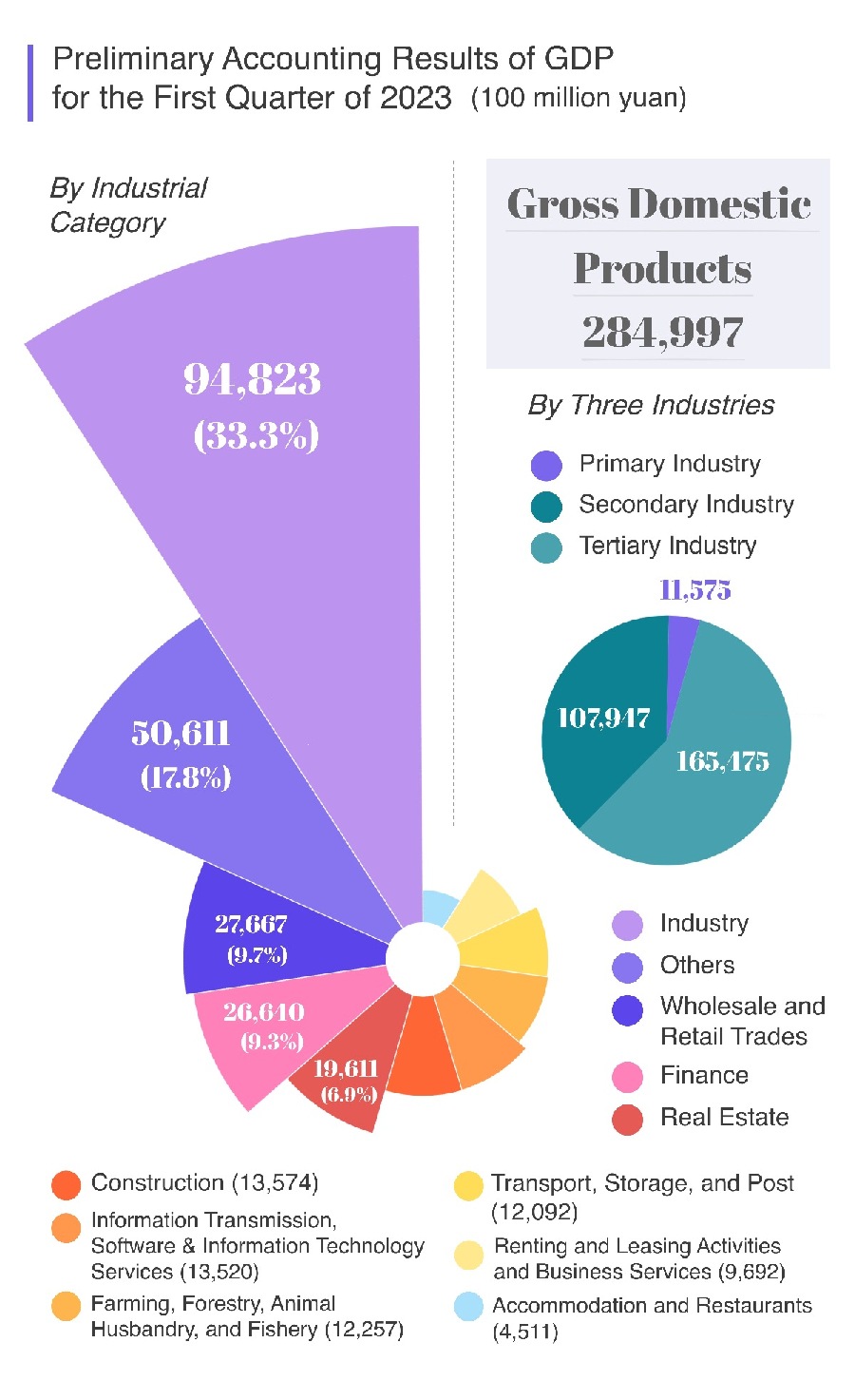 "This is easy to understand," said Pan Helin, co-director of the Digital Economy and Financial Innovation Research Center at Zhejiang University's International Business School. "In the first quarter, many people went out for travel, and the consumption demand repressed by the pandemic for three years was suddenly released. It's crowded everywhere, and the recovery of the offline consumption market was visible to the naked eye."
By Zhang Andi and Gu Siyu
Editor: ZAD