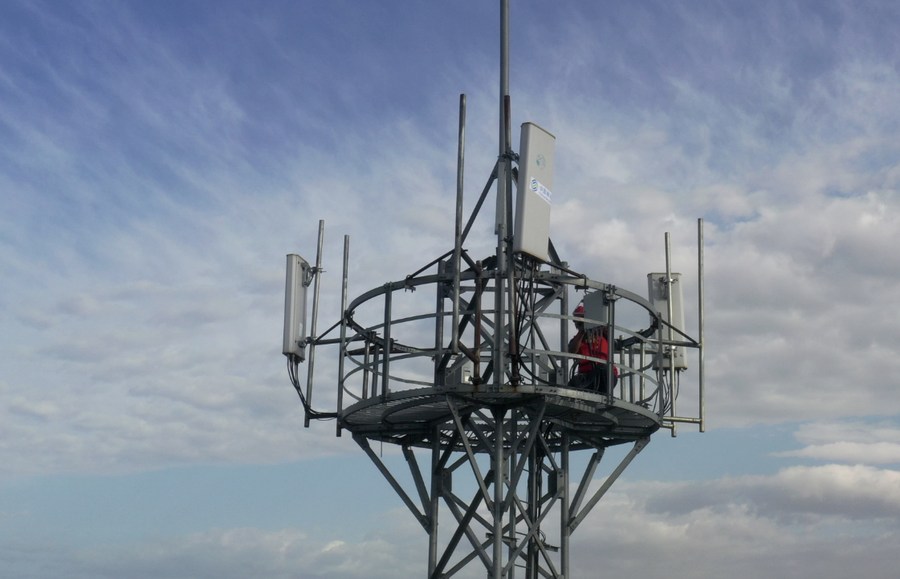 This undated file photo shows a staff member installing equipment on a 5G base station in northwest China's Xinjiang Uygur Autonomous Region. (Xinhua)
URUMQI, May 17 (Xinhua) -- Northwest China's Xinjiang Uygur Autonomous Region had built 39,000 5G base stations by the end of April 2023, amid the region's efforts to push head with 5G networks, local authorities said on Wednesday.
Currently, all the region's prefecture-level cities, all its counties and 99.16 percent of its townships are covered by 5G networks. There are 15 5G base stations for every 10,000 residents in Xinjiang.
Last year, Xinjiang's information and communication industry invested 1.7 billion yuan (about 244 million U.S. dollars) in building 5G base stations, said Ma Zhuqing, head of the regional communications administration.
Xinjiang is also speeding up integration and innovation of its key 5G industrial applications, with 70 major 5G applications in relevant industries underway, including the construction of a smart land port in the China-Europe freight train (Urumqi) assembly center, Ma said. ■
Editor: Zhang Zhou