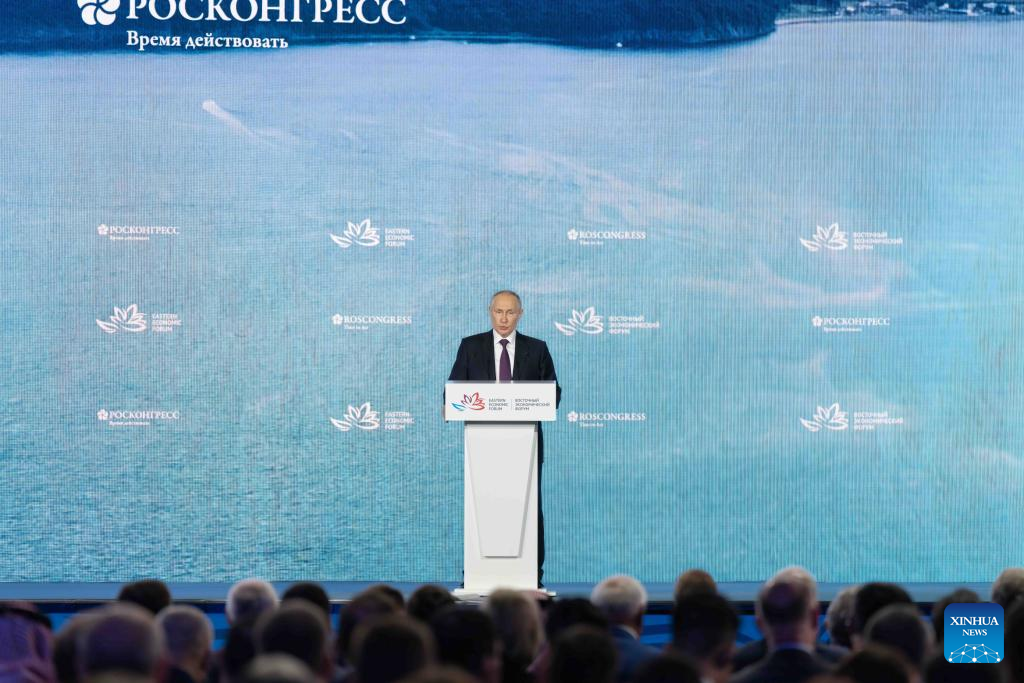 Russian President Vladimir Putin speaks at the plenary session of the 8th Eastern Economic Forum (EEF) in Vladivostok, Russia, Sept. 12, 2023. (Photo by Guo Feizhou/Xinhua)
VLADIVOSTOK, Sept. 12 (Xinhua) -- The global economy is undergoing changes largely due to the fact that certain Western countries are destroying the financial relations system, Russian President Vladimir Putin said Tuesday.
"We know and can see how the global economy has changed and is continuing to change in recent years, due to the fact that some countries, primarily Western ones, are destroying the system of financial, trade, and economic relations that they themselves built," Putin said during his speech at the plenary session of the 8th Eastern Economic Forum (EEF).
He said that in this context, genuine business cooperation between those states that choose not to succumb to external pressure is expanding. These states prefer to follow their own interests, Putin noted.
The Russian Far East city of Vladivostok welcomed thousands of participants for the 8th EEF on Sunday to promote economic and cultural exchanges among the regions of the Asia-Pacific.
The four-day EEF is organized by the Roscongress Foundation. Themed "On the Way to Cooperation, Peace and Prosperity," it has served as an important venue for dialogue among politicians, business executives and experts for Far East development and regional cooperation.
Russian President Vladimir Putin (C) speaks at the plenary session of the 8th Eastern Economic Forum (EEF) in Vladivostok, Russia, Sept. 12, 2023. (Xinhua/Cao Yang)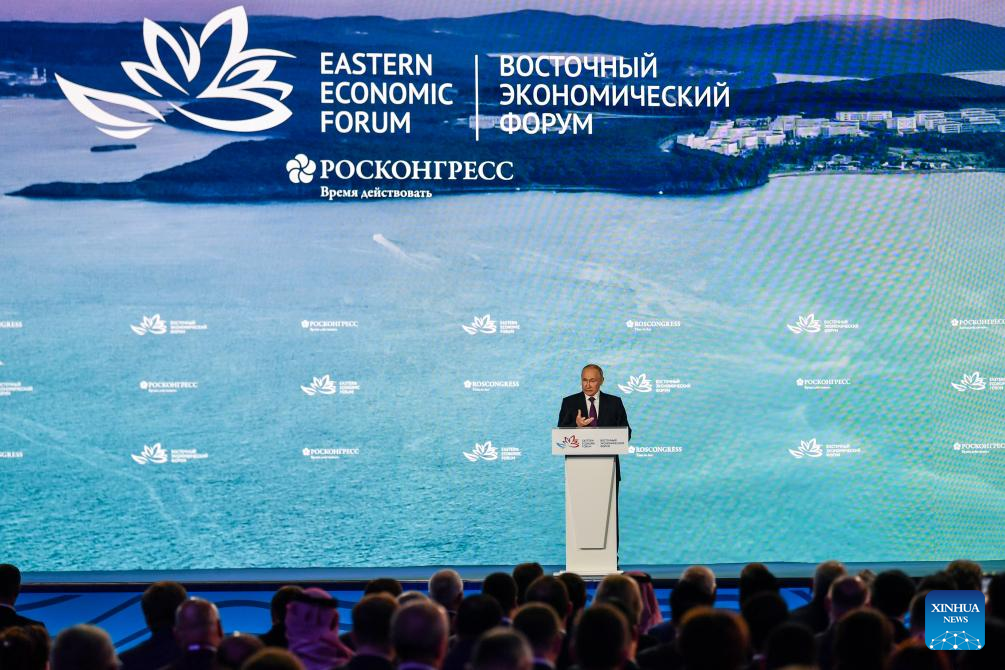 Russian President Vladimir Putin speaks at the plenary session of the 8th Eastern Economic Forum (EEF) in Vladivostok, Russia, Sept. 12, 2023. (Xinhua/Cao Yang)
Editor: WRX