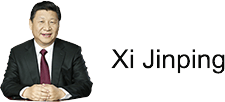 Xi Jinping, born in June 1953, is a male ethnic Han from Fuping, Shaanxi Province. He is currently general secretary of the CPC Central Committee, chairman of the CPC Central Military Commission, president of the People's Republic of China (PRC), chairman of the PRC Central Military Commission.
This book is a compilation of Xi Jinping's major works from November 15, 2012 to June 13, 2014; it comprises 79 speeches, talks, interviews, instructions and correspondence in 18 chapters. Each item is accompanied by relevant notes about China's social system, history and culture for readers' reference.
Quotations
We should continue to catch "tigers" as well as "flies" when dealing with cases of leading officials in violation of Party discipline and state laws as well as misconduct and corruption problems that directly affect the people's livelihood.

-- Main points of the speech at the Second Plenary Session of the 18th CPC Central Commission for Discipline Inspection.
January 22, 2013
We should tell the rest of the world about the new achievements of modern Chinese culture, which feature both excellent tradition and modern spirit, both national and international.

-- Main points of the speech at the 12th group study session of the Political Bureau of the 18th CPC Central Committee which Xi presided over.
December 30, 2013
History shows that the future and destiny of each and every one of us are closely linked to those of our country and nation. One can do well only when one's country and nation do well.

-- Speech made when visiting the exhibition "The Road to Rejuvenation."
November 29, 2012.
We should pass on our friendship from generation to generation and remain good neighbors living in harmony.

-- Part of the speech at Nazarbayev University, Astana, Kazakhstan.
September 7, 2013.