Nu Skin Enterpirses CEO:Fulfilling CSR actively by becoming "Force for Good"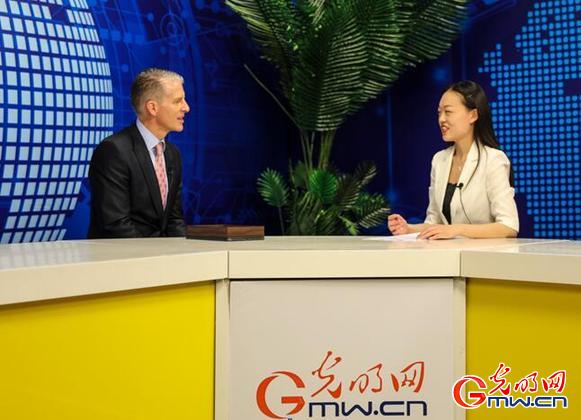 Nu Skin's Chief Executive Officer Ritch N. Wood(L) (Photo by Zhang Yu/ Guangming Picture)
Nu Skin's chief executive officer Ritch N. Wood visited Guangming Online's interview room and received an exclusive interview with the host on business development and philanthropy in China in Beijing, on April 10, 2019.
As a multinational company operating in China, Nu Skin was incorporated in Provo, Utah, USA in 1984. With operations in nearly 50 markets across Asia, Americas, Europe and Africa, Nu Skin has become a global leader in personal care products and nutritional supplements. Nu Skin has been actively fulfilling our commitment to CSR and makes greater contributions to the society.
The core of corporate culture is "Force for Good"
On Apr. 2, the China Foundation for Poverty Alleviation awarded two commemorative medals to Nu Skin: "Outstanding Contribution in 2018" and "Salute to 30 Persons in 30 Years – Sponsors". This indicates that Nu Skin has invested a lot in public philanthropy.
Mr. Wood introduced that from the earliest days as a company, Nu Skin has been committed to the mission of "being a 'Force for Good' throughout the world by empowering people to improve their lives with rewarding business opportunities, innovative products, and an enriching, uplifting culture".
The "Force for Good" is at the heart of our corporate culture. Nu Skin has also brought the corporate culture and charitable concept of "Force for Good" into the Chinese market. While focusing on our own development in China, Nu Skin has also been fulfilling our corporate mission being a "Force of Good" by dedicating a lot of effort to CSR. In the future, we as a reputed company will continue our commitment to giving in an innovative manner, spreading the concept of "education, engagement and benevolence".
[ Editor: Zhang Zhou ]